Here are 10 fun crafts and activities for kids ages 8-12 that are sure to delight!
These projects can be a great way to connect with your kids, spend time together, and learn something new. Best of all, they don't cost a lot of money, and many of these make fantastic handmade gifts for family and friends!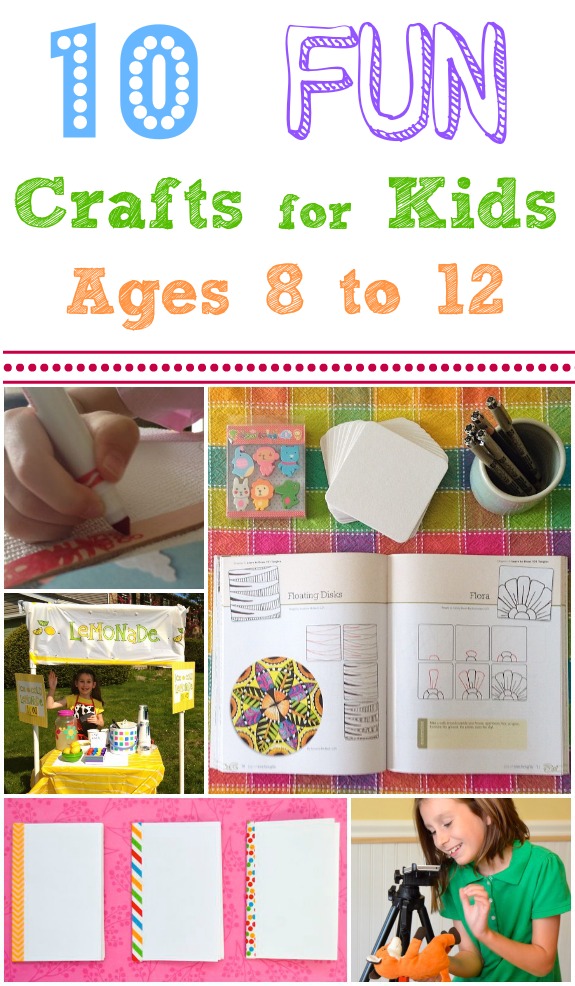 Art Projects to Foster Creativity:
Zentangle is a mediative art form that is easy to learn, and relaxing to create. Best of all, almost anyone can create beautiful images using zentangle techniques! I love that only a few key materials are needed, and they are small enough that I can bring them along with me for whenever inspiration strikes! Learn more about this fun art technique here.
You won't believe how easy it is to make these mini sketchbooks! These sketch books would be great for party favors, pocket journals, or just for doodling whenever inspiration strikes. I have to admit, they are a bit addicting to make, and even more fun to give as little gifts! Get the full "how to" here.
If you're looking for a good boredom buster for the kids, try creating simple stop-motion animation videos using a camera, a tripod, and some old toys! My kids thought this project was so much fun, and I love how it renewed their interest in some of their older toys that they haven't played with in awhile. Learn more about this project here.
This was a last minute boredom buster project we tried on a whim, and it was a HUGE success! Craft sticks, a cardboard box lid, and some ultra low temp glue guns were all the kids needed to be happily entertained for HOURS!! No, make that DAYS because they kept coming back to their projects to work on them again and again. Get the details here.
---
Boredom Busters:
5. Band bracelets
Do your kids love band bracelets? My kids are obsessed! Here are 9 band bracelets for kids to make, and in case you don't have a loom, here's a great tutorial on how to make band bracelets without a loom.
6. Duct tape crafts
Any crafts that involve duct tape are always a big hit with my kids! I love that duct tape can be found in so many different colors and patterns. Here's a simple modern notebook duct tape craft and mini crayon wallets to make with the kids.
This was such a great boredom buster project, and both of my kids made several different versions of these bracelets — some to keep for themselves, and others to give away to friends! Get the details here.
---
Special Treats:
My kids look forward to opening their lemonade stand every Summer. My daughter Emily even shared her top 10 tips for a successful lemonade stand on this guest post she wrote!
9. Hot cocoa bar
If the kids have been extra good, and deserve an extra special treat, this little hot cocoa bar could do just the trick! I wish you could have seen the looks on my kids' faces when they saw this — pure delight! Details here.
10. Build Something with Lego Bricks Together
Lego building is definitely a favorite activity around here, and a great alternative to watching tv! The kids love open-ended play with Lego bricks. If you're looking for a kit to try, this is one of my kids' favorite 3-in-1 sets.
Have fun!!