If you happen to follow me on Instagram, you may have seen that last night as soon as the kids went off to bed, Mark and I crafted up a cardboard gingerbread house life size to surprise them with this morning. We had so much fun making this for them and I loved seeing how something as simple as cardboard can make them SO happy!!! The cold days of Winter are right around the corner, so I wanted to create a little holiday magic that could last throughout the season, for those days when we're stuck indoors.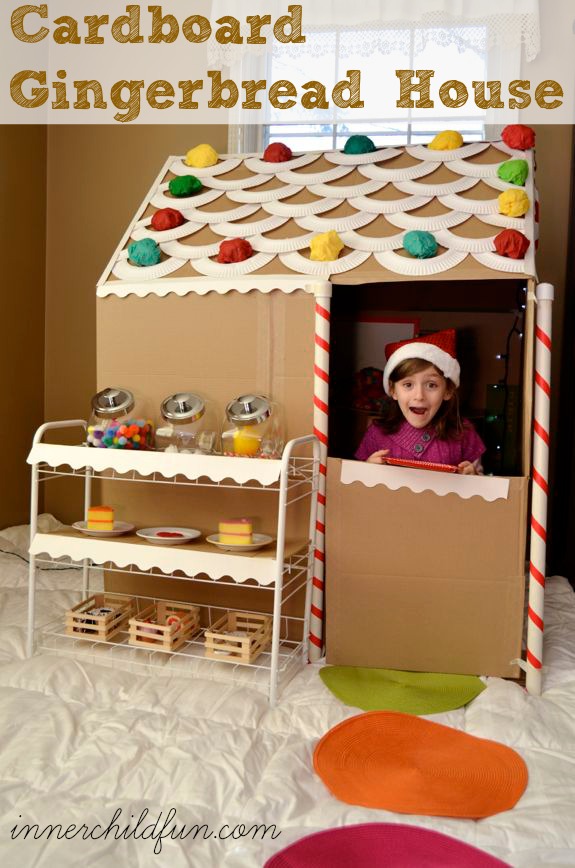 The house is made of 4 large moving boxes, opened up and turned inside out so the printed sided are on the inside of the house. We used two boxes for the gingerbread house walls, and two more to make the roof. To help keep it all together, I highly recommend gummed reinforcement tape! After completing several cardboard craft projects, and experimenting with many different methods, I've found that I love this tape the best for longer lasting projects like this. In fact, one of the cardboard kitchen sets I crafted up two years ago, is still going strong because of this tape!!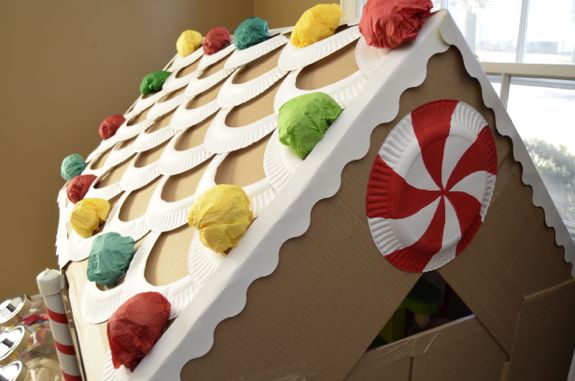 To decorate the roof, I used paper plates cut in half, and then cut out the middles of the plates to use the rims as icing. The white icing strips are bulletin board trim! I didn't have any white bulletin board trim on-hand, BUT I used the opposite side of the trim I did have, which happened to be white on the back! I've used that same bulletin board trim on many different projects. The gum drops on the roof are just sheets of tissue paper crumpled up, and the large peppermint candy is just a paper plate painted and attached with some masking tape.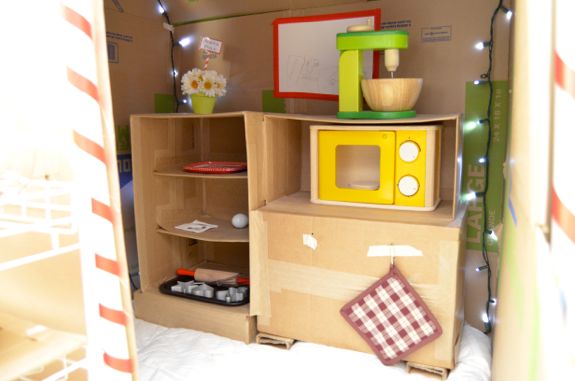 Inside the gingerbread house, you may recognize the (now very old) cardboard kitchen I made about 2 years ago! It fit perfectly inside the house, and Clara has been very busy baking up pretend gingerbread cookies and serving up plenty of pretend hot cocoa! Emily has been busy crafting up signs for both inside and outside of the house, and helping customers select the perfect holiday treat!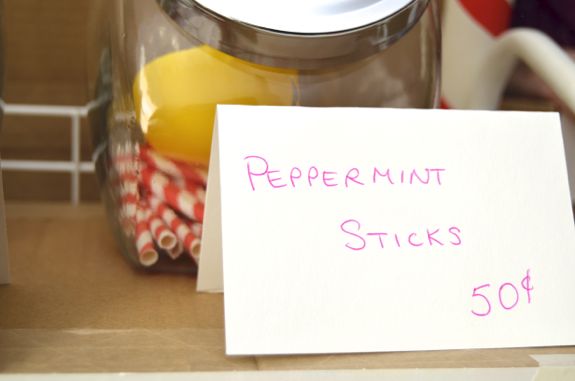 Along the outside of the house, is an old shoe rack with some pretend candy treats for plenty of imaginative playtime fun! Some cut up stripy straws
made great pretend peppermint sticks. You could also use pipe cleaners
to make candy canes! Some cotton balls were great for pretend marshmallows, and craft pom poms
make perfect pretend gum drops!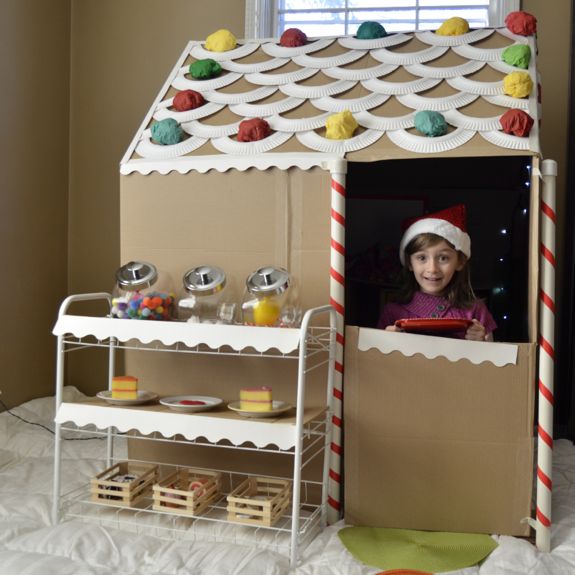 You may also want to make some pretend sweets from sponges, or felt cookies, or perhaps even pretend cinnamon rolls!
For a much smaller version, you can print out the template to make a cardboard gingerbread house from an empty cereal box.
Click here for details and to download the free template.
Have fun!!
More Holiday Fun to Explore: