These water fight kits are a fun way to surprise family and friends with a little treat to gear up for the Summer months! I have included a free printable label for easy gift-giving too. My kids love dunking the sponge bombs into buckets of water to throw to each other for games of catch, and the sponge bombs can be used over and over again with a minimal amount of water — perfect for those on water restrictions!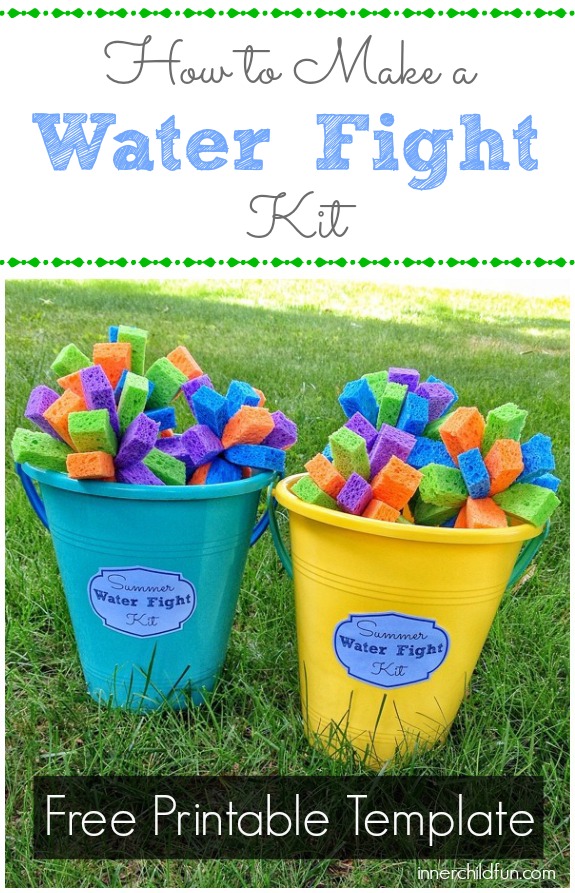 To make a Summer Water Fight Kit of your own, you will need:
To make the labels:
Print out the free label template on a label sheet, and cut it out. Place the label on the outside of the sand bucket. Cover with clear packaging tape to protect it from water.
To make the sponge bombs:
Use kitchen scissors to cut the sponges into strips, and gather up into groups to be held together by an "ouchless" hair elastic. Repeat this step until the sand bucket is full of sponge bombs.
For more details, learn how to make sponge bombs with this super quick step-by-step video tutorial:
Leave on a friend's porch for a great Summer surprise!!! Kids will LOVE dunking the sponge bombs in the bucket of water and throwing them to each other for playing catch — good clean fun!
For more quick craft video tutorials, be sure to subscribe to our Inner Child Fun YouTube channel.
Disclosure — This post contains affiliate links. Thank you for supporting us!