For many kids, a long hard day at school can be stressful and tiring. These activities for unwinding after school take very little time to set up, and can be an effective way to relax and recharge energy levels. Just 10 minutes to unwind after school can make a difference in study habits, homework skills, and a calmer after school routine. A BIG thank you to our friends at Melissa & Doug for sponsoring today's creative play ideas!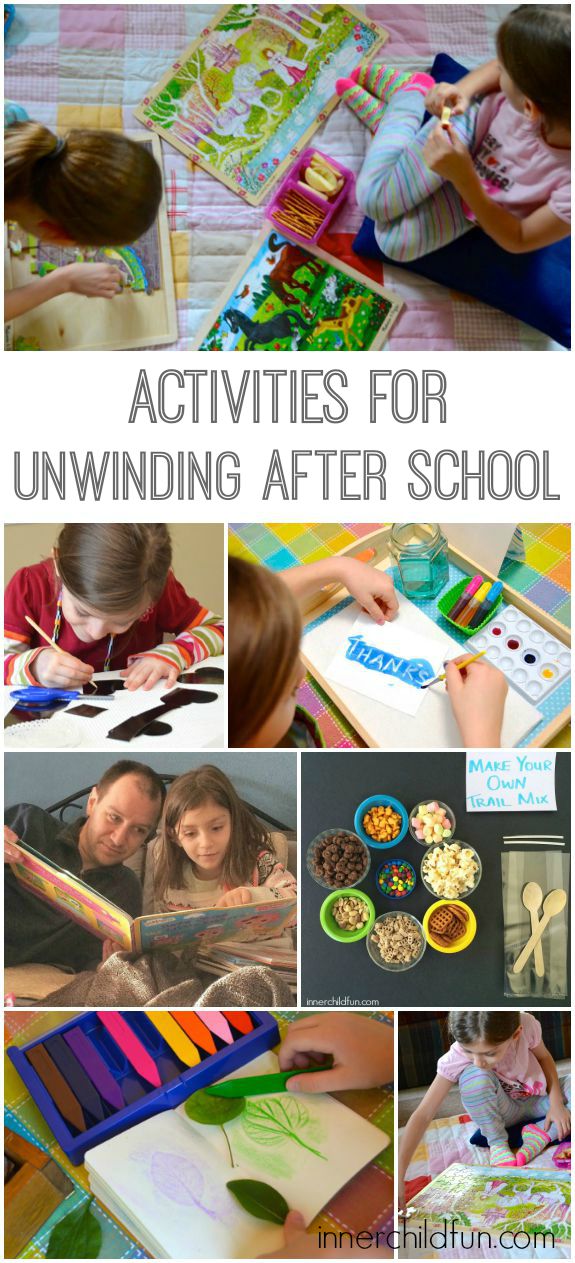 Here are some of our favorite activities to unwind after a long day at school: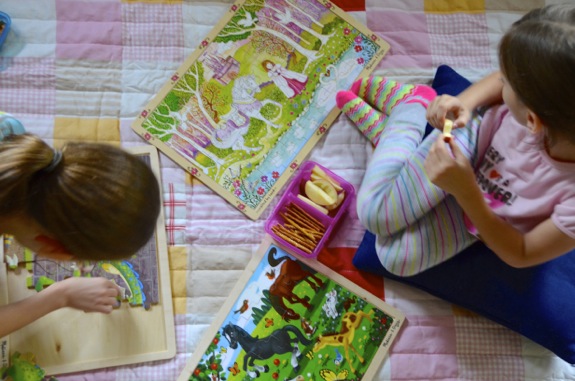 I usually set out a blanket on the living room floor with a few favorite puzzles on top. A coffee table may work nicely for a work surface too, depending on the size of the puzzle. My kids love to come home from school, change into their pajamas, and have a puzzle and pajama picnic with some of their favorite mess-free snacks. They are so happy to do this, and it is quick and easy to set up! While they are working on their puzzles, I may ask them about their day and use the time to get caught up with them. This is definitely one of our favorite activities to relax after a long day at school.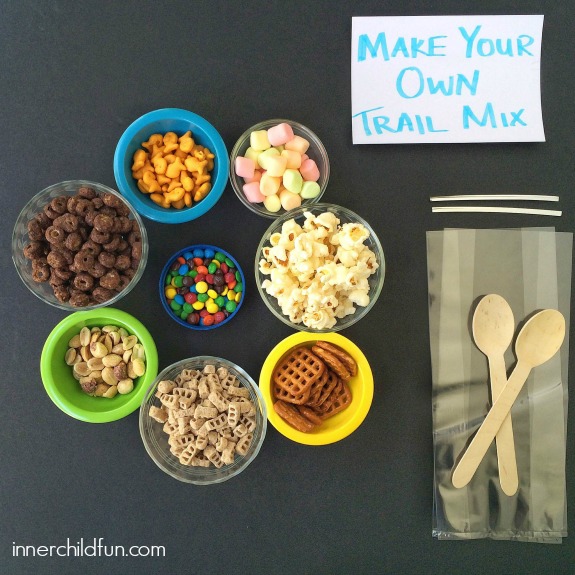 2. Bake up a yummy treat together.
While I may not be the best baker, my kids love to bake! Fortunately, there are so many pre-made mixes available that make the baking process super simple, even for a struggling baker like me. If baking is not an option, you can accomplish two tasks at once by making your own trail mix! Clean out the pantry of all those almost-empty snacks and cereals, and the kids can make up their own after school snacks in the process.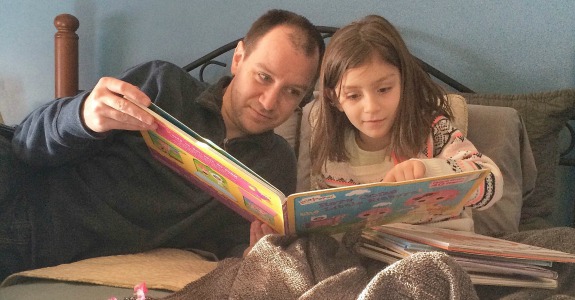 3. Read a story book.
For a fun twist, try setting up a "Mystery Book Bin" that contains story books wrapped in brown paper. When the kids come home from school, invite them to choose a book to read together from the "Mystery Bin" — this ensures that they won't be judging the book by its cover! Some of our favorite story books were discovered this way! Gather some comfy pillows and start reading. Even older children and independent readers can benefit from hearing you read to them.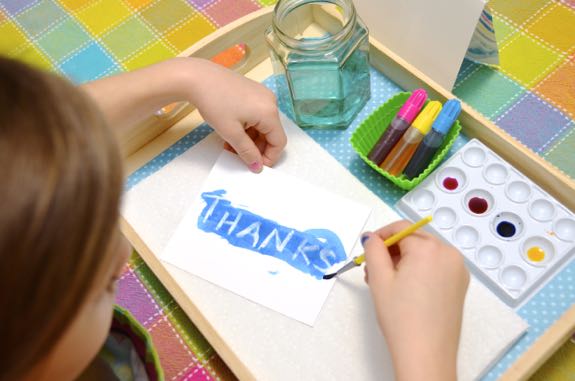 4. Paint with watercolors.
Whenever my kids need to relax, I reach for the watercolor paints and paint brushes. Not only is painting with watercolors calming, but it also is the perfect activity for a rainy day. My kids love to paint up cards to later mail to faraway friends and family. These hand-painted thank you cards were a huge hit, and they were so proud of their finished cards! I love how writing thank you cards can foster a sense of gratitude too. You can see the full tutorial here.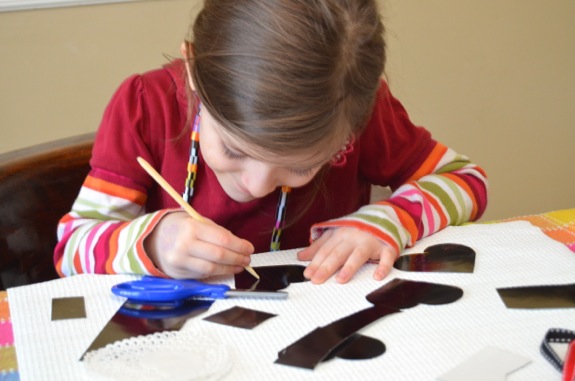 5. Make scratch art bookmarks to give to friends.
I don't know about you, but I can never have too many bookmarks! Cut up sheets of Scratch Art paper into strips, use a hole punch at the top to thread some ribbon, and invite the kids to create bookmarks for their friends. This is such a quick and satisfying project, and promotes gift-giving too! For friends and family who live far away, bookmarks are perfect for tucking into a letter for the mail.
6. Listen to relaxing music.
Dim down the lights and for a few minutes listen to some relaxing spa music. A few years ago, I invested in some relaxation music CDs for the kids to listen to after school, and it was one of the best purchases I've ever made. Listening to calming music can be an effective way of clearing the mind, and eventually preparing to study or do homework. This one simple thing has completely changed our afternoon "dinner rush" from hectic to calm.
7. Do some coloring — free printable coloring sheet
For kids who love coloring, setting up an invitation to color can be an effective activity for unwinding after school. I usually use a tray or place a mat underneath to keep the supplies tidy. Add some crayons or colored pencils and a coloring sheet, or a blank sheet of paper. I love this free printable coloring sheet on the Melissa & Doug blog — perfect for welcoming Fall! Older kids may enjoy zentangling — a doodling technique that is calming and lots of fun!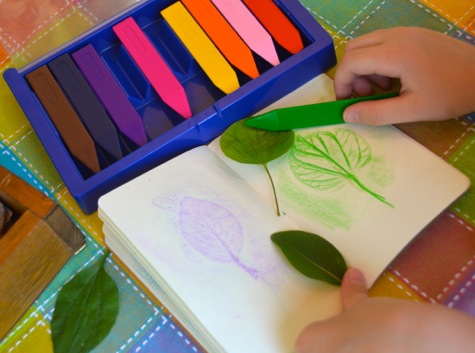 8. Go for a walk together.
If the weather allows, going for a walk together can help you connect with nature and each other. You can mix this up a bit by going for an
Outdoor Color Match
,
Leaf Rubbings On-the-Go
, or maybe try an
Autumn Treasure Hunt Walk
at a local park. My kids also love going on "photo hikes" to use old cameras for their own nature photography. Later, once the photos are printed or developed, we save the prints for a rainy day scrapbook project!
More After School Activities to Explore:
Disclaimer: This is a sponsored post. All opinions are my own.