Hosting a puzzles and pajamas picnic is such a fun and special way for the kids to enjoy an afternoon snack and make the most of a rainy afternoon! A big thank you to our friends at Melissa & Doug for sponsoring today's creative play idea. This puzzles and pajamas picnic is very simple to set up, and it was such a fun surprise for my kids to come home to after school! They have not stopped talking about it!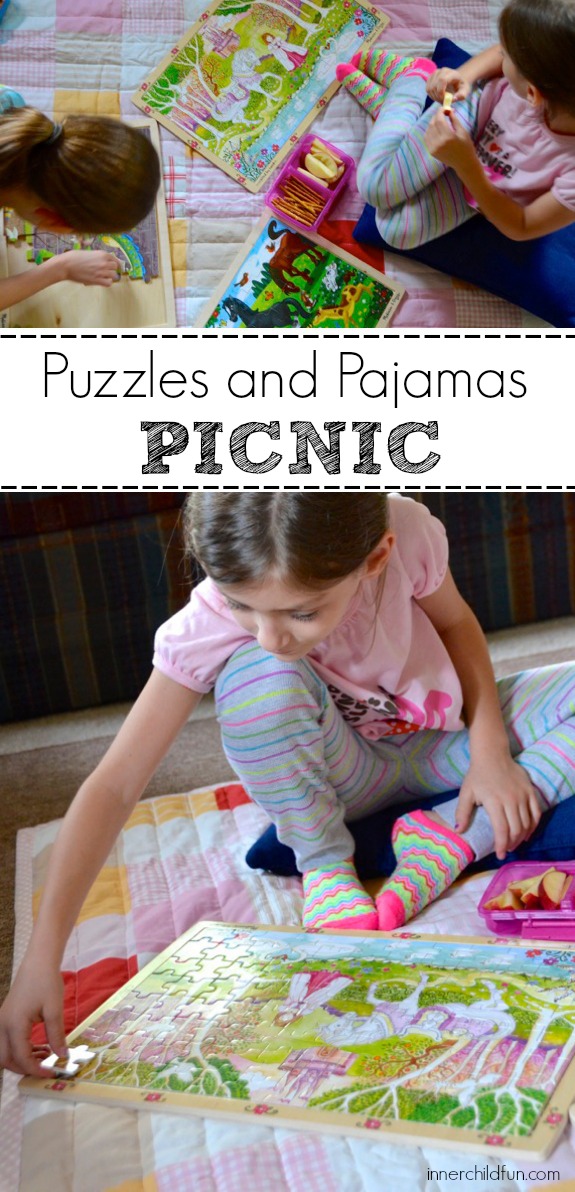 To host your own puzzles and pajamas picnic, you will need:
A blanket and some pillows
Some of your favorite puzzles
A few low-mess snacks
Some of your most comfortable pajamas
Printable Puzzles and Pajamas Picnic Sign
Lay the blanket on the floor, and add a pile of your child's favorite puzzles along with a few tasty snacks to enjoy. Print out the "Puzzles and Pajamas Picnic" sign and place it on top of the puzzles. Invite your child to change into her most comfortable pajamas, then do some puzzles while enjoying a delicious snack!
Here are some of our favorite low-mess snacks for an indoor picnic:
Bananas
Grapes
Cherry Tomatoes
String Cheese
Tubes of Yogurt
Dried Fruit
Nuts
Baby Carrots
Apple Slices
Sandwiches
Crackers
Oranges or Clementines
Broccoli
Edamame
While Melissa & Doug are very well known for their high quality wooden puzzles for very young children, did you know they have many wonderful puzzles designed for older kids ages 4 and up too?
Some of our all-time favorite puzzles are:
Disclosure — This post is sponsored by Melissa & Doug. All opinions are my own.