Today I'm sharing a list of some of the ways the kids and I spend our time together, in-between school, projects, or errands. These everyday activities are perfect for those little pockets of time when the kids still want to do something fun, but I'm short on energy, time, materials, or all of the above! By doing these sorts of simple activities, I've learned that quality time together with kids doesn't have to take up hours and hours of time. So many great memories can be made in a few "stolen moments" throughout the day!!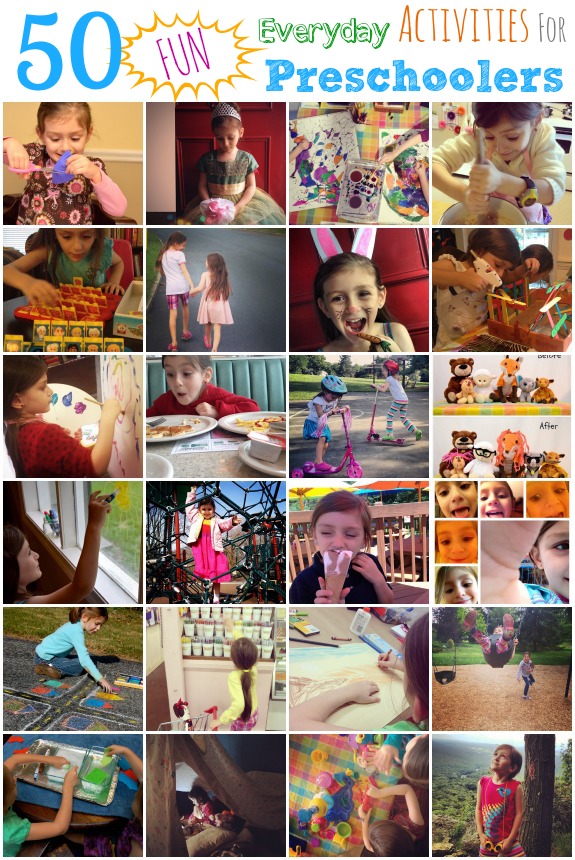 Here are 50 fun everyday activities for preschoolers to get you started:
1. Wash toy cars.
3. Scissor practice.
4. Paint faces.
5. Window Crayons
.
6. Hopscotch.
7. Read stories.
8. Make a set of story stones.
9. Sidewalk chalk masterpieces.
10. Go for a walk.
11. Visit the farmers market.
12. Listen to an audio book.
13. Bake cookies and deliver them to the local fire station.
14. Coloring books
.
15. Open a play dough "bakery".
16. Create a mini dinosaur world.
17. Race cork boats in the bathtub.
18. Go out for ice cream.
19. Visit the library.
20. Paint on canvas. Display the finished artwork proudly in your home.
21. Play a board game together.
22. Build a pillow fort.
23. Make craft stick sculptures with an ultra low temp glue gun
.
24. Write a letter (or mail a drawing) to a faraway friend or relative.
25. Go bird watching.
26. Make a simple kite, and fly it.
27. Visit a playground.
28. Make disguises for pretend stuffed animal "spies".
29. Host a play date.
32. Borrow a movie from the library. Make popcorn.
33. Play a card game.
34. Build LEGO Duplo
"robots".
35. Ride scooters or bikes.
36. Set up a sensory bin to explore.
37. Living room dance party. Ribbon dancing is a great addition too!
38. Put on a play w/ shadow puppets.
39. Set up a nature table.
40. Pack your bags and pretend to go on vacation.
41. Make a rhythm set and play music.
42. "Enhance" magazine photos with googly eyes.
43. Take silly self-portraits.
44. Play dress up.
45. Visit a diner for breakfast.
46. Meditate.
47. Have an indoor picnic.
48. Pretend tea party. In pajamas.
49. Practice writing on a wipe-off board.
50. Finger paint together.
Looking for even more ideas? No Time for Flashcards is sharing 75 Everyday Activities for 3 Year Olds!
Do you have a favorite everyday activity your preschooler enjoys?? Leave a comment and share your ideas with us!
*This post contains affiliate links.
---
Free Printable
Please sign up for our weekly-ish newsletter (it's free!) and after signing up, you'll be sent a link to a free printable list of 100 Rainy Day Activities for Kids — exclusively for our lovely newsletter subscribers! To sign up, click here.