Need some simple ideas for handmade gifts this holiday season?? Here is a collection of some of our favorite handmade holiday gift ideas for everyone on your list. Added bonus, the kids can help make many of these, keeping them entertained while actively participating in the gift making process! Aren't handmade holiday gifts the best??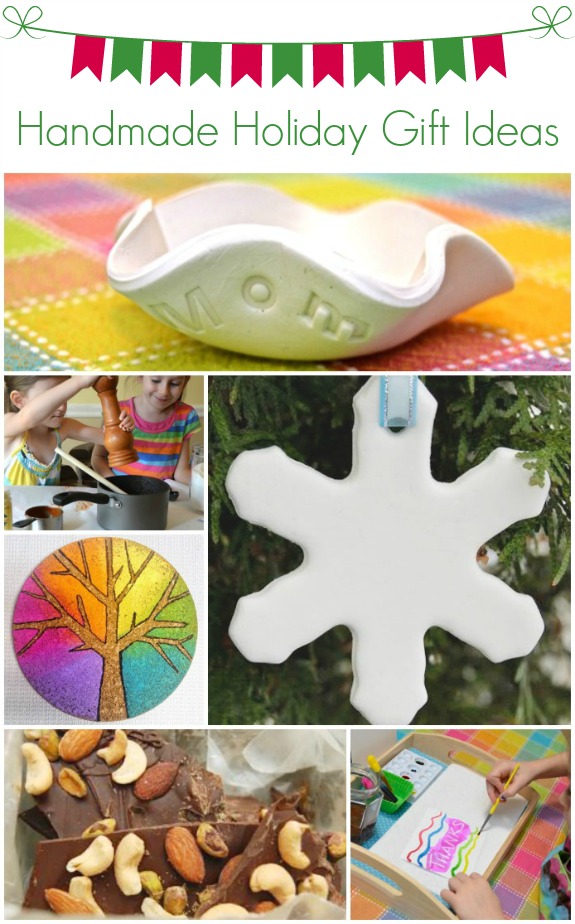 For Everyone:
Hand Painted Trivets
I love the colors on these hand-painted trivets that kids can make for pretty and useful gifts!
Painted Thank You Card Set
A great way to foster gratitude and the perfect excuse for some crafty fun.
DIY Glass Magnet Gift Set
These glass magnets were so fun (and very frugal) to make!
Snowflake Ornaments
These festive ornaments can double as gift tags too.
Chocolate Nut Bark
So simple and easy — a five year old can do it! (with a bit of grown up supervision)
---
For Her:
Handmade Jewelry Dish
These can be painted, or left plain. Either way, they are a great useful handmade gift!
Homemade Lavendar Bath Salts
These bath salts take only a few minutes to make and they smell so lovely.
---
For Him:
Homemade BBQ Sauce
For the guy who loves to grill, this homemade BBQ is always a hit!
Car Wash Kit
Putting together a car wash kit is a great way to keep car wash supplies neat and organized.
Chili Mix in a Jar
All the deliciousness of chili, made into a mix and packaged up in a jar. Yum!
---
For the Kids:
… more ideas for making your own pretend food here.
10 Amazing Toys You Can Make for Your Kids
10 Easy Last Minute Gifts You Can Make for Your Kids