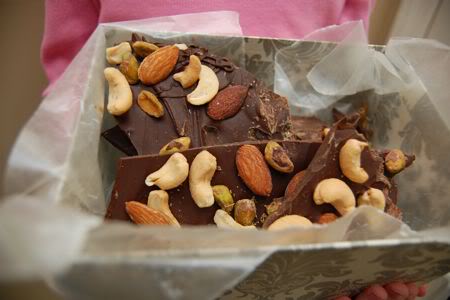 I found this recipe for Chocolate Nut Bark in an issue of Real Simple magazine, and it's so simple and easy — a five year old can do it (with a bit of supervision). That's my kind of "baking"!
To make your own, you will need: one 12 oz bag of semi sweet chocolate chips and about 2 cups of mixed nuts (ours were salted & roasted).
Melt chocolate chips in a double boiler. We like to add ours a little at a time.
In the meantime, ask someone to spray a 13 x 9 inch pan with non-stick spray. The recipe says to line the pan with parchment paper, but we don't keep that in this house due to the lack of actual baking. So we used non-stick spray instead. It worked! Man, I am soooo good at this.
Spread chocolate out evenly. Five year olds can do an exceptionally thorough job with this step.
Sprinkle mixed nuts over top!
Place in the refrigerator to harden up (about 30 minutes). Break into pieces, and place in a wax paper lined box.