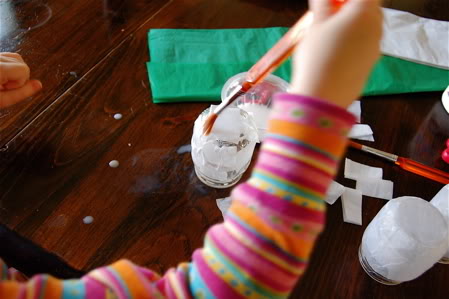 Over time, the cost of art supplies can really add up, and this is especially true for large families with many children. Here are some tips to help you stretch your existing art supplies, and find great alternative supplies from things you already have in your home:
Paint

— To stretch paint, combine 1 tablespoon of tempera paint to 1 cup liquid starch, or sprinkle powdered tempera into liquid starch. 

Glue

— Many times you can thin glue using a 50% glue and 50% water mixture. Apply with a paint brush.

Recycling Bin

— Look in your recycling bin for free cardboard from cereal boxes, use egg cartons for crafts or to hold paint. Paper towel tubes, and oatmeal canisters are some of our favorites for homemade musical instruments. For more ideas, click here and here.

Pantry

— Make mosaics or photo frames using dry beans, rice, or pasta. Try cutting up straws to make beads, and don't forget about potato stamps. Paper plates, coffee filters, and cupcake liners can all be used in craft projects as well.

Medicine Cabinet

— Try painting with Q-tips, cotton balls can be glued to projects for a 3-D effect, and old sponges can be used for sponge-painting. For more ideas, click here.

Paper

— Do you really need to use the entire sheet of paper? Many times half a sheet will do. Use the backs of paper too. Don't forget grocery paper bags, and junk mail envelopes for free sources of paper too.

Crayons

— When crayons run down to little stubs, remove the wrappers, and chop them into small pieces. Fill mini muffin tins with them. Place in a 150 degree oven until wax is melted (about 15 to 20 minutes). Remove after they have cooled, to make new crazy crayons!

Markers

— When markers start to dry out, dip the tips into white vinegar and set so that the tips are standing up. Wait about 5 minutes, then blot the marker tip on some paper until the color starts to show. Place the cap back on, and let sit overnight. 

Nature

— Look to your own backyard for many free art supplies including: rocks, sticks, bark, flowers, and leaves.

Make Your Own

— Don't have any paint? Make your own scratch and sniff paint, or sidewalk chalk paint!
Have a great tip for stretching art supplies that I forgot to add, or have you tried stretching your art supplies using any of these techniques? I would love to hear about it! Leave a comment and share your ideas with us!