There are so many magical places to visit in PA this Summer! These destinations are perfect for creating treasured family memories. If you are planning a trip to the Keystone state anytime soon, you won't want to miss these unique attractions!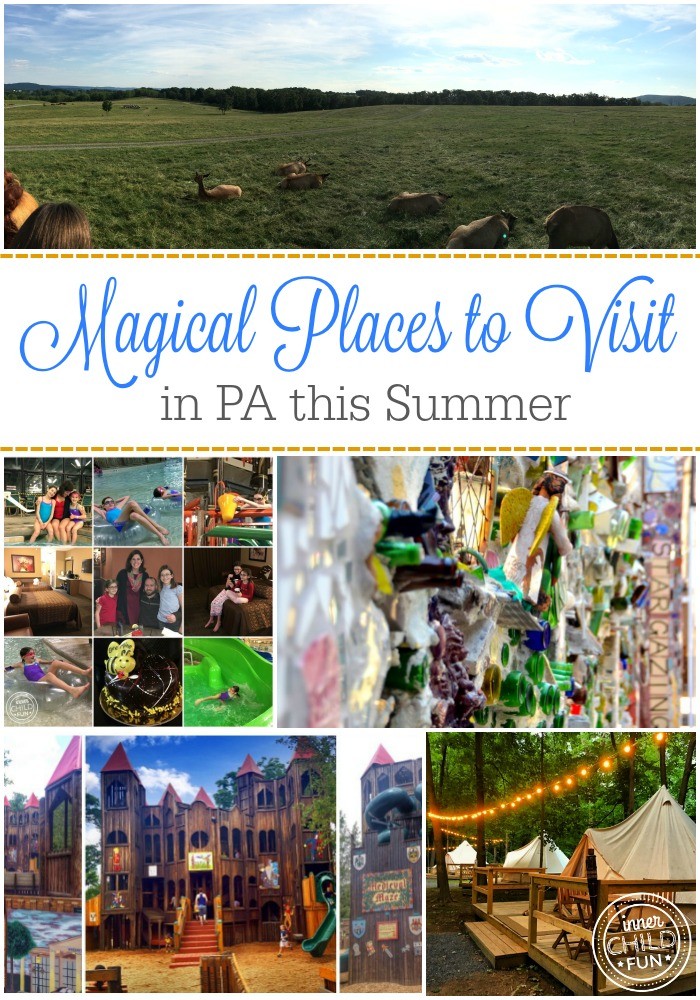 Here are some of our favorite magical places to visit in PA this Summer: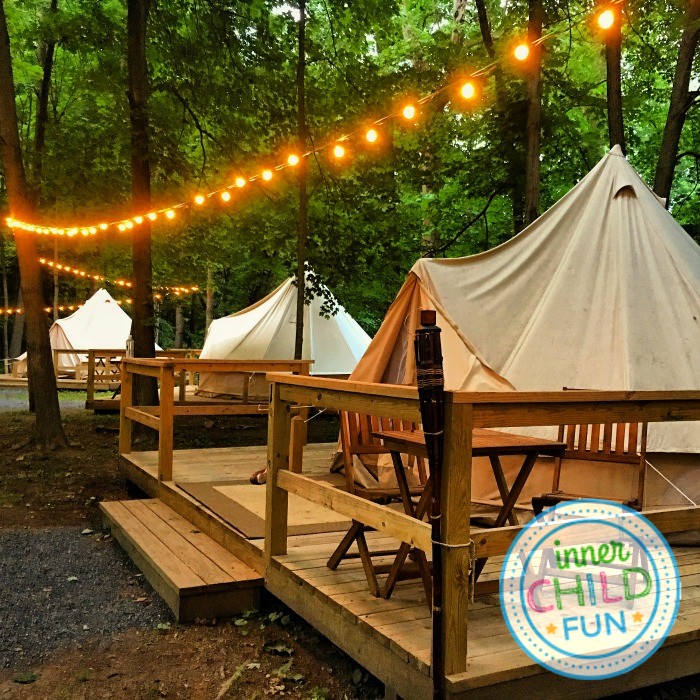 Magical Places to Visit in PA #1
— Shawnee Glamping Experience:
Glamping is a wonderful experience for those who love nature, but don't necessarily want to forego the comforts of home! Glamping gets its name from "glamorous camping". It often includes deluxe tents with full size beds, nearby bathrooms with running water, and other luxuries. Recently, our family enjoyed the island glamping experience at Shawnee Inn in Pennsylvania. It was, in fact, quite glamorous! Our family of four with two adults and 2 kids (ages 8 and 12) had a fantastic time! I would happily go to Shawnee Inn again! You can read all about our glamping experience here.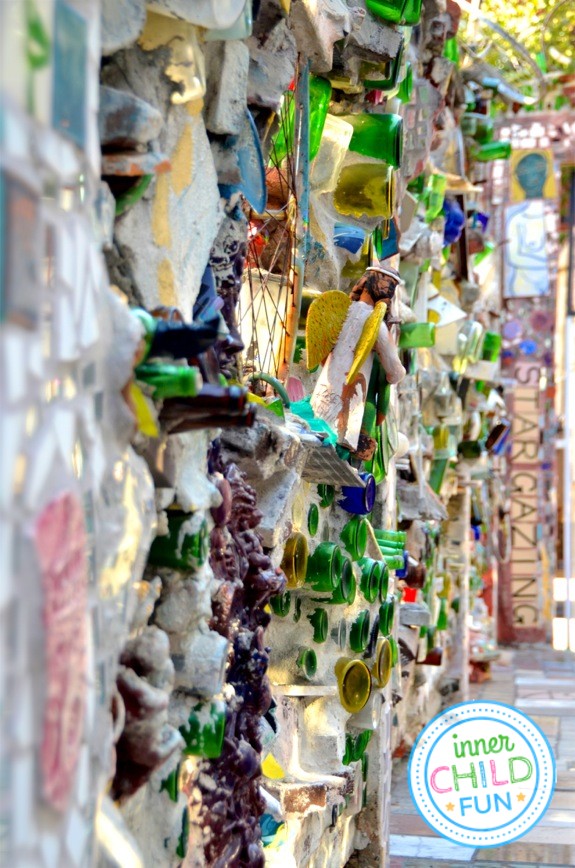 Magical Places to Visit in PA #2
— Magic Gardens in Philadelphia
If you ever have the opportunity to venture to South Philadelphia, you may want to spend some time getting lost in Philadelphia's Magic Gardens. This unique attraction is a 3,000 square foot glittering tiled mosaic masterpiece completed mostly by a single man — Isaiah Zagar. Part museum and part labyrinth, visitors can't help but to marvel at tiled pathways, colorful nooks, and poetry weaved throughout the entire structure. You can read more about my experience creating one of these mural masterpieces alongside Isaiah here.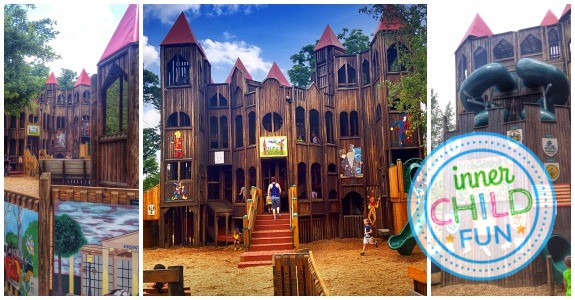 Magical Places to Visit in PA #3
— Kids Castle in Doylestown
If you're looking for a fun field trip for the kids in the greater Philadelphia area, you may want to check out the amazing Kids' Castle within Doylestown, PA's Central Park! My kids took one look at it and declared it as the "best most fun playground ever". Added bonus — it is FREE!! You can read about our trip to explore Kids Castle here.
Magical Places to Visit in PA #4
— Lake Tobias Safari Park in Halifax, PA
Learn more about wildlife and enjoy incredible encounters with animals at this family-owned safari park. Lake Tobias Safari Park is a truly unforgettable experience that the entire family will enjoy! Guests can go on a safari tour in a converted school bus and feed many different animals along the way. There are gorgeous views, a petting zoo, and early Summer is the best time to see several adorable zoo babies! Lots of safari themed crafts and activities here.

Magical Places to Visit in PA #5
— Kalahari Resorts in the Poconos
Are you looking for a family getaway with lots of active fun? Kalahari Resorts and Conventions recently revealed Phase II construction of its Pocono Mountains, PA location. This expansion made Kalahari Resorts and Conventions in the Poconos "America's Largest Indoor Waterpark"! With 220,000 square feet of attractions, the newly expanded waterpark includes several new water slides, more cabanas, a wave pool, and so much more! Get all the details here.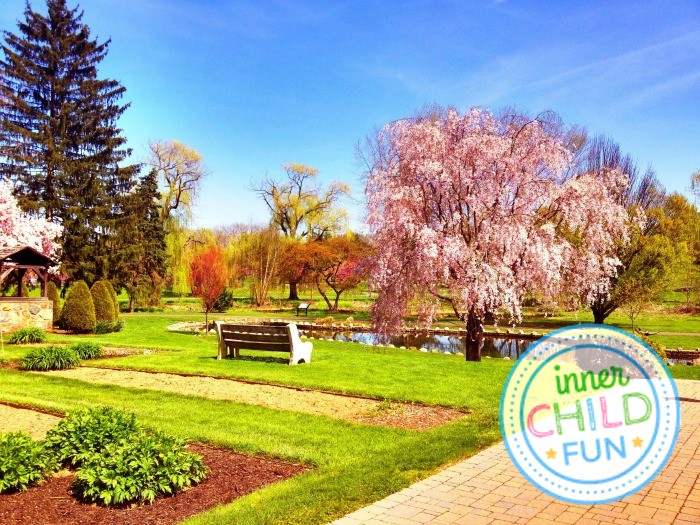 Magical Places to Visit in PA #6
— Rose Gardens in Allentown, PA
This beautiful oasis in Allentown is filled with roses and several other species of flowers. There is a gorgeous walkway, fountains, and a nearby playground that is completely accessible. Many local brides have wedding portraits done here. It is the perfect spot for a picnic or an afternoon play date with friends!
Magical Places to Visit in PA #7
— Ringing Rock Park in Upper Black Eddy, PA
The main attraction in this park is a large boulder field that is accessible via a short hike. No one knows why the rocks at Ringing Rock Park sound like metal bells when they are struck by a hammer. Young geologists may enjoy developing their own theories as to why these rocks make such a unique sound! Don't forget to bring a small hammer or two.
More Family Travel Fun to Explore: