A Day at Kids Castle in Doylestown, PA
If you're looking for a fun field trip for the kids in the greater Philadelphia area, you may want to check out the amazing Kids' Castle within Doylestown, PA's Central Park! My kids took one look at it and declared it as the "best most fun playground ever". Added bonus — it is free!!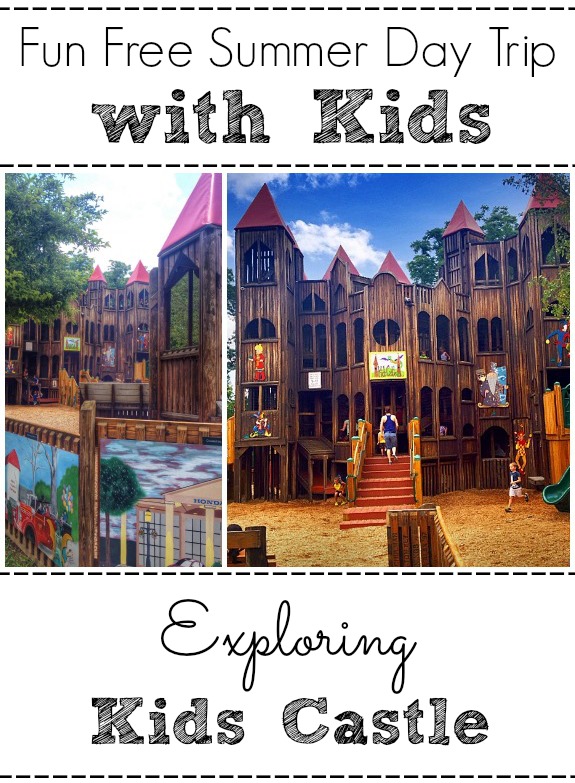 The castle is 8 levels high and contains a super fun maze with hidden surprises and adorable artwork all around! The maze ends at the top of the castle around the back with a large curly slide. My kids absolutely loved climbing and exploring this over and over again! There are several fun swings, and other play structures in the park too. Restrooms are nearby and appeared to be clean during our visit. There are picnic tables near the castle, and several grills too. We packed a picnic lunch and made the day out of exploring this unique place. There are hiking and walking trails in the park. If you are lucky, the ice cream truck may stop by too!
Here is the view of the back of the castle: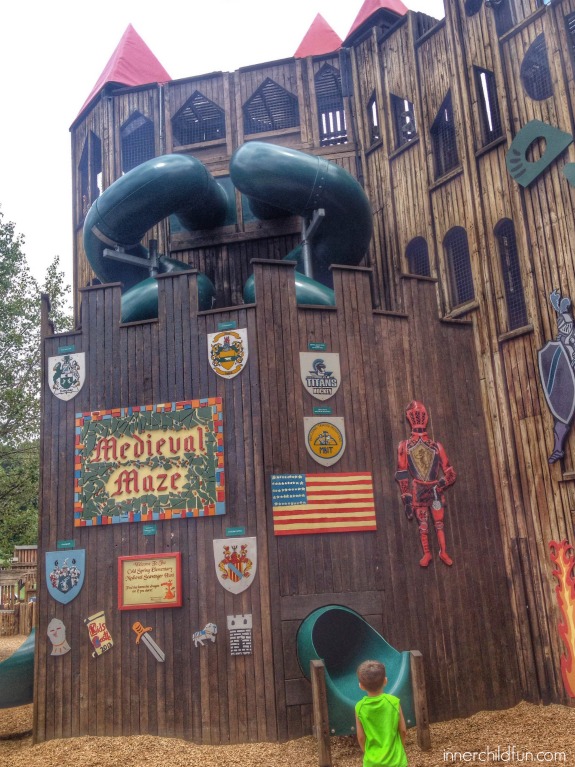 Fun Fact: Kids Castle began as a community funded project that was built in 1997 without the use of any tax dollars.
Where is Kids' Castle?
The Kids' Castle is a one-of-a-kind play structure located at 425 Wells Road in Doylestown, PA — about 1 hour north of Philadelphia. If you are using your iPhone for directions, enter Kids Castle, Central Park or Doylestown Township Municipal Building for the correct directions.
When is it open?
The castle is open from mid-April until the first frost of the season, and phase one of a major renovation project was completed September of 2013. Phases 2 and 3 are currently in the fundraising stages. It is recommended that you call the Doylestown Park & Recreation Department to confirm that the castle is open on the day you wish to visit — 215-348-9915
What is the cost?
Kids' Castle is free. However, for organized groups there is a pre-registration required and a fee of $4 per child to be paid upon arrival. Organized group reservations may be made for Tuesdays, Wednesdays, or Thursdays only, between 10am -3pm.
Recommended Ages
Kids' Castle is recommended for ages 5-12 with adult supervision.
Make a Donation
For information on how to make a donation to help preserve this amazing play structure, click here.
More information on Kids Castle can be found here.
Overall Impression:
My kids are 6 and 10 years old, and I wish you could have seen the looks on their faces after spotting this incredible castle playground as we pulled into the parking lot — pure JOY! It did not disappoint. I recommend reminding the kids about any ground rules you may have before they go off to play. For example, I asked my kids to stick together while exploring the castle, and reminded them not to leave the playground area with anyone other than myself. The play area is fenced around with one entrance/exit and there is seating (some of it is shaded, but bring sunscreen) for adults to watch as the kids play. Well worth the trip!!!
More Summer Fun for Kids: