Glamping is a wonderful experience for those who love nature, but don't necessarily want to forego the comforts of home! Glamping gets its name from "glamorous camping", and includes deluxe tents with full size beds (sometimes even electricity), nearby bathrooms with running water, and other luxuries. Recently, our family enjoyed the island glamping experience at Shawnee Inn in Pennsylvania, and it was in fact quite glamorous! Our family of four (two adults plus 2 kids ages 8 and 12) had a fantastic time, and would happily go to Shawnee Inn again!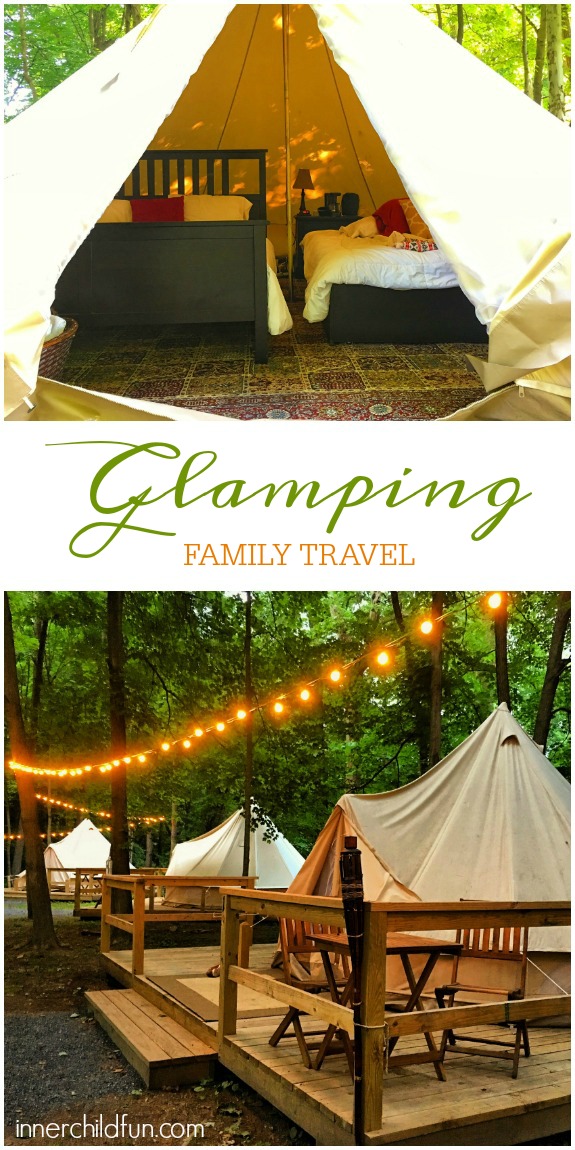 The Shawnee Island Glamping Experience includes:
Canoe Trip to the Glamping Site
Overnight in a Bell Tent
Evening snacks (S'mores and Popcorn) and beverages (beer, wine, soda, coffee, tea)
Breakfast at the Glamping site
Camp attendant
Canoe Trip to Kittatinny Point and transportation back to the resort
It was nearly 2pm when we arrived at Shawnee Inn, and we decided to take full advantage of the indoor pool and sun deck. After enjoying the pool and soaking in the hot tub, we used the locker room to get cleaned up and changed for our dinner reservation at River Run Restaurant. A word of caution — the locker room floors can get quite wet, since there are no floor drains. Be sure to wear water shoes!
Making our dinner reservation at River Run Restaurant was super easy using the Open Table app. The restaurant is located right off of the lobby. We were seated quickly and the service was great! We found the restaurant to be a quite kid-friendly with a separate menu for kids with lots of familiar options: chicken fingers, spaghetti, hamburgers, etc. Mark enjoyed the bacon cheeseburger sliders, and I had the grilled salmon which was very tasty! I heard the bartender makes excellent cocktails, and the Shawnee Inn has a beautiful veranda that is perfect for sipping a refreshing drink.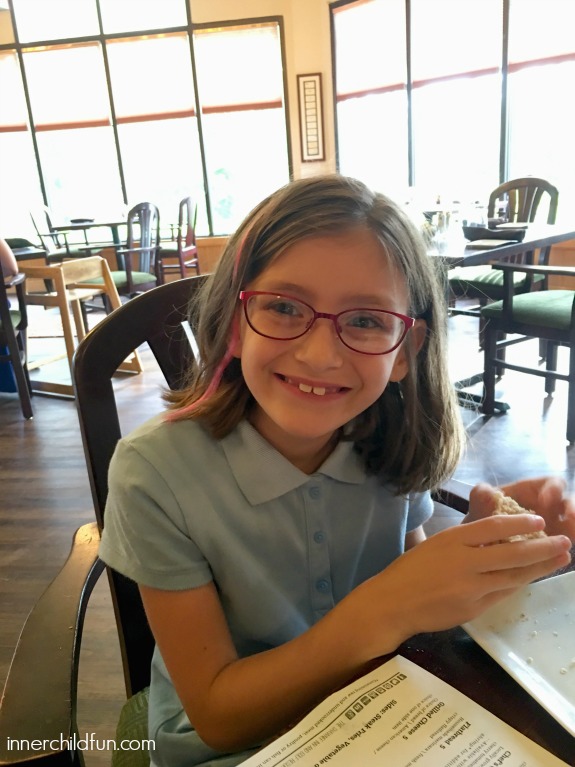 After dinner, we went to the lobby at 7:30pm to meet up with our concierge to begin our glamping experience! Our luggage was checked in to be brought directly to our glamping site (almost magically), and we were fitted for life vests and assigned our canoes and paddles for a canoe trip down the river to our island glamping site. The canoe ride there took about 20 or 25 minutes — stunning scenery! Emily and I paddled one canoe with Mark and Clara in another.
Once we beached our canoe at the island glamping site, we were greeted with a gorgeous display of tents and a beautiful campfire. We were invited to make our own s'mores, do some stargazing, play a few games, mingle with our fellow glampers, and of course check out our tent. Our tent housed two beautifully made double beds, electricity to charge devices, coffee maker, night stand, towels, alarm clock, and even a carpet! There were full shower and bathroom facilities very close to our glamping site as well.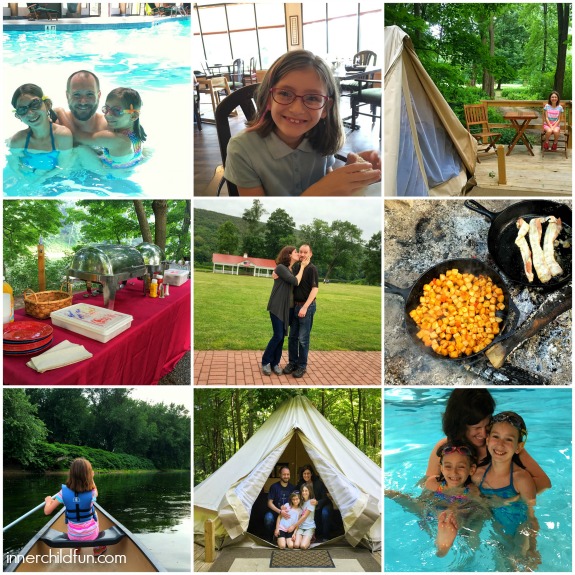 While we were settling in, our concierge, Trevor, offered wine and beer to all of the adult guests and non-alcoholic beverages to the kids. Shawnee Inn has their own on-site brewery, and Mark enjoyed a few of their beers. It was a beautiful night and the view from our glamping site was simply gorgeous! It was heavenly!!
Trevor tended to the campfire overnight and into the next morning when he prepared a campfire breakfast for all of us – hash browns, eggs, bacon, fresh fruit, and muffins. Everything was delicious! We chatted with the other glampers and had a great time! The kids played a few games, while Mark and I had coffee on our deck and starting packing for the trip back.
After breakfast, our luggage was collected to be brought to us at the Inn, and we had one more canoe ride adventure back to the Inn. This ride was longer (about 50 minutes), and just as serene. I paddled one canoe with Clara, while Mark and Emily were in another. The current was somewhat stronger on the way back, but we all made it back to shore safely and had so much fun!! We made it back to the Inn with just enough time for one more dip in the pool before claiming our luggage and returning home.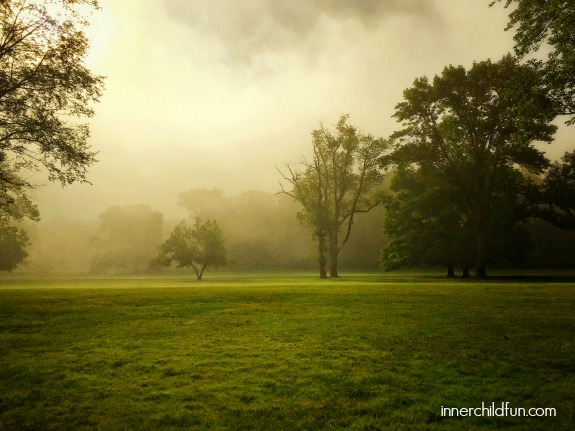 If you are looking for a mini-escape or weekend getaway, the island glamping experience at Shawnee Inn is a terrific option! With or without kids, there is so much to see and do. The pool, restaurant, canoe ride, and glamping were all so much fun! We felt as if we had left our troubles behind us, making it easy to unwind and relax. We would love to return to the Shawnee Inn for the island glamping experience again!
More Family Travel to Explore:
This post is in no way sponsored or affiliated with Shawnee Inn. All opinions are my own.