If you ever have the opportunity to venture to South Philadelphia, you may want to spend some time getting lost in Philadelphia's Magic Gardens, a 3,000 square foot glittering tiled mosaic masterpiece completed mostly by a single man — Isaiah Zagar. Part museum and part labyrinth, visitors can't help but to marvel at tiled pathways, colorful nooks, and poetry weaved throughout the entire structure.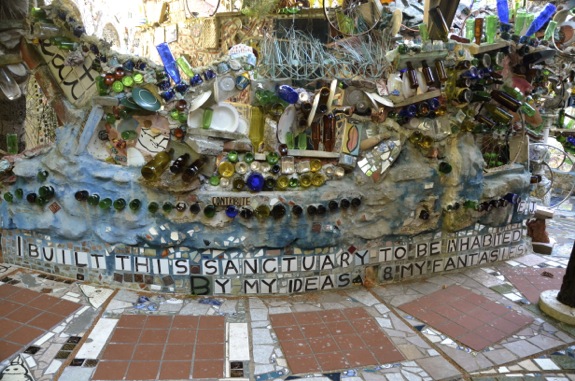 In the hopeless attempt to capture just a tiny bit of its beauty, here are a few photos of this magnificent space.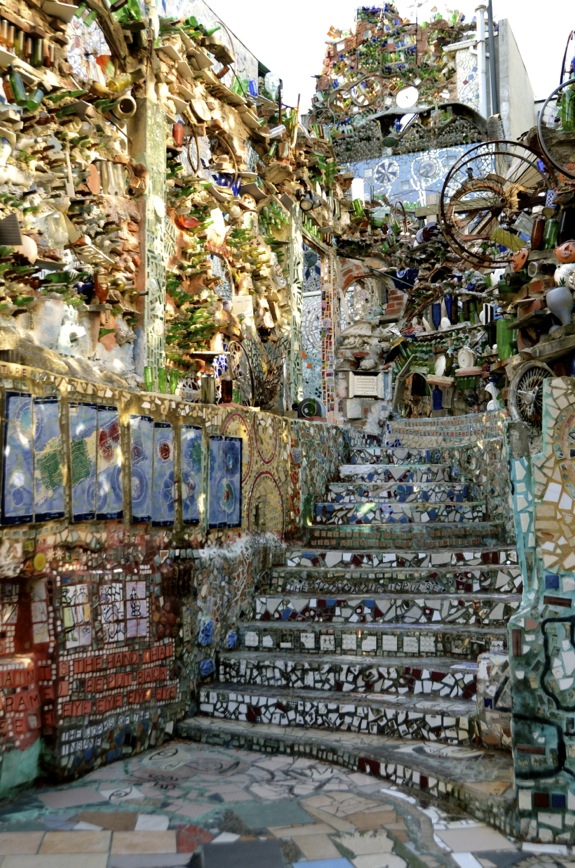 It is truly breathtaking. Once, while standing outside of the front gate to this space, I saw a few people drive by with the windows down — one of them pointing and saying excitedly, "Let's stop here! Let's stop here!!!".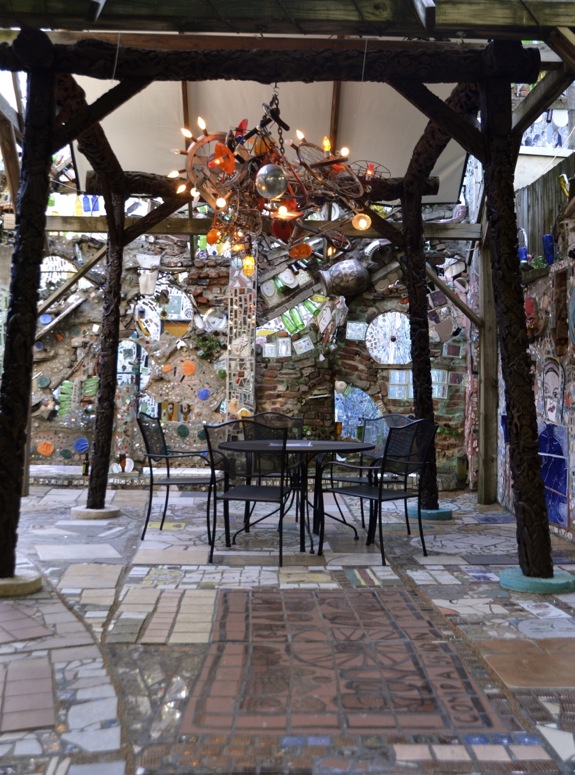 How did he do it? I wanted to learn to do this. To be part of this. To create magic… like this!
Can you imagine my pure delight upon learning that Isaiah Zagar offers weekend workshops on how to make mosaic murals?? Do you know how quickly I signed up for one? Local homes and businesses donate walls for the workshops led by Isaiah, and by the end of the weekend a unique work of magical art has been created!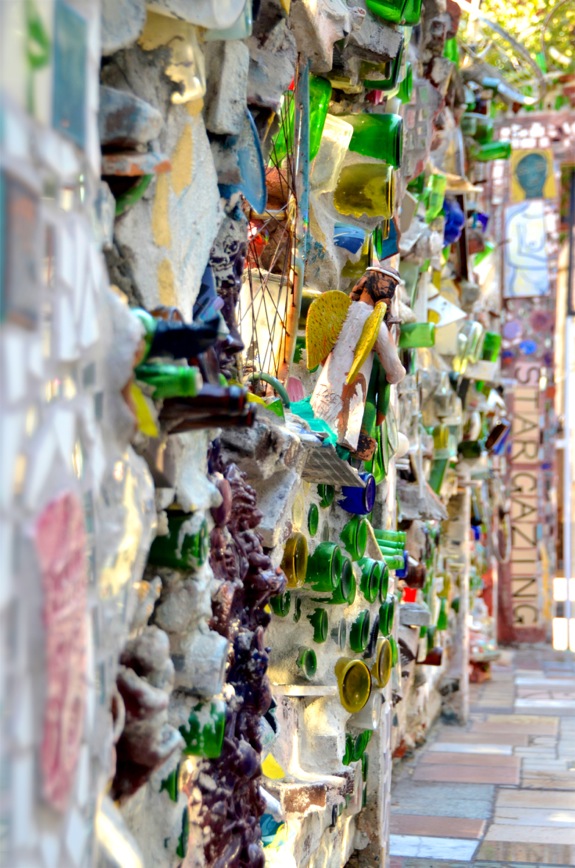 I counted down the days, until finally… it was time!
(This happens to be Isaiah's dog, Blue, who enjoys keeping Isaiah company in the studio. Blue is also an expert at posing for photos.)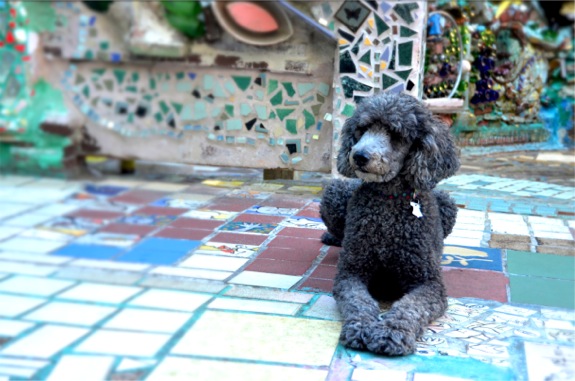 After meeting Isaiah, and a few brief introductions of the other attendees, we began with Isaiah walking us through the process of cutting mirror to make tiles. Each mirrored tile is cut by hand, and together we cut up buckets and buckets of mirror tiles!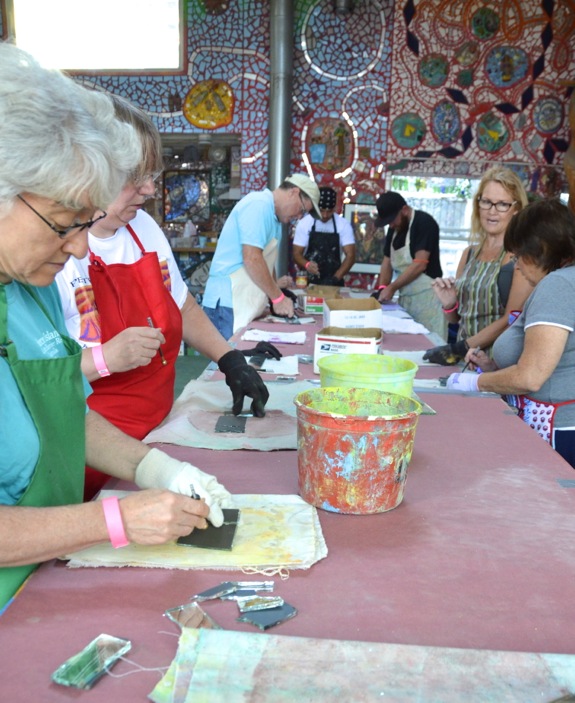 Next, we took a short walk to our installation site — near 6th and South Streets. Isaiah had started the mural for us with a fantastic painting, large tiled medallions, and a perimeter of mirror tiles. After he demonstrated the proper tile gluing technique, we all got to work!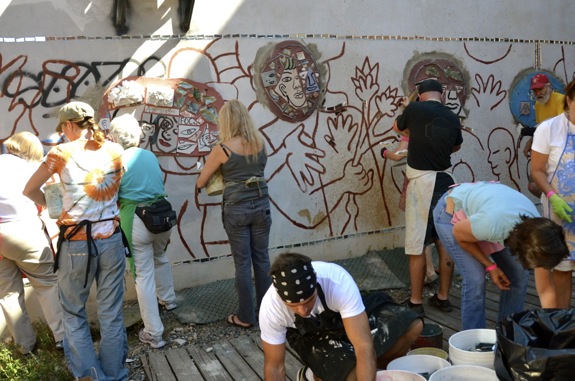 The process itself is quite forgiving, and Isaiah is very encouraging! With clear perimeters and instructions for our group, we were able to complete the tile gluing process in just one afternoon!!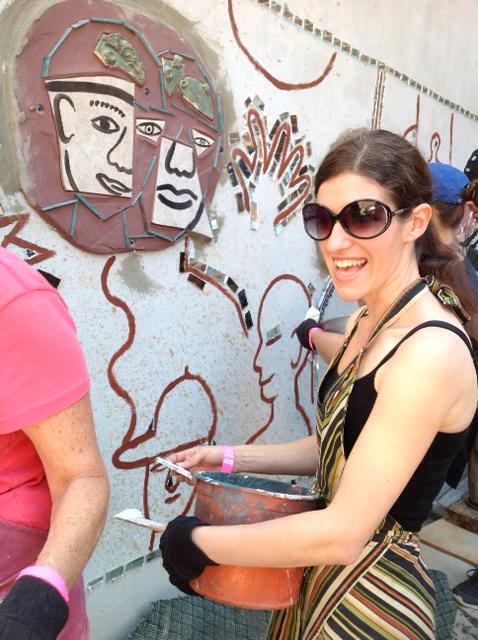 While everyone was out getting lunch, I snapped this photo of Isaiah because it seemed he just could not help himself from gluing on tile. Did you know he has completed over 200 murals??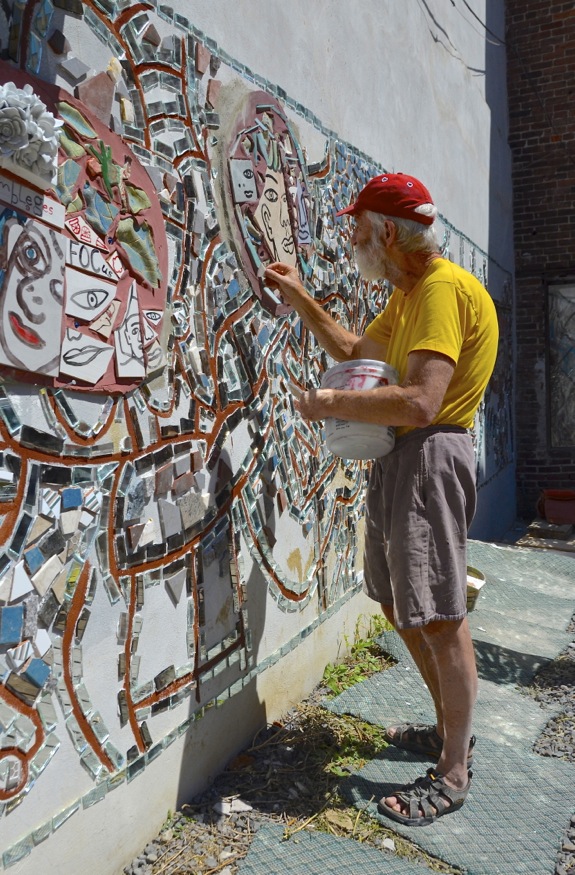 Coming up, I'll share what happened during the second day of the workshop, introduce you to some of the other attendees, and I'll share a few photos of Isaiah's warehouse space that can only be described as "jaw dropping".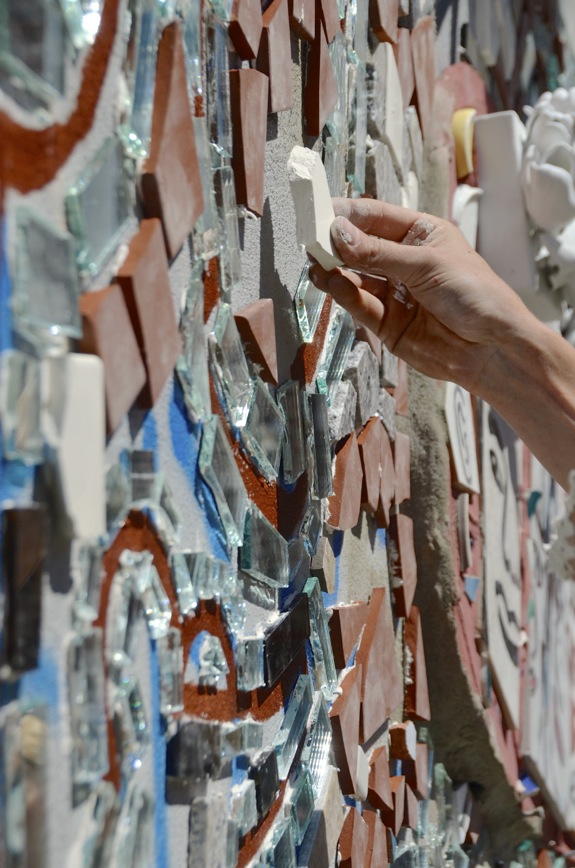 To learn more about the mosiac mural weekend workshop with Isaiah Zagar, click here.