These ideas for snow day fun are simple and easy to set up! Most of these use items you probably already have at home. When school is cancelled for a snow (and ice) day, it can upset daily schedules and frigid temperatures can mean lots of time indoors. These activities are great for when you want to embrace changes in everyday routines and turn them into impromptu celebrations!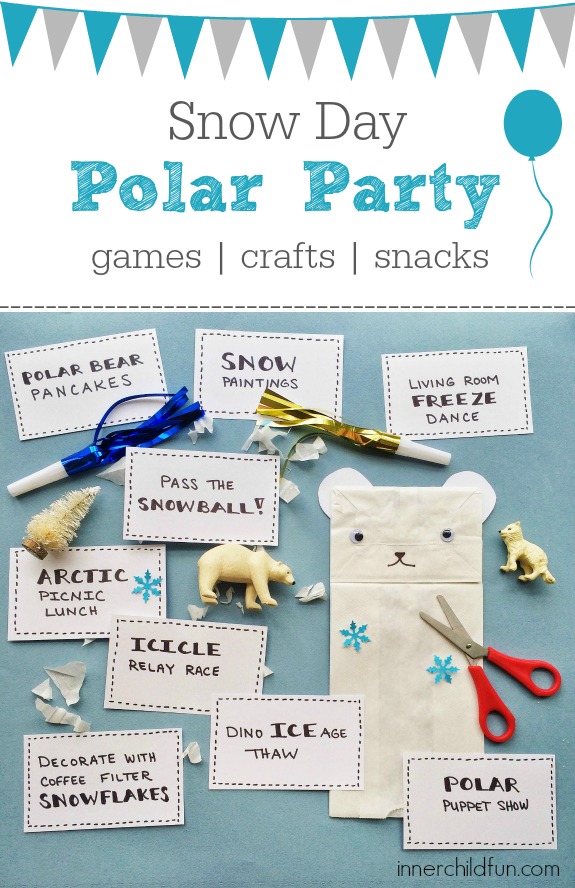 1. Polar Bear Pancake Breakfast
One of our favorite ways to welcome a snow day is with a pancake breakfast. These are made like regular pancakes, but with small ears on top to form a polar bear's head. Add mini chocolate chips for eyes and a nose and sprinkle with a little powdered sugar. Yum!
Related — Homemade Pancakes for a Snow Day
2. Decorate Your Room with Coffee Filter Snowflakes
All you need is a pair of scissors, coffee filters, string, a hole punch, and masking tape. Fold up coffee filters and cut into snowflakes. Use a hole punch at the top, and add string. Decorate your room with your snowflake decorations!
Related — See how to make paper snowflakes here.
3. Living Room Freeze Dance
Crank up some tunes and designate someone to turn around so they are not facing the dancers to play and stop the music. Dance while the music is playing and "freeze" when it stops. Whoever forgets to freeze is out! Give out small prizes for each contestant — perhaps a coupon good for an extra story to be read at bedtime?
4. Pass the "Snowball"
Played exactly like "Hot Potato", but with a ball of tissue paper held in place with masking tape to form the "snowball". Everyone sits in a circle, and takes turn passing the snowball around while the music is playing. When the music stops, whoever is holding the "snowball" is out! Give out a small prize for each player — maybe a small coloring book or pack of crayons.

5. Dino Ice Age Thaw
Freeze small toy dinosaurs in an ice cube tray. Place the frozen dinos in a large dish and provide a small bowl of salt water and an eye dropper for kids to "release" the dinosaurs! This is great for keeping kids busy while you are preparing lunch, or anytime you need a bit of quiet time.
6. Arctic Picnic Lunch
Use markers or stamps to decorate plain butcher's paper with snowflake designs. Wrap sandwiches in the paper and tie with ribbon or butcher's twine to look like a present! The kids may want to make and wrap sandwiches for one another. Place sandwiches in a picnic basket and go on an indoor picnic in your living room!
7. Build Polar Bear Puppets
Use white paper lunch bags for the body, cut out white construction paper ears. Invite the kids to attach the ears to the paper bag with clear tape and to draw the nose and mouth with a black marker. Add googly eyes and/or use the black marker to draw eyes, eyelashes, eyebrows.
8. Icicle Relay Race
Make an "icicle" from a sheet of white tissue paper held in place with masking tape. Build an indoor obstacle course or just run from one side of the room, around a chair, and back to pass the "icicle" on to the next person. Not enough room for two teams to go at once? Use a timer to see which team completes the course the quickest. Reward all participants with a hot cocoa break!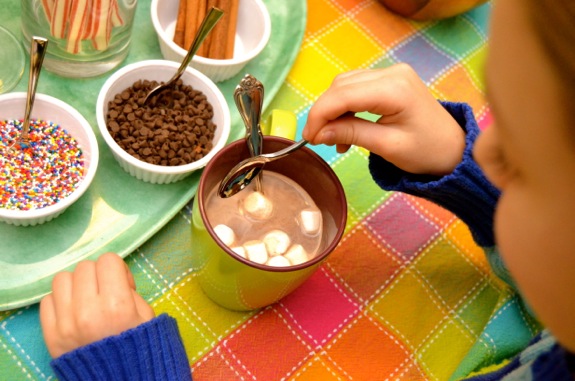 9. Hot Cocoa Break!
Sip on cups of hot cocoa and experiment with toppings or additions like: whipped cream, sprinkles, marshmallows, crushed candy canes, etc. Take a poll to see which is the favorite and teach the kids how to graph the results.
Related — How to Set Up a Hot Cocoa Bar
10. Polar Bear Puppet Show
Invite the kids to use the polar bear puppets they just created to produce their very own polar bear puppet show! Make and distribute tickets and flyers for those attending the show.
Related — How to Make a Simple Doorway Puppet Theater
11. Snow Paintings
This is a great wind-down activity. All you need is some school glue and shaving cream mixed in equal parts to form the puffy paint. Invite kids to paint snowy landscape scenes on blue construction paper. Allow a day or two for the paint to dry completely.
Related — Fluffy Snow Paint Recipe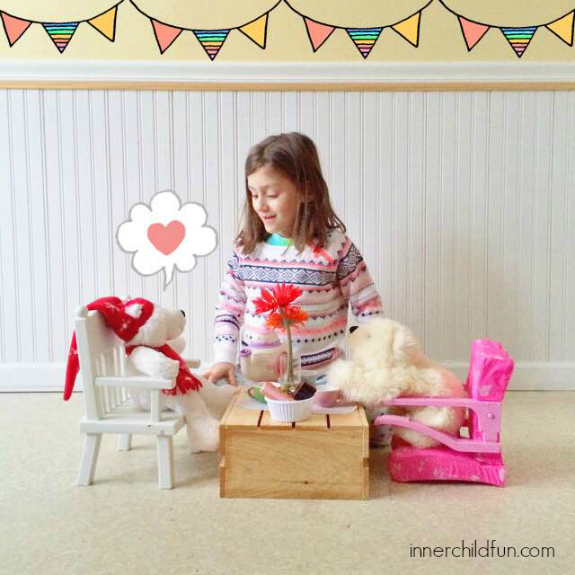 12. Polar Bear Pretend Hot Cocoa Par-tay!
Invite your teddy bears or stuffed polar bear toys to a pretend hot cocoa party. Lots of great imaginative playtime fun!
More Creative Snow Day Fun: