The best sand toys for kids can inspire hours of imaginative playtime fun for kids! These sand toys foster lots of time outdoors too. Whether it's a trip to the beach, or a simple sandbox or sand table in your yard, these sand toys are sure to bring plenty of smiles! Know any kids celebrating a birthday this summer? These sand toys would make excellent gifts too!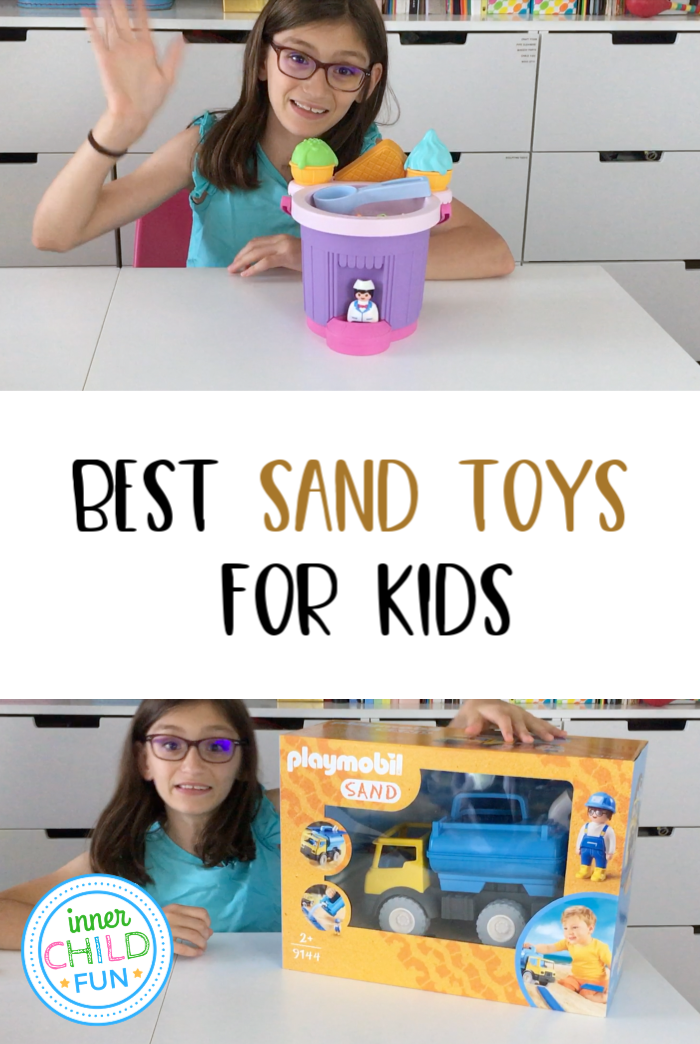 Here are the top 5 best sand toys for kids:
Disclosure: We are a participant in the Amazon Services LLC Associates Program, an affiliate advertising program designed to provide a means for us to earn fees by linking to Amazon.com and affiliated sites.
Playmobil Sand – Ice Cream Shop
This set was a recent favorite with my kids because they could engage in small world play with the Playmobil figures, and also make pretend ice cream too! The lid of the bucket is also a sand sifter. My kids especially liked that everything fits together inside the bucket for easy transport on and off the beach. Great playset!
Here is a more detailed video of Clara's unboxing and review of this playset:
Playmobil Sand – Water Truck
This one is recommended for ages 2 and up. The water tank portion of the truck detaches and can be used as a watering can, although younger kids may have a harder time re-attaching the water to the back of the truck because of the way it slides on and off. Very well-made, and the ramps are a nice addition to this set!
Here is a more detailed video of Clara's unboxing and review of this playset:
Melissa & Doug Sunny Patch Seaside Sidekicks Sand Cupcakes Play Set
This set has provided many hours of pretend play with my kids and all of their friends over the years, and continues to be a favorite! Fantastic for snow play in the wintertime too. My kids enjoy adding birdseed as "sprinkles" for their snow cupcakes. If you have a child who enjoys baking, this is the perfect sand toy playset!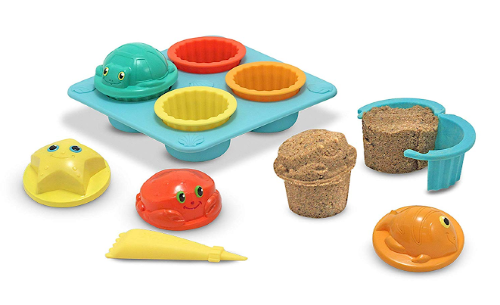 Melissa & Doug Sunny Patch Taffy Turtle Catch and Hatch Pool Game
Not only is this sand play set great for pretend play, but it also can be used for sneaking in some summer math practice too! Great for kids who are learning to swim underwater as they can dive for the eggs and try to match up the turtles. Younger kids can match them up in a water table or in the bath. Very versatile playset!
Step2 Cascading Cove Sand and Water Table
Some of my kids' favorite summer memories involve this sand and water table! We love the cover and the umbrella too. Over the years we had to replace the umbrella due to sun damage, but replacement umbrellas can be found here. Kids of all ages gravitate toward this sand and water table for playtime fun! It is extremely sturdy and well-made too!
Question – Do your kids have a favorite sand toy that is not listed here? We would love to hear from you! Leave a comment below and share your ideas with us!
More Sand Activities for Kids: