Here's a quick and easy way to work on developing storytelling skills with your preschooler using the sandbox, or in this case, a mini-sandbox! Clara was very lucky to have received this mini sandbox kit
from a friend for her birthday, and she has spent many hours happily playing with this!! You could easily make your own mini sandbox using a tray, and a bit of sand for outdoors. Alternatively, if you prefer to have the mini sandbox indoors, I recommend using dry oatmeal instead of sand for super easy clean up.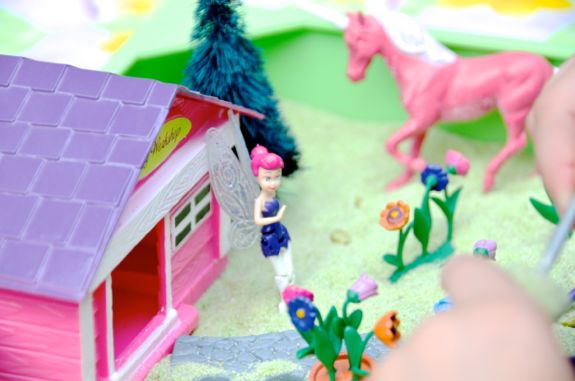 Clara is particularly fond of fairies at the moment, and thankfully this particular kit came with many fairy-friendly accessories and a few toy fairies as well! However, we also have plans to create a mini dinosaur sandox using small dinosaur toys, mini aquarium fake plants, and stones. For an ocean-theme, try blue colored rice, sea shells, and small fish or mermaid figurines. A construction theme might have toy trucks, plastic cones, or road signs. A knights and dragons version would be lots of fun to explore too! The possibilities are virtually endless!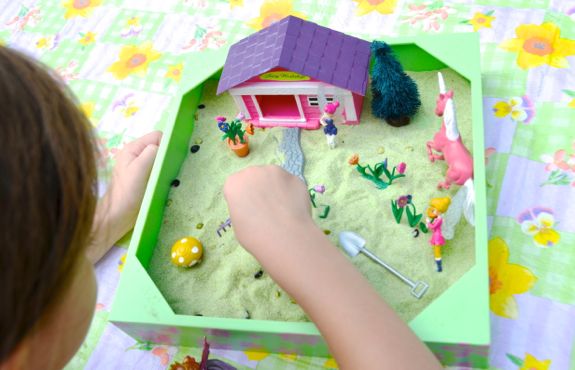 Invite your child to play and create her own story! You can do this by keeping all of the toys and accessories in a small bag, then take turns picking a new one from the bag to add to the story (and sandbox). You may want to write down what your child dictates. Later, she may want to add her own illustrations to create her own storybook! 
Does your child love to play in the sandbox?? You may also be interested in these 5 Tips for a Great Looking Sandbox All Summer Long or these 10 Fun-Filled Play Ideas for the Beach!
Have fun!!