Summer time means lots of active outdoor play time fun! Here are ten of our favorite outdoor toys for Summer to keep the kids entertained for long periods of time without the use of batteries or screens. Yay for creative outdoor play!!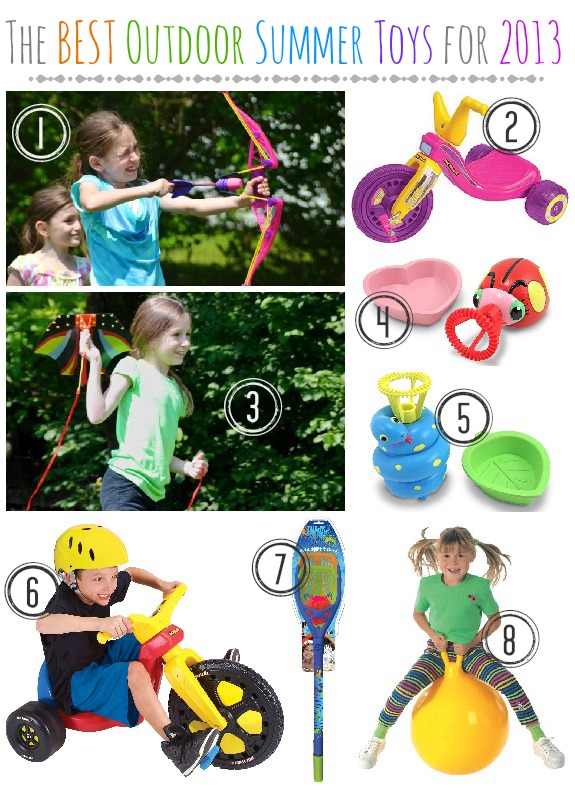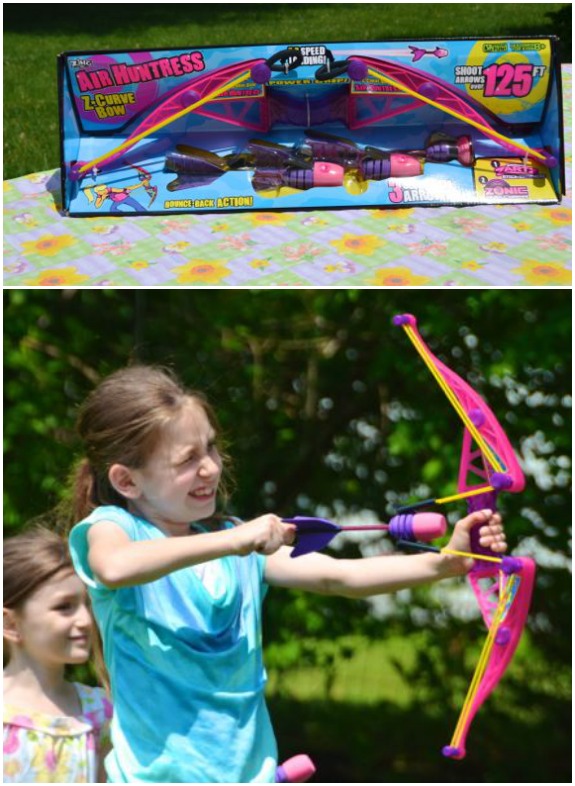 1. Zing Air Huntress Z Bow
(shown above) — New for 2013! Emily was thrilled to see this bow and arrow kit designed for girls! The Air Huntress comes with a z-curved bow and 3 foam dart (arrows). It's capable of shooting arrows 125 feet, and is recommended for ages 8 and up. Perfect for the aspiring archer!
2. Kids Only 9″ My First Big Wheel for Girls
— Made in the USA, this model is perfect for the little ones and  is designed for kids ages 18 months to 4 years. Such a classic outdoor Summer toy!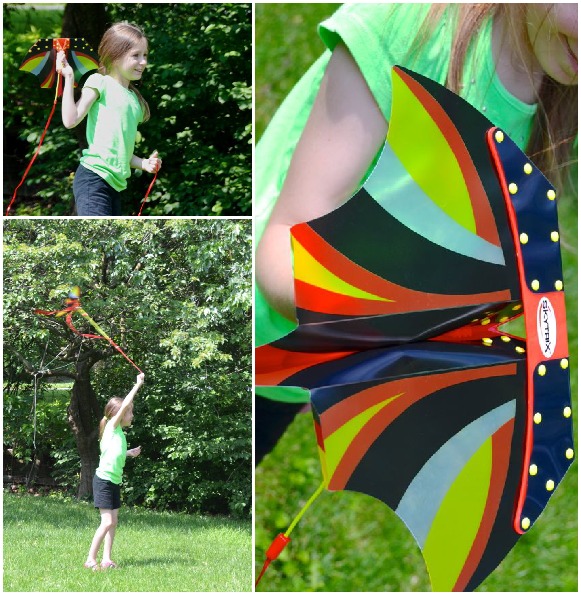 3. SkyTrix — New for 2013 is SkyTrix. It's part kite, part boomerang, and lots of fun right out of the box! Recommended for kids ages 8 and up. Emily absolutely loved this one! If you live near a big open field, this would be a fantastic toy to have!
4. and 5. Melissa and Doug Mollie Bubble Buddy
and/or Melissa and Doug Mombo Snake Bubble Buddy
— We've tried lots of different bubble blowers over the years, but these ones from Melissa & Doug are our absolute favorites!! They are very simple for kids ages 3 and up to use, they don't require batteries, and there are no moving fans (which my kids seem to always get their hair caught up in). Lots and lots of good ol' fashioned bubble fun!!
6. "The Original Big Wheel" – 16″ Big Wheel Racer – Red
— For ages 3-8 yrs, Big Wheel is such a classic outdoor Summer toy! This one is made in the USA, has a weight limit of 70 pounds, and features an adjustable seat to grow with your child. Highly recommend!
7. Ball Bounce And Sport Toys Hydro Stick 2-Pack
— New for 2013! ages 3 -15 yrs. My kids love that this is part Lacrosse stick and part water blaster! Place the stick in water, and pull on the handle to suck up water. Then water blast your opponent!! Great for the backyard, beach, or pool!
8. Hop! Ball (18″ Yellow)
— Hoppers are great for ages 3 and up to develop balance and coordination while getting a great workout! This one is 18″ in diameter, and ships un-inflated. It is made from soft, super-strong, latex free and phthalate free vinyl. Keeps the kids entertained for long periods of time!

9. Melissa and Doug Seaside Sidekicks Brick Building Toy
— New for 2013! For ages 2 – 7 yrs, I love this brick maker and trowel set from Melissa & Doug because it makes it so easy for even very young kids to build impressive sand structures!! The kids can spend lots of time building and rebuilding various sand castles and other buildings with this set. The trowel snaps onto the top of the brick maker for easy storage, and it is super cute too! Great for the sandbox or beach.
10. Crayola 48 Count Sidewalk Chalk
— New for 2013! My kids were incredibly excited to see that Crayola has finally come out with brightly colored sidewalk chalk!! For years we've used chalk pastels instead, and those are more expensive and not nearly as washable. LOVE these and highly recommend them for hours of outdoor playtime fun!!
Any great outdoor Summer toys you would add to this list? Leave a comment and share your ideas with us!
Disclosure: This post contains affiliate links. All opinions are my own. Full disclosure policy here.