Here are some easy Valentine treats kids can make to give to friends, neighbors, or family. We had so much fun making these delicious treats together! These would be great to take to a tea party or Valentine's Day celebration. You can make an entire batch of these Valentine treats in just a few minutes! Yummm!!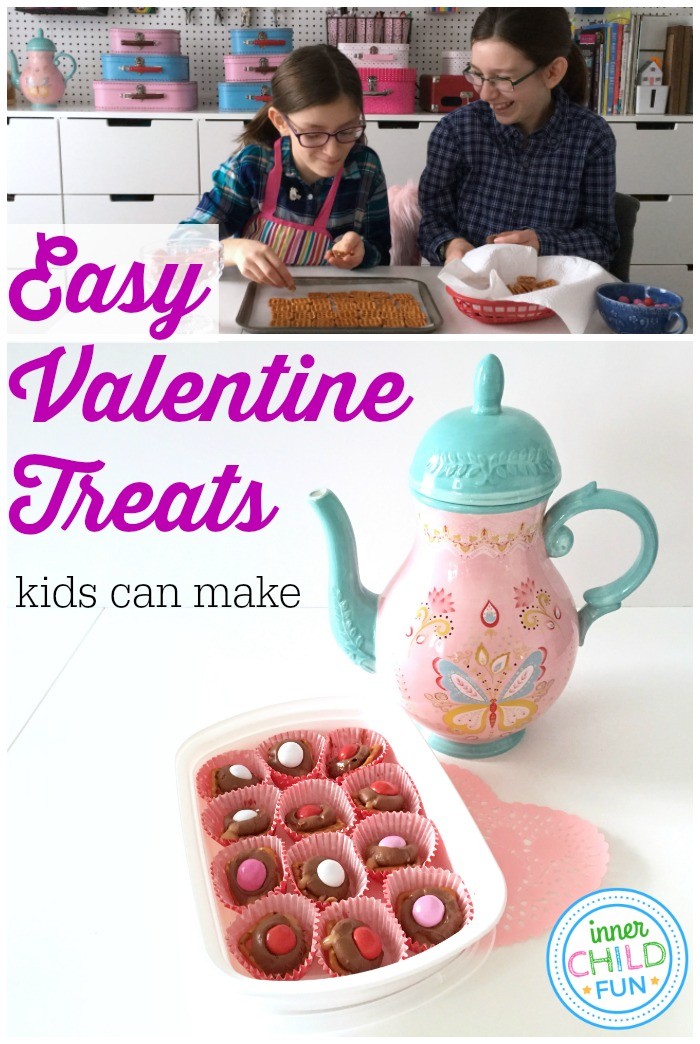 To make a batch of easy Valentine treats of your own, you will need:
Disclosure: This post contains affiliate links and I will earn a commission for items purchased using these links. Thank you for supporting us!
Here is a quick video tutorial:
Clara (age 9) and Emily (age 14) share step-by-step instructions for how to make these easy Valentine treats!
Directions:
Preheat the oven to 200° F.
Line a baking sheet with parchment paper, and place butter snap pretzels on top in a single layer. The pretzels should be spaced about an inch apart.
Unwrap the chocolate covered caramels and place one on top of each butter snap pretzel.
Bake at 200° F for 3-4 minutes, or until the chocolate begins to look shiny.
While the chocolate is still warm, place a candy coated chocolate on top and press it down slightly to hold it in place.
Place in the freezer or refrigerator for a few minutes until hardened.
Once the Valentine treats have completely hardened and cooled, you may want to place each one into a cupcake liner. Treats can be stored in an air tight container for up to 2 weeks. Give your homemade Valentine treats to someone special!
Have fun!!
More Handmade Valentine Gifts Kids Can Make: