We've been de-cluttering around here, and we found LOTS of broken/old crayons (they were everywhere!) I thought it would be fun to make "crazy crayons" a la Martha Stewart with a Valentine's Day twist! Emily helped make them and she can't wait to give them to friends!
Gather old/broken crayons that you have on-hand. Do you have ANY idea how many of these were in our household??? Peel off all the paper. Tip — Mark used his pocketknife to carefully cut across the labels so they were MUCH easier for Emily to unwrap.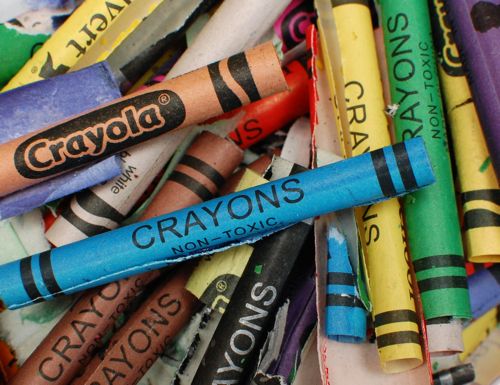 Break up the crayons into small pieces and place them in a muffin tin! For Valentine's Day, we used a heart-shaped muffin tin!! We filled the molds about half way. We found that they look really neat if you place two different colors in each heart!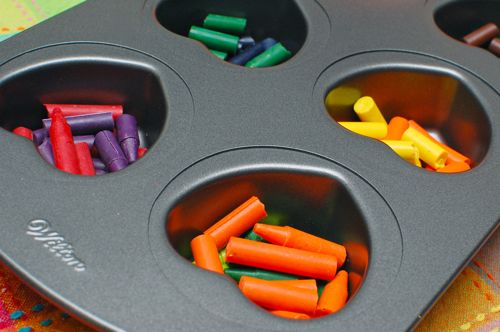 Bake in a 275 degree oven for 10 minutes, and let cool for just a few minutes before placing them in the fridge. When they are completely cooled, they will pop right out of the molds — and you'll have a neat reveal!!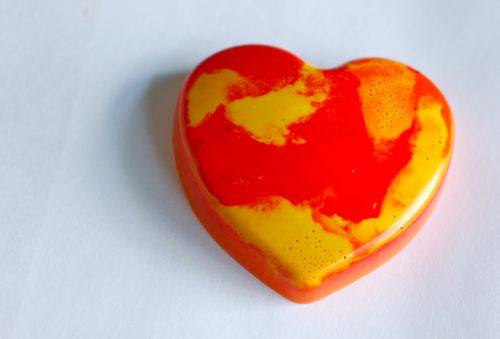 Emily "Oohed and Ahhed" for them as they popped out of the molds! I love how colorful they are and that each one is totally unique!
To make them perfect for gift-giving, we thought it would be nice to design some bag toppers you can download and print out! There's space on the back for the kids to write "To:" and "From:". Staple them to 3″ wide zip top bags — found here (pack of 100/$7.49) (affiliate link), and you have a quick, easy, one-of-a-kind, and very frugal party favor!!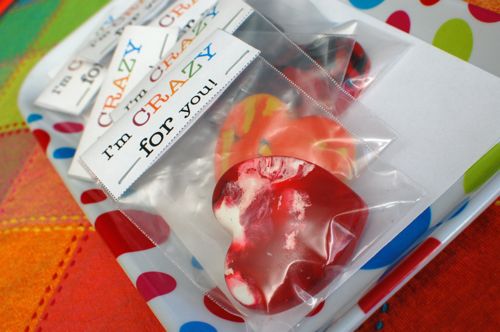 Have fun!!