This grandparent gift idea is special and simple to put together. Starting a Grandkid Date of the Month Club gives grandparents and grandkids a fun activity to look forward to each month! This could be done for other family members or friends as well. I love how this grandparent gift idea helps foster family connections! Spending time together is one of life's best gifts!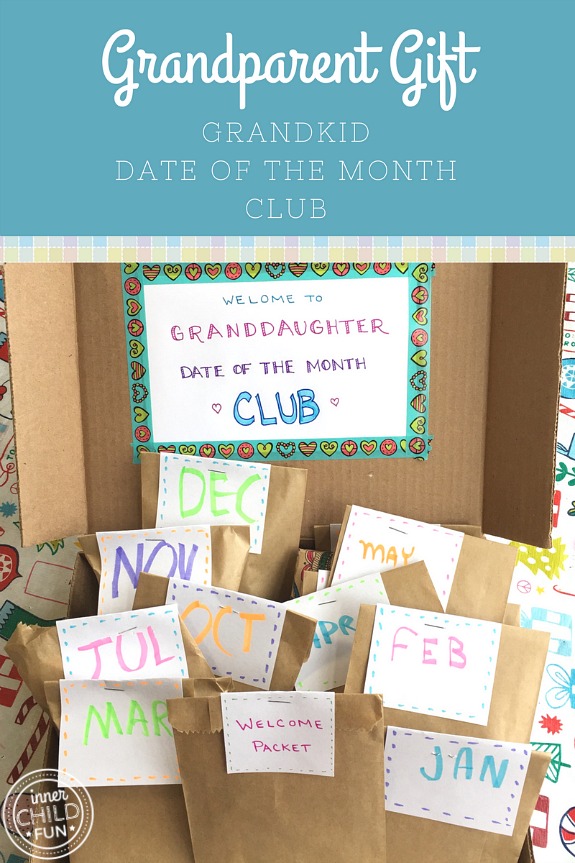 To start a Grandkid Date of the Month Club, you will need:
a large cardboard box
13 brown paper lunch bags (one for each month, plus a welcome packet)
13 blank index cards (for bag toppers)
14-16 more blank index cards (one for each activity, plus a membership card, and welcome packet)
12 fun activity ideas (see below)
Step 1:
Begin by labeling each of the bags with the corresponding months of Jan-Dec.
Step 2:
Invite the kids to brainstorm a dozen fun activities they would like to do with their grandparents. Assign each bag to an appropriate month. This can be customized however you would like! For example, for a grandparent who enjoys woodworking, building a birdhouse together in early Spring would be a great option.
Step 3:
If desired, place a small corresponding gift into each bag.
Here are some sample activities for this grandparent gift idea:
JAN – After School Tea Party (a few bags of tea)
FEB – At Home Movie Night (a family-friendly DVD)
MAR – Let's Play a Board Game Together (a deck of cards)
APR – Lunch at a Favorite Restaurant (restaurant gift card)
MAY -Visit the Spa Together (spa gift card)
JUNE -Walk in the Rose Gardens (small silk flowers)
JULY – Picnic in the Park (utensils, salt & pepper packets, napkins)
AUG – Campfire with S'mores in the Backyard (zipper bag with s'mores snack mix – cinnamon cereal, chocolate chips, mini marshmallows)
SEPT – Let's Do a Puzzle Together (mini puzzle)
OCT – Pumpkin Painting Party (small paint pots and paint brushes)
NOV – Let's Bake a Special Treat (zipper bag with sprinkles, pumpkin shaped cookie cutter)
DEC – Drive to See Holiday Lights (set of battery powered holiday lights)
For the welcome packet, you will want to include the list of activities for each month (NOT the contents of the bags). Be sure to add a fun membership card for this super exclusive club!
Tip – Be sure to keep a copy of the activities, so you can mark your calendars and plan as the time arrives.
Staple the bags shut to be opened when that month arrives. Give your Grandkid Date of the Month Club membership to a very special grandparent with instructions to open the Welcome packet. This would be a great birthday gift, holiday gift, or a gift for Grandparent's Day!
It truly is the gift that keeps on giving!
Have fun!!
Grandparent Gift Idea — more to explore: