This post contains affiliate links. I am a member of the Netflix Stream Team, and this post is sponsored by Netflix. All opinions are my own.
The Winter months can mean lots of time spent indoors when kids are home from school due to inclement weather. Did you know that many of your kids' favorite books are available to watch instantly on Netflix Steaming? This is a great excuse to spend the day cuddling up reading a great book, then watching the movie together in the evening for a book-themed family movie night!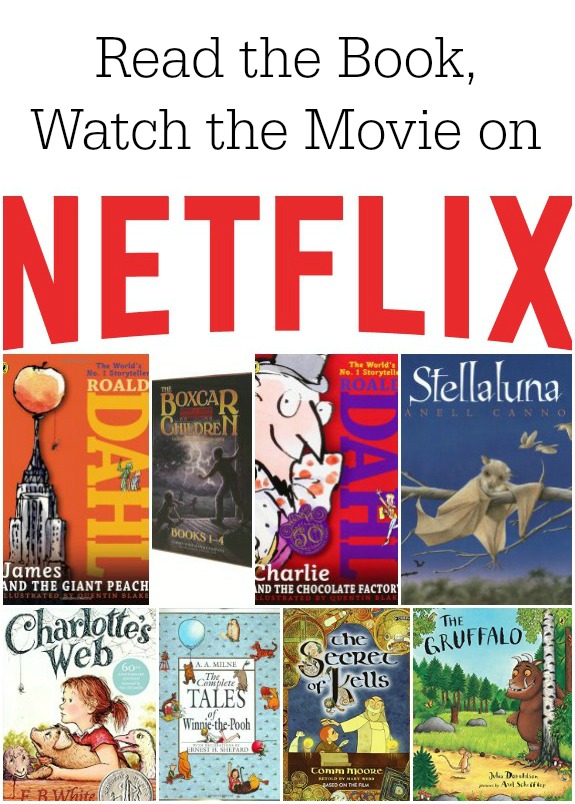 Here are some of our favorite books that are also available to watch on Netflix Streaming:
This book was required reading for my daughter's 5th grade class, and she loved reading it! Afterwards, her class watched the original movie and the more recent remake. They compared the book to both versions of the movie and completed lots of other projects too.
An adorable picture book about a bat that loses her mother and ends up in a bird's nest where she is raised by birds.
One of my 7 years olds favorite picture books about a very clever mouse who makes up a creature called a Gruffalo to avoid being eaten by a fox, an owl, and a snake.
One of my personal favorite books when I was a kid, and now both of my kids enjoy this book and movie too!
So many life lessons to learn and explore in the series of stories from Winnie the Pooh!
A classic tale about friendship, confidence, and life and death drama.
 Emily absolutely loved this series of books and has read almost all of them. A very easy chapter book series for beginners about the adventures of 4 orphaned children who live in the woods.
A 12 year old Irish boy working to fortify his village to keep Vikings out while secretly working as an apprentice on the Book and going out on several adventures. The animation is stunning. One of our family's favorite movies!
More Netflix Fun to Explore: