Want to bring the fun of the beach to your next family movie night? Here are some ideas to make family movie night super fun — BEACH STYLE! A big thank you to our friends at Netflix for sponsoring today's creative family movie idea. With Netflix streaming, you have instant access to thousands of movies or television shows to watch on your computer or mobile device. Plus, no commercials!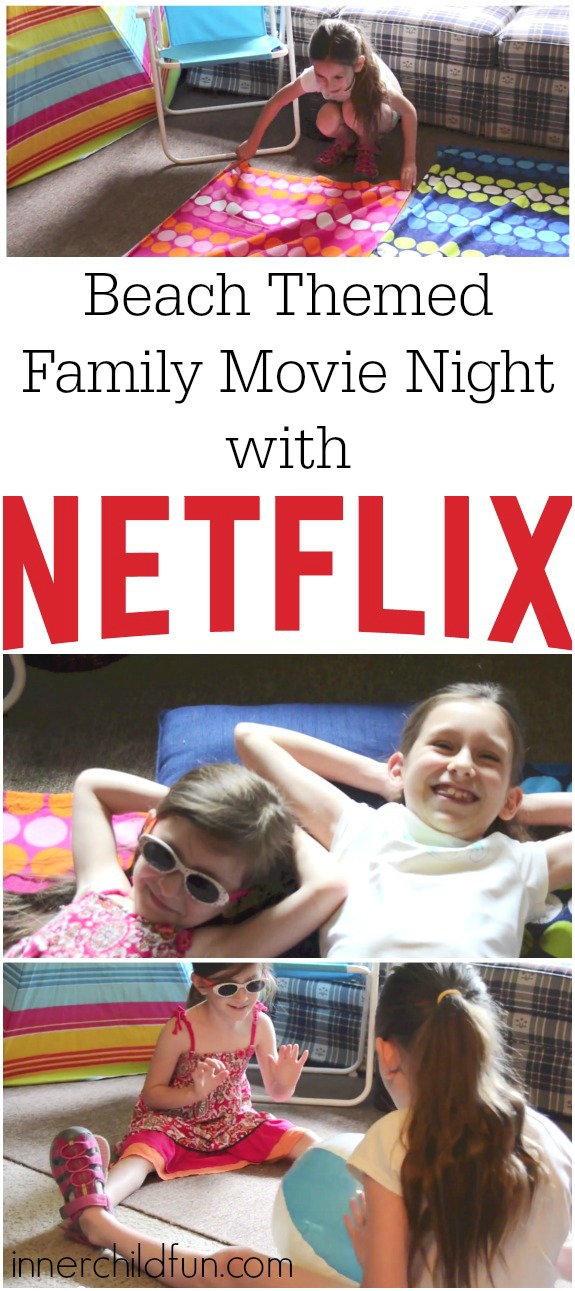 My kids counted down the days until Disney's Teen Beach Movie premiered on the Disney Channel a few years ago. Exciting news! Teen Beach Movie is now available on Netflix streaming!! It is the perfect family-friendly movie for preparing a simple beach-themed night at home. This would be a great activity for a rainy day or anytime you might be stuck indoors.
Here's how:
1. Set up beach towels and a beach umbrella on the living room floor.
2. Make tropical snack mix. Combine dried mango, banana chips, dried cranberries, yogurt-covered raisins, shredded coconut, dried pineapple, cashews and/or almonds. Yum!!
3. Serve pieces of fresh pineapple on toothpicks.
4. Inflate a few beach balls.
5. Wear bathing suits, sunglasses, and flip flops.
6. Play freeze dance with surfin' music!
7. Sit on lawn chairs or beach mats.
8. Make plenty of popcorn!
9. Serve juice in fancy glasses with straws and umbrella toothpicks.
10. Watch Teen Beach Movie — streaming on Netflix! It is rated G and 95 minutes long. A sweet, feel-good movie!
Here's a little video of some of our family beach themed movie night fun:
Disclosure: This post is sponsored by Netflix and I am part of the Netflix StreamTeam. All opinions are my own.