There are so many fantastic color activities around the web, and finding them this week has made me happy! It's hard not to smile (and look forward to spring) when you are checking out so many bright and colorful ideas. Enjoy!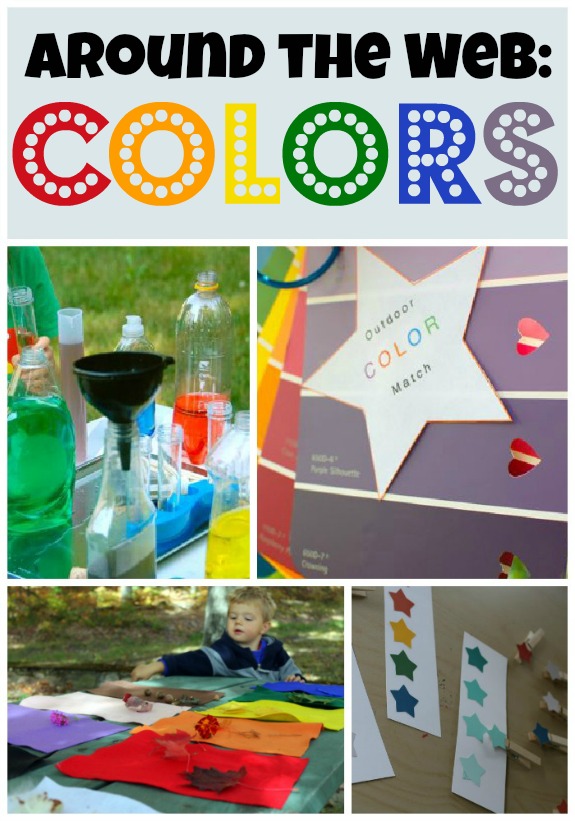 1. Purple Crayon Mural via Inner Child Fun- This is a fun activity to go along with the book Harold and the Purple Crayon, but would also be a great art activity to practice color recognition for any color! 
2. Learning Colors Through Nature via Fireflies and Mud Pies- Discover (and sort!) the beautiful colors of nature with this fun activity.
3. Quilted Color Match Game for Tots via Inner Child Fun- Boredom buster, quiet time activity, and color matching game all rolled into one! 
4. Early Ed- Montessori via Homeschooling in the Rose Garden- Combine fine motor skills with color recognition for a fun matching game.
5. Outdoor Color Match via Inner Child Fun- This homemade color matching game will get you to notice all the colors, and the various hues, nature has to offer. 
6. Color Mixing via Montessori Tidbits- Check out this post for some awesome color mixing printable pages. For free!
7. Potion Lab via Inner Child Fun- Mix up some colors (and fun) with this colorful potion lab play prompt!
8. Practicing Colors and Patterns via Crayon Freckles- Make practicing colors and color patterns fun by incorporating your child's interests!
9. Giant Rainbow Collage via The Imagination Tree- Create some big art while learning about colors and practicing other valuable skills. 
10. Rainbow Playdough Color Sorting via No Time For Flash Cards- This is a gorgeous and inviting way to have some fun with colors. 
Want even more playful color activities? Check out my Pinterest board Colors, Colors, Colors!