Disclosure: We are a participant in the Amazon Services LLC Associates Program, an affiliate advertising program designed to provide a means for us to earn fees by linking to Amazon.com and affiliated sites.
Over the weekend, we took the girls to see Harold and the Purple Crayon at the theater, a holiday gift from Mark's sister (Thank you, Aunt Julia!!) It is one of their favorite books, and afterwards Crayola was there to hand out large purple crayons to all the kiddos! Fun!!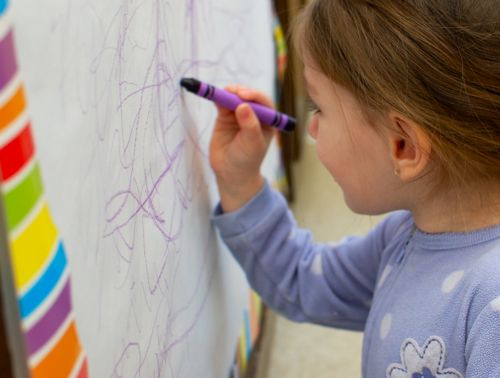 This morning, I attached freezer paper to a large part of a wall using some masking tape, so Clara and I could take turns drawing our own mural — just like Harold! I love how much FUN she had with this — just a jumbo crayon and a BIG sheet of paper, so simple!!
If your child is old enough to understand the concept of drawing on paper, and NOT walls, this is an easy and fun project!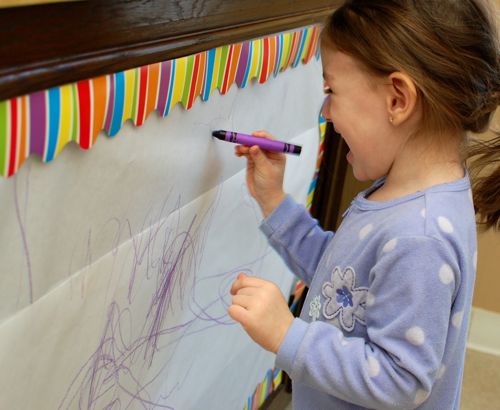 I added a bulletin border from the Thrift store for a fun frame around our mural. It created a bit of a buffer zone between the mural and the wall, and kept Clara from accidentally coloring off of the paper. Plus, I love how colorful it looks!!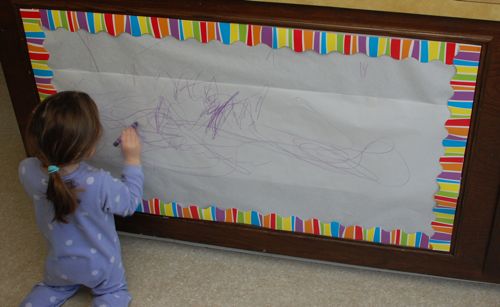 Ain't nothin' more fun than drawing in your pajamas, I tell you!
PS: We're now on Facebook! Come on over, and "like" us!! I would love to connect with you there!