This Witch's Workshop is an easy way to foster lots of creative Halloween pretend play! You can use vinegar and baking soda to create potions, measure and weigh toy spiders, or read Halloween stories together for "research". Here are a few ideas to create a spooktacular witch's workshop of your own!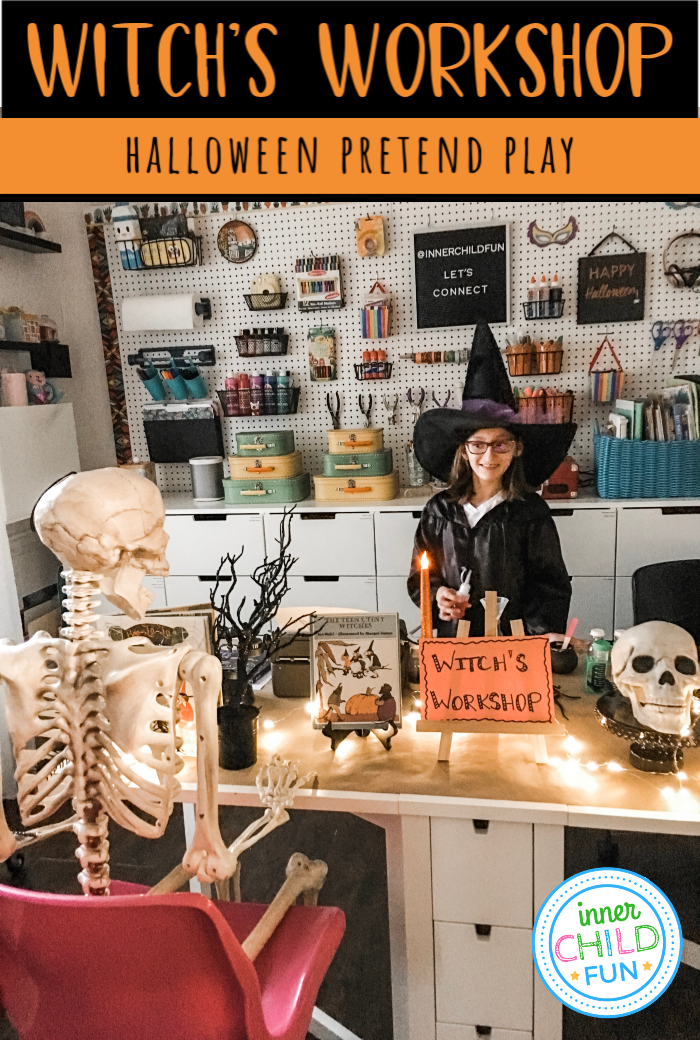 To make a witch's workshop of your own, you will need:
Disclosure: We are a participant in the Amazon Services LLC Associates Program, an affiliate advertising program designed to provide a means for us to earn fees by linking to Amazon.com and affiliated sites.
A workbench or table
Various creepy items of Halloween decor (skulls, bones, rats, spiders, plastic cauldrons, etc)
White Vinegar
Baking Soda
Food Coloring (optional)
To begin, set up the workbench or table with the various creepy Halloween decor items. Tip – If you do not have any "bones", you can make your own with this tutorial using newspaper and paper napkins. And for spiders, use this tutorial so you can make your own using pipe cleaners and soda can tabs.
Next, place some baking soda in the bottom of a few test tubes, Petri dishes, and plastic cauldrons. As an optional step, you could add a few drops of food coloring to each of the containers.
After that, fill the plastic beakers with white vinegar.
Now the fun part! Invite your child to make "potions" by using the eyedroppers to place a few drops of vinegar into the baking soda/food coloring mixture. My kids loved watching how their potions bubbled and fizzed – like magic!
Have fun!!
More Halloween Pretend Play Ideas to Explore: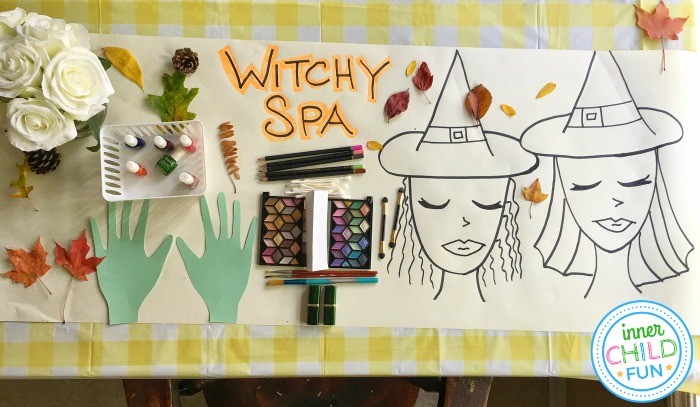 Witchy Spa! – A great use for any leftover bits of make up you may have on-hand. This simple witch spa set up would be the perfect activity to go along with the book Boo- la-la Witch Spa by Samantha Berger
Spider Shop – Introduce early math skills with a spider shop. Kids can practice counting, simple addition, and calculating change while being festive and having lots of fun! You can find spider toys at your local dollar store, or make your own with pipe cleaners. Alternatively, make your own with this tutorial using chenille stems and soda can tabs.
Spider's Web Deadly Diner – A silly and spooky version of a pretend diner that uses a creative menu of specials. This diner is sure to delight even the pickiest ghosts and goblins with options including Poison Ivy Salad (leaves), Worm Pasta (strips of cut up tan felt), and Deep Fried Spider Legs (plastic spider rings).