Disclosure: I was invited to the 2017 Disney Social Media Moms Celebration. I paid a conference fee to attend and received discounted & complimentary items from Walt Disney World, Disney Cruise Line, and their sponsors. Attendees are not required to write about our experiences at the conference. All opinions are my own.
If you have ever been on a vacation to the Walt Disney World Resort, you are probably familiar with the struggle to get back to reality. Going back to your everyday routine and catching up on laundry can make re-entry a real struggle. Fortunately, there are a few simple ways you can bring the magic of your vacation home with you!
Here are five creative ways to extend the magic of a Disney vacation: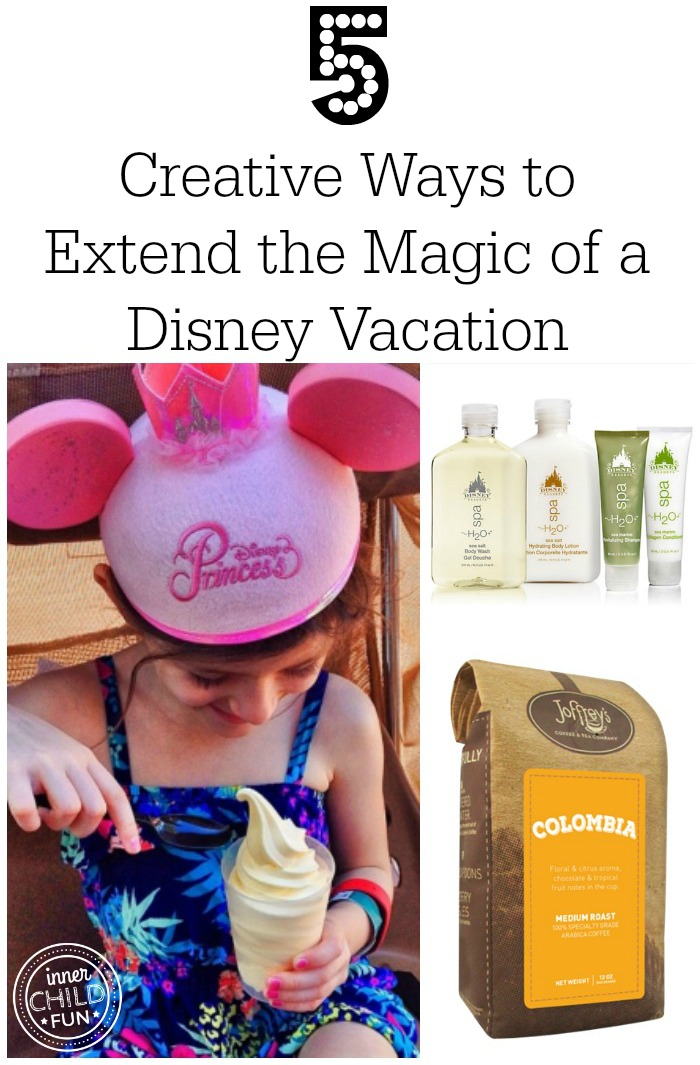 Morning:
Start Your Day with Joffrey's Coffee
Joffrey's Coffee is the official coffee of the Walt Disney World Resort. As soon I put on a pot of the Colombia roast, the aroma makes me feel almost as if I'm back in Disney World….almost. Forgot to stock up on Joffrey's while you were in Disney World? No worries, you can order their coffees and teas online! Added bonus, use coupon code ROAST for 20% off your order of Colombia. Coupon expires 4/4/17. If you are in the US, there is free ground shipping on orders of $50 or more.
Shower with Shampoo/Conditioner/Body Wash brought back from your Disney Resort
If you stayed in a deluxe resort in Disney World, be sure to bring back the travel toiletries. The H2O+ product line is made with hydrating botanicals and features fabulous scents. Running low? You can order more online at the DisneyStore.
Afternoon:
Treat Yourself to a DIY Dole Whip
Every true Disney World fan knows how amazing the Dole Whip treats can be. Did you know you can make your own Dole Whip at home? This recipe from Dole looks like it would be very easy to make. Yum!!
Evening:
Relax with music from your favorite Disney movies.
This Disney Dinner Party play list on Spotify could be just what you need to unwind after a long day back from vacation.
More Disney Magic to Explore: