Are you planning an upcoming family vacation to Disneyland? Here are 5 of our favorite secrets of Disneyland that we discovered while attending the Disney Social Media Moms Celebration this Spring! A BIG thank you to Disney for hosting such a wonderful event while giving our family the opportunity to explore the parks!!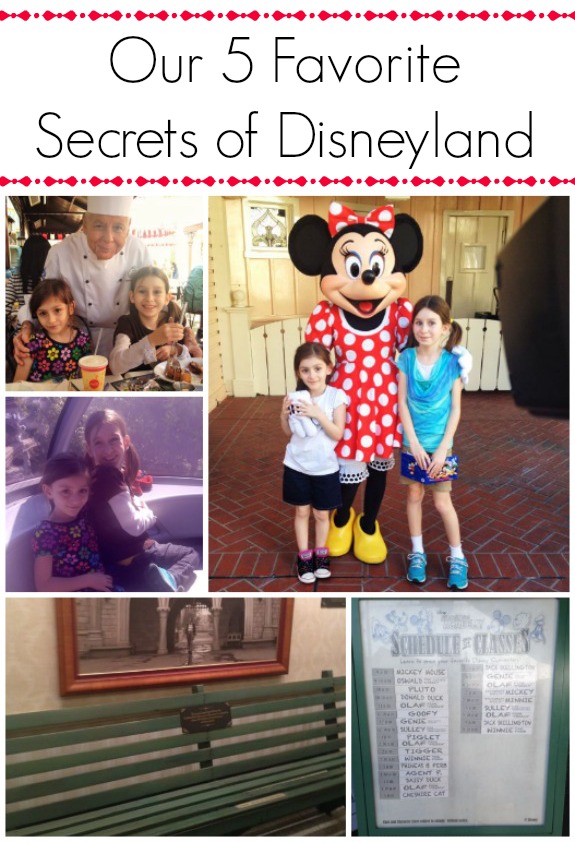 A Special Park Bench
At the entrance to Great Moments with Mr. Lincoln, stop in to view the actual park bench where Walt Disney first sat and imagined the concept for Disneyland while watching his daughters play on a carousel. He sat at this park bench and envisioned an amusement park where parents could ride attractions together with their children.
Take a Ride in the Very Front of the Monorail
While in line to ride the monorail, simply ask a cast member if you can take a ride in the pilot's cabin! Space is limited to about 4 guests, and you may need to wait a bit longer for the next available monorail.
Become an Honorary Citizen of Disneyland
Visit City Hall and request to become an Honorary Citizen of Disneyland. You may need to take an official Disneyland oath, and will receive either an Honorary Citizen pin or sticker. My 10 year old thought this was really special!
Meet Oscar at Carnation Cafe
The "Oscar's Choice" menu item at Carnation Cafe is named after Oscar Martinez, Disneyland's longest-serving employee. Oscar can frequently be seen at the Carnation Cafe greeting guests, and he has over 58 years working at Disneyland! My kids loved meeting Oscar in person and asking him about how things have changed or stayed the same in the park all these years. My 10 year old even asked for his autograph!
Animation Academy
Not a "secret" of Disneyland per se, but an attraction that is particularly underrated is the Animation Academy. Every half hour, the academy offers workshops that last about 15 minutes where guests can learn how to draw a Disney characters from a real Disney animator! Guests can attend as many workshops as they wish, and may keep their own artwork as a souvenir of the experience. Very cool!
Do you have a secret of Disneyland to share? We would love to hear about it! Leave a comment and share your stories with us!
Disclosure — My family attended the 2014 Dis­ney Social Media Moms Cel­e­bra­tion. I paid a con­fer­ence fee to attend and received deeply dis­counted and com­pli­men­tary items from Disneyland and other sponsors as part of the expe­ri­ence. I was not asked or required to write about our expe­ri­ences at the con­fer­ence or our fam­ily trip. All opin­ions are my own.