Disney World learning activities do not have to be time consuming or complicated. There are ample opportunities to learn on vacation while enjoying the parks! From important life lessons to introducing foreign countries and culture, you will find many learning experiences together. We just returned from a family trip to Disney World as part of the Disney Social Media Moms Celebration and found there were several ways to incorporate learning fun into our vacation plans!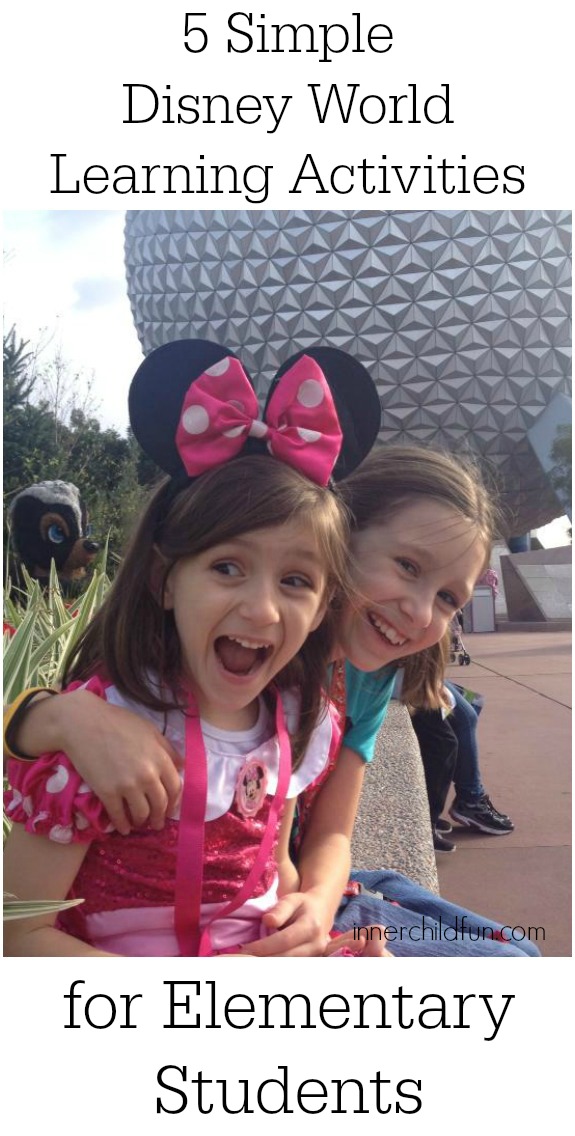 Here are 5 simple Disney World learning activities for elementary students:
1. Budgeting
A few weeks before your trip, give opportunities for the kids to earn money for any souvenirs they wish to purchase for the duration of the trip. Our favorite method is to give the kids a clipboard and invite them to walk around the house making a list of things that need to be done. Later they can discuss and negotiate a salary with my husband and me.  For this trip, the kids each earned $25 to be used for any purchases they wished to make for the duration of the trip. This really helps cut down on impulse purchases, and is a great way to introduce kids to the concept of budgeting funds.
2. Estimate Time
For many attractions wait time estimates are displayed in minutes. You can ask your child questions like, "It is 9:30am now. If we get in the line without FastPass and wait 20 minutes, what time will it be when we go on this ride?" Or "We have a FastPass beginning at 1:30PM. It is noon now. How much time must pass before we use our FastPass?"
3. Navigation
Near the entrance to each park, you will find maps that outline the attractions, gift shops, restrooms, first aid centers, and more. Ask your child to draw a line with her finger showing the most direct way to go from your current location to an attraction you have selected. For example, "Can you use this map to show me the quickest way to go from here to Space Mountain?" Point out a few key landmarks you see on the map, then use those same landmarks as you navigate your way through the park together.
4. Introduce a Foreign Language and Culture
When visiting Epcot, try to take advantage of the KidSpot locations within each country in the World Showcase. Here, your child can learn how to say simple phrases like, "Hello" or "Thank You" in each country's official language. She can also learn to identify the host country's flag. Each child is given a cardboard Duffy the Bear to personalize and decorate with the supplies provided (crayons, colored pencils, or markers). Visit each KidSpot location along the World Showcase to collect stamps from each country. Very cool!
5. Animal Identification
Visit Animal Kingdom and go on the Kilimanjaro Safaris together! Here you can ride off in an open air vehicle for a glimpse of real African wildlife on an 18 minute tour through picturesque landscapes. Each vehicle features overhead animal identification charts, and your guide will be able to give you valuable information about each animal you encounter on your journey. Highly recommend!
Disclosure — My family was fortunate to enjoy 7 day park hopper passes to Walt Disney World as part of the 2015 Dis­ney Social Media Moms Cel­e­bra­tion. I paid a con­fer­ence fee to attend and received deeply discounted and com­pli­men­tary items from Disney World and other sponsors as part of the expe­ri­ence. I was not asked or required to write about our expe­ri­ences at the con­fer­ence or our fam­ily trip. All opin­ions are my own.