Are you planning a trip to Disney World with kids? Here are some of our favorite tips for dining in Disney World with kids to help you save money, avoid the crowds, and even take advantage of the best opportunities to try new and exciting foods! With lots of healthy options to choose from, Disney World has many dining options that are sure to please even the pickiest eaters.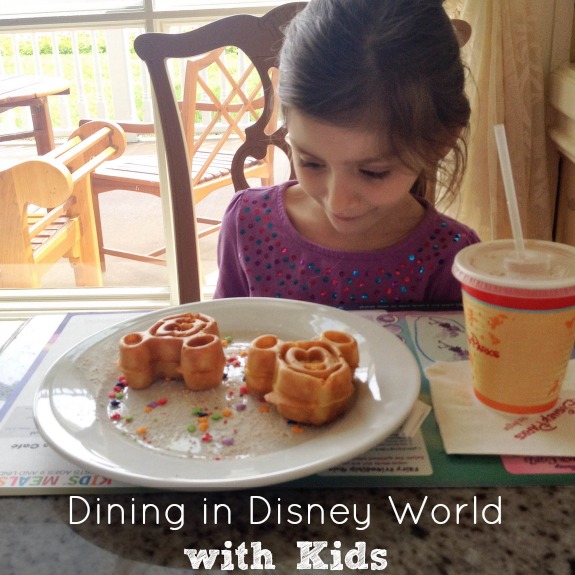 1. Consider the Disney Dining Plan
If you are traveling with your family and plan to eat most of your meals in Disney World, you may find the Disney Dining Plans to be a cost effective option. The Disney Dining plans are easy to use, and accepted at most dining locations throughout the park.
For one of our most recent trips to Disney World, we chose the Disney Quick-Service Dining Plan, and found it to be a great value since we had most of our meals within the Disney resort or parks. For each night of our trip, our quick service dining plan included 2 quick service meals, one snack, and one resort-refillable drink mug per person.
2. Bring Your Own
Guests are allowed to bring food items—such as snacks or foods that do not require heating—into Disney theme parks. Glass bottles or glass containers are not permitted. No alcoholic beverages. Glass baby food jars are permitted. No box, cooler, bag, or other container larger than 24″ x 15″ x 18″ is allowed into the parks as a food receptacle, or for any other purpose.
We packed protein bars, cracker snack packs, juice boxes, and refillable aluminum water bottles. We also packed string cheese and yogurt in a small soft sided cooler with ice. 
Tip: Quick Service restaurants will provide guests with cups of ice or ice water for free. Just ask!
Need to warm up baby bottles? Head to the baby care center at each park. To heat your own food, the Disney-owned resorts each have a counter service restaurant equipped with a microwave and toasters. Guests are welcome to use these devices to heat their own food.
3. Make Reservations
Use the myDisneyExperience website or free app to make dining reservations for sit down meals up to xxx days in advance. Be sure to arrive at the restaurant at least 15 minutes prior to your reservation time. Some restaurants require a credit card number to make a reservation and charged a fee if your party does not show up (or cancel within 24 hours prior to the reservation time).
The myDisneyExperience app is a great way to keep track of your trip itinerary with FastPass selections and dining reservations all in one place! We also love being able to see up to the minute wait times at attractions throughout the parks.
4. World Showcase at Epcot
Sharing a snack or special treat at the World Showcase at Epcot is a great way to introduce kids to new and exciting foods and cultures. Some of our favorites include: school bread in Norway, soft pretzels in Germany, couscous in Morocco, eclairs in France, and gelato in Italy!
5. Avoid the Crowds
To avoid the crowds and save some money, it may be best to follow some unconventional thinking of having a sit down breakfast, pre-packed lunch, and later dinner at a quick service restaurant. Our favorite sit down breakfast restaurant is the Grand Floridian Café (you do not need to stay at the hotel to eat there) and we have never had any issue being seated right away, plus — Mickey Waffles!!
For quick service dinner, we love the Columbia Harbor House in Magic Kingdom. Lots of healthy options, reasonably priced, and we can almost always find a table on the upper floor (most guest don't even realize that the upstairs exists or has additional seating!).
6. Kids' Power Snack Pack
Select Disney World resort hotels and concession stands offer a kids' power snack pack that contains a healthy assortment: banana, Goldfish crackers, yogurt, milk, baby carrots, and apple slices for around $5-$6. This can be a great option for those traveling with picky eaters!
What are your favorite ways to dine at Disney?