This post is sponsored by Netflix. I am proud to be a member of the Netflix StreamTeam, and I received promotional materials for the purposes of this post. All opinions are my own.
Did you know that Netflix Streaming offers lots of quirky and fun television shows available to watch instantly using any device that streams Netflix? My husband and I like to set aside some time to binge watch an entire season together, or we'll watch one episode at a time whenever we're in need of some witty and quirky humor.
Click here to sign up for a free month trial of Netflix Streaming
Here are some of our favorite quirky television shows to watch on Netflix Streaming: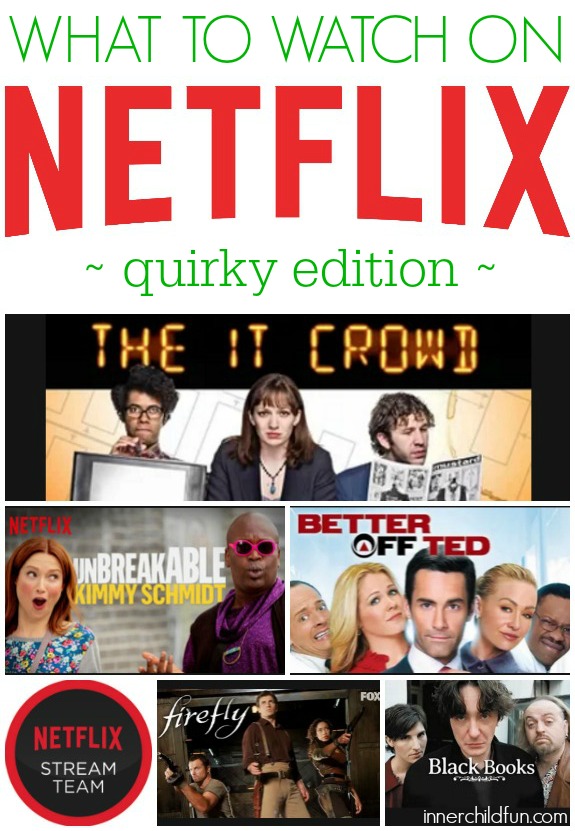 Science fiction adventure with a bit of a Wild West flair. This series is witty, exciting, and fun to watch. Firefly was cancelled far too soon, but now their one and only season is available to watch on Netflix Streaming.
If you enjoy British humor, you might love Black Books. Hysterical dark comedy series about a cynical bookstore owner, whom after waking up from a hangover, discovers he has hired a cheerful clerk. Seasons 1-3 are available to watch on Netflix Streaming.
Super funny and entertaining British comedy show filled with office and engineer-type humor. Two very lazy computer geeks and their tech-illiterate manager try to make the most out of life in an office.
Not for kids. Truly quirky and absurd adult animation film about Bill, a stick figure character, who tries to put his life together. It will make you feel happy and sad at the same time. Prepare to watch a film unlike anything else you have ever seen before.
This goofy, witty, and perky show is one of our newer favorites. Pay attention to the details because the humor is often subtle, but quite good! A great Netflix Original series.
Recommended for ages 14 and up. Witty and sharp with very funny characters! Sadly, this comedy was cancelled after just two seasons, but you can still enjoy the laughs on Netflix Streaming! Very entertaining!
Do you have a favorite quirky movie or television show that is available on Netflix Streaming that is not listed here? I would love to hear about it! Leave a comment and share your favorites with us!
More Netflix Fun to Explore: