Making sushi doesn't have to be hard or complex.  Everything you need to make sushi can be found at an Asian market in your area.  However – because I know that all of our readers have little ones in tow, (So do I!), I am going to write this tutorial for the 'I can only get to the grocery store' crowd.  There are no special tools and no ingredients here that you can't get at a typical grocery store.  You're welcome.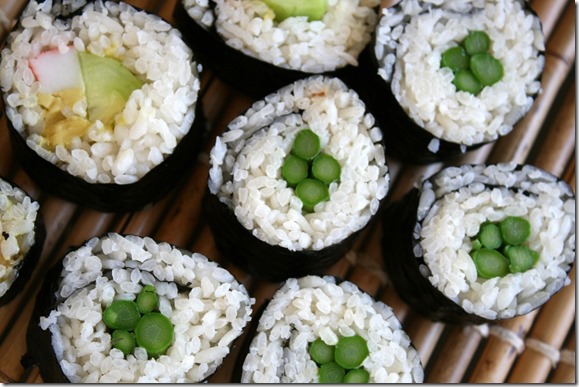 Tools:
large wooden spoon
large bowl
sharp knife
cutting board
a grass or bamboo placemat
a small bowl of water with a bit of rice vinegar in it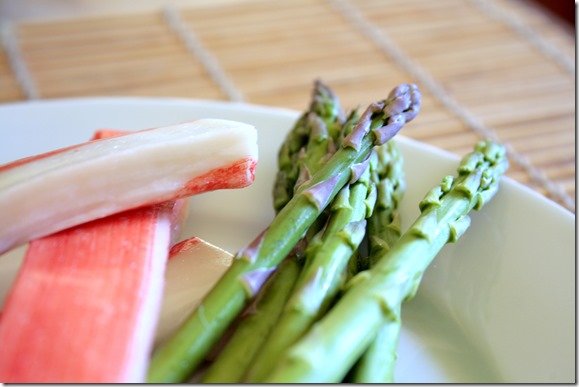 Ingredients:
– sushi rice (prepare ahead and allow to cool before using.  Recipe below.)
– steamed asparagus
– avocado
– imitation crab sticks
– cucumber
– nori sheets (can be found close to your deli sushi section at the grocery store)
– water
– *soy sauce (for dipping)
– *pickled ginger (found near the soy sauce, used as a topping and to cleanse the palette after eating strong flavors)
– **gomasio or sesame seeds
Getting sushi rice ready:
For every 3 cups cooked short grain rice, add in 2 Tablespoons rice vinegar with 1 teaspoon sugar.  Add the vinegar mixture into the rice and mix until sticky.  Allow to cool as much as you can before making your rolls.
Assembly:
Place your bamboo placemat on your counter and place a nori sheet on to it – rough side facing up.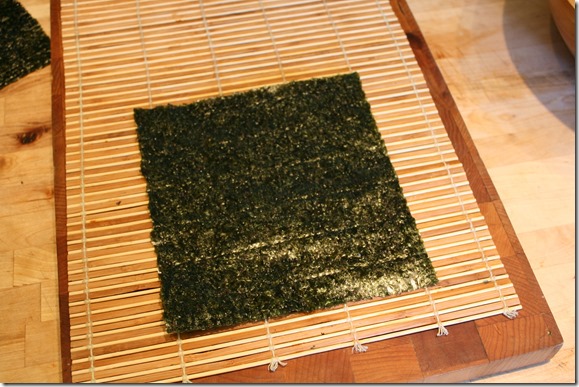 Spread rice over your nori sheet – careful not to rip the nori – until the sheet is 3/4 covered with a thin layer of rice.  This can be done with a wooden spoon or damp hands.  Whichever works best for you.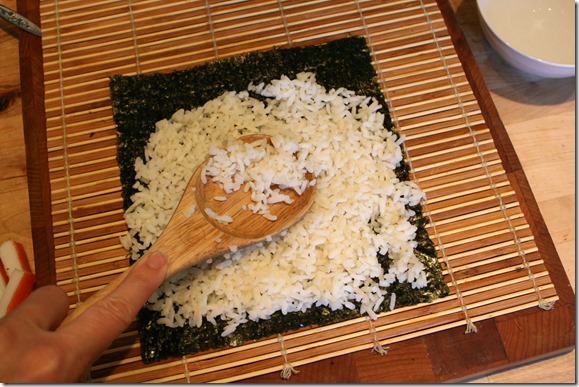 Add your fillings.  Use your imagination here.  You can add anything to the center of this roll.  Our family favorites are the asparagus roll (which is just a stick or two of steamed asparagus as filling) or the California roll (imitation crab, cucumber, avocado and gomasio as filling).  Make sure to check Pinterest for recipe ideas!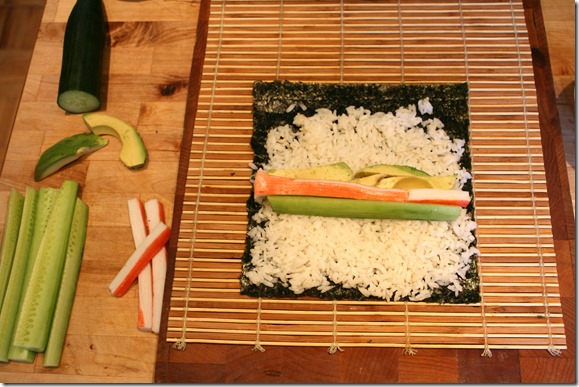 Now it's time to roll.  Gently lift your grass placemat on this side: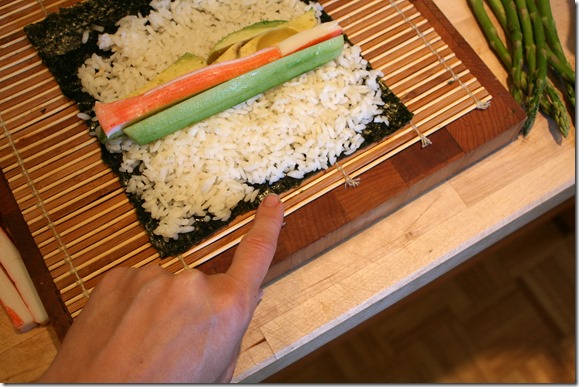 And roll that edge of the nori so it ends up right here: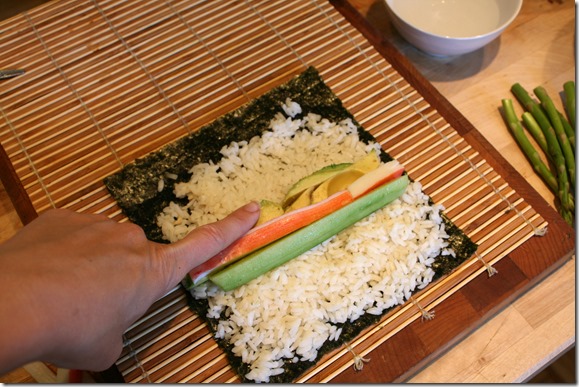 Grip it as you roll just after the filling, squeezing gently to form a tight hill.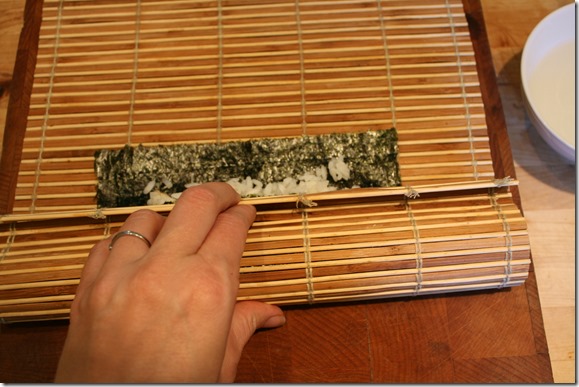 Place a little bit of water from the bowl on the portion of the nori that is still exposed.  This will cause the nori to stick to itself as you close your roll.
Roll up the rest of the way, making sure the nori is forming a tight tube and gently but firmly, tuck the mat around the roll until it is complete and secure.
Cut with a sharp, wet knife.
Place your simple, beautiful sushi on a plate!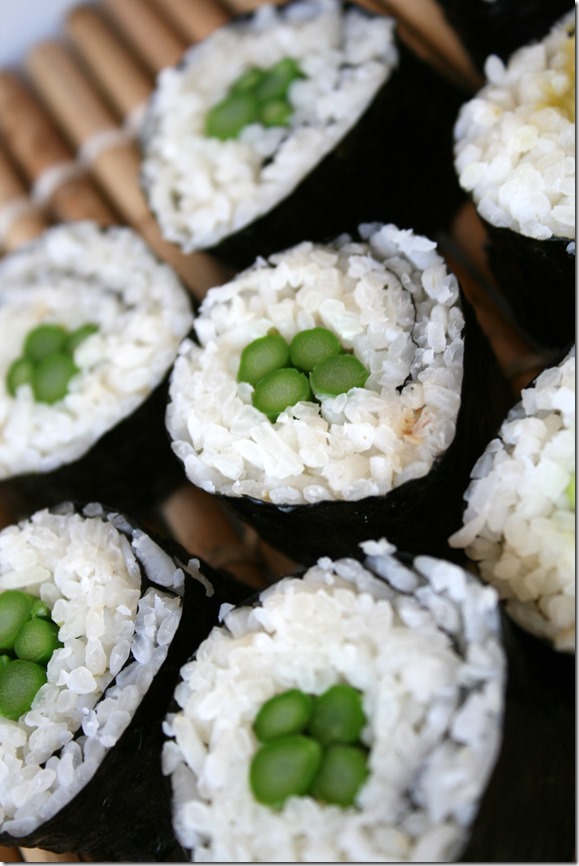 And there you have it!  Beautiful sushi that can easily be made with things that you find at the grocery store.  There are, of course, many other ways to make sushi that get more complicated (and more beautiful!) as you learn, but for your first Japan passport trip, I thought this would be the best.  I can't wait to see what you make with it!
*Gomasio can be made easily by toasting sesame seeds,
grinding them up in a coffee grinder and adding real sea salt. 
It is a wonderful addition to a low sodium diet because the
sesame makes the salt go farther in your seasonings. 
It is often used to replace salt in Japan to reduce sodium intake.
Don't forget to tag your Instigram pictures with #kidsculinarypassport
---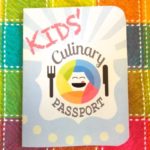 This post is part of our Kids' Culinary Passport series, designed for parents and kids to cook and craft their way around the world together! Every week this month, we'll feature a new country with a recipe and quick craft project. It's FREE, fun, and educational. Share photos of your kids' creations on Instagram using hashtag #KidsCulinaryPassport, or on our Inner Child Food Facebook Page.
Join us, and get your free printable passport with stamps here!