There are so many ways to learn and play with sidewalk chalk. It's great for play prompts, open-ended play, and educational activities. This makes it a must-have in the summer, and we know you've been stocking up!  Are you looking for creative ways to use your stash? If so, you'll want to stockpile these 10 inspiring ideas.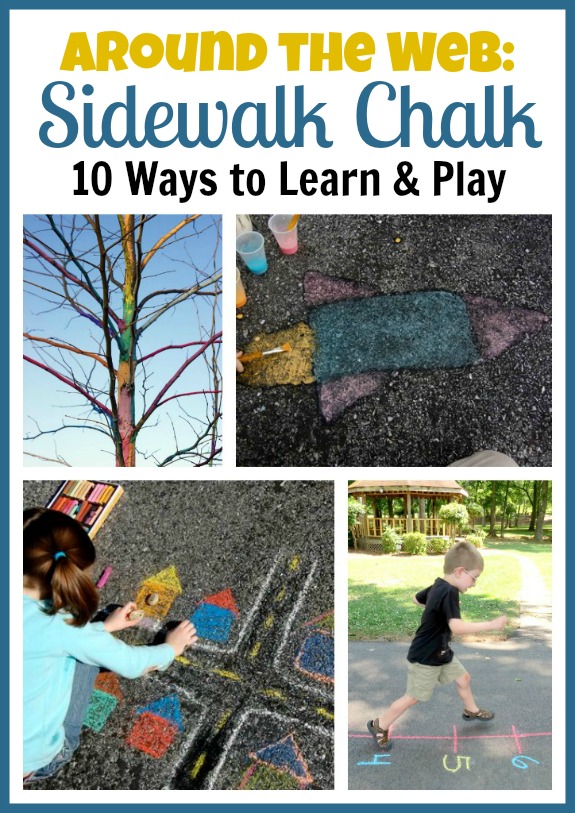 1. Make your own sidewalk chalk paint. The recipe is simple to create, using only three common (and frugal!) ingredients.  
2. Give nature a boost of color and paint a rainbow tree! The process is fun and the end result is stunning.
3. Draw a sidewalk chalk farm for your farm animals for an afternoon of fun with friends.
4. Combine simple story stones and sidewalk chalk scenes to create an interactive scene that's perfect for storytelling! 
5. Get the most use (and fun) out of your chalk and play with the chalk dust! Create art, add texture, mix colors, and make a mess!
6. Have fun with a bean bag toss! You can even sneak in some addition by keeping score.
7. Take your math lessons outside with this kid-sized number line. 
8. You could also create a maze of numbers for a bit of counting practice. 
9. Take a break from math with these fun letter activities. 
10. Practice listening skills and color recognition while playing an entertaining game of Sidewalk Simon.
What are your favorite ways to use sidewalk chalk?