It's been so much fun getting to know everyone and reading your stories on how & where your children are inspired to create.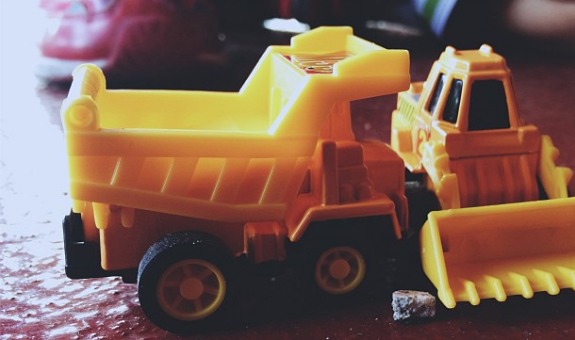 I've noticed a common trend in all of our children being inspired by the simplest of things, and nature in particular. It really is quite fascinating.
We had a lively discussion on our Facebook page:
– My son (age 5) loves making paper sculptures using paper, markers, scissors and scotch tape…his imagination just runs wild…I love it! ~ Carolyn
– My son tends to gravitate towards his Legos and animal toys. Lots of pretend play and story telling goes on with those items. ~ Trisha
– Reading books, pulling out the puppets in places they will find them, making forts, painting…. these are the kinds of things that get my boys in creative mode. ~ Mari
– My son's imagination really runs wild during pretend play. We have many "props" and items within reach for him and he uses anything that he can find around the house as well. It's amazing to see such creativity from a 2.5 year old! ~Gina
– Dirt, rocks, paint, water, markers, sticks, grass, chalk, fabric, yarn. Too many to name. My kids make lots of "experiments" with water and ______. (Fill in the blank!) ~ Jennifer
– The recycle bin, tape, scissors ~ Janine
Join our page today, and you can become part of the action too!
Many parents mentioned keeping a box or cabinet filled with random supplies and things we've collected along the way <- we do this too! And most of us wanted to make sure our children had their very own space to create ,and plenty of open ended supplies on hand.
Before I leave you this week, I wanted to share a few creative spaces and projects that will leave you inspired:
Val's Inspiring Creative Space
Rachelle's Self Serve Creative Space
Are you on Instagram? If so, you won't want to miss the #creativetable project, it's full of all sorts of goodness!
And finally, I can't wrap up a week on kids or creativity without mentioning Jean's new book, the Artful Parent: Simple Ways to Fill Your Family's Life With Art & Creativity! I'm so excited for the release of this heartfelt book, and even more  thrilled to tell you if you order your copy before April 9th, you will also receive a free copy of her latest spring craft ebook. I have the fall, winter and spring version of these e-books and they are 100% wonderful!
Grab your copy today.