Know what I love? Cardboard!!!! Because it is supreme!
Cardboard is cheap (or free!), readily available, recyclable, and generally easy to work with.
Oh!
And the possibilities!!
Here are some of my favorite tips and tools for working with glorious cardboard.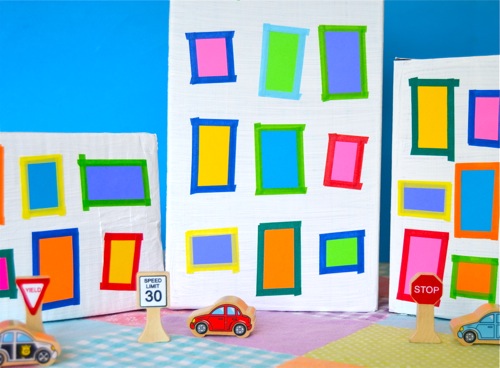 1. Stuff 'Em — In the case of the city blocks I made (shown above), to help make the boxes more sturdy I stuffed them with newspaper. Simple, and effective!
Disclosure: We are a participant in the Amazon Services LLC Associates Program, an affiliate advertising program designed to provide a means for us to earn fees by linking to Amazon.com and affiliated sites.
2. Paint — If I'm painting brown cardboard to make it white (as I did in the project above), I like to use Golden Acrylic Gesso
(a canvas primer) applied with a gesso brush like this one
. It covers well, dries quickly, and doesn't flake off.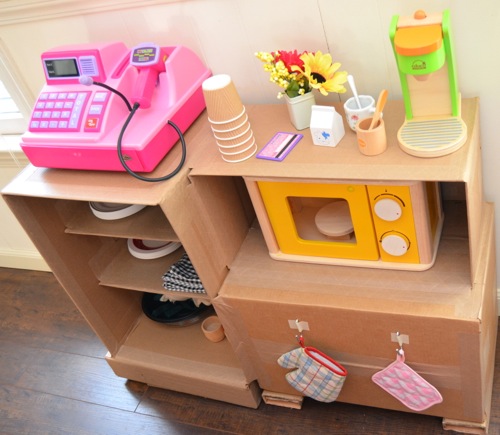 3. Reinforcement Tape — My hubby gifted me with several rolls of this gummed reinforcement tape for Christmas. Isn't he the best?? I love how it gives any cardboard project a clean, polished look and made this cardboard cafe super sturdy to withstand plenty of pretend play fun! This tape has water-activated adhesive, so once it is wet with a sponge it sticks very well to cardboard. Because it is kraft paper it can be painted over too!
4. Inside Out — Sometimes cardboard boxes get a little banged up or they have lots of lettering printed on the outside. To clean them up a bit, I just take them apart and turn them inside out. If taped properly, they will be sturdier too.
5. Heavy Duty Box Cutter — To cut through corrugated cardboard, a heavy duty box cutter
is a great tool. Keep it far away from the kiddos, of course.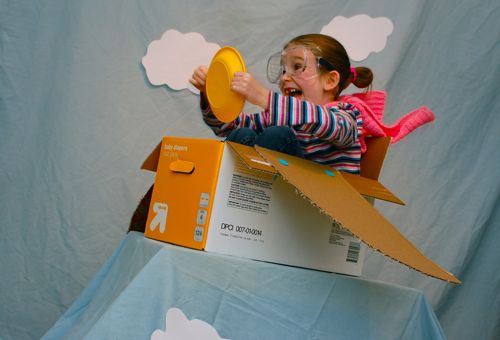 6. Building with the Kiddos — For a fun cardboard building experience with kiddos age 5 and up, give Makedo kits a try! Emily used a Makedo kit to make this cardboard airplane from an empty diaper box (shown above), and we have used it many times for other cardboard crafting fun!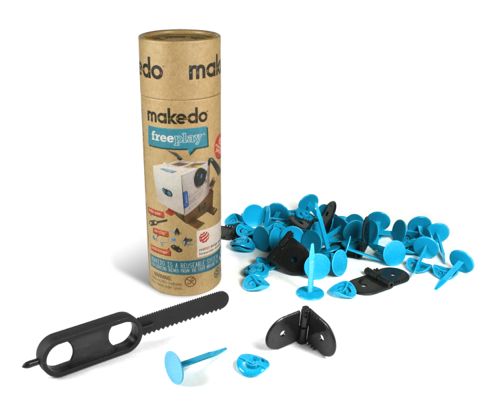 Makedo kits include cardboard safe-saws, reusable hinges, and connectors that allow kids to create amazing toys and play spaces.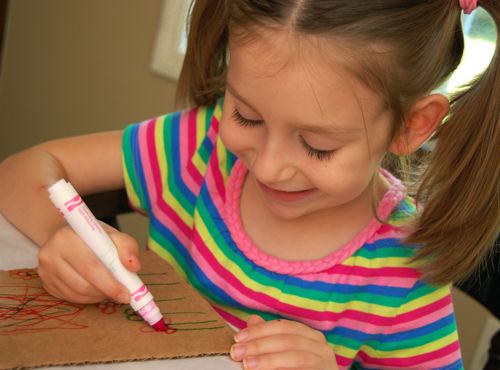 6. Decorating — To add a bit of color to plain brown cardboard, the kids use stickers, markers, or glue on pieces of colored tissue paper.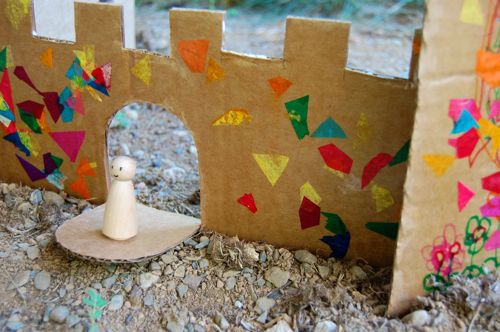 Another decorating favorite is bulletin board trim (shown at the top of the flower shop below).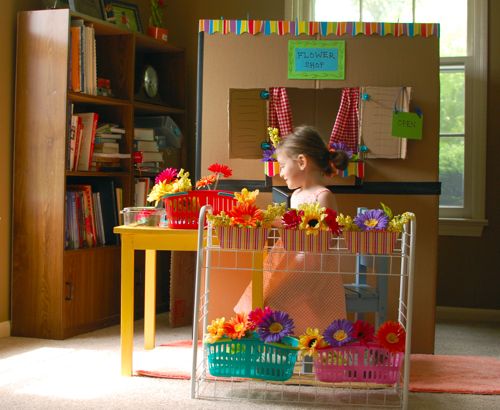 7. Use (and Re-use) What You Have On-Hand — We have used and re-used the same package of bulletin board trim for many projects. Use masking tape to hold the trim in place, and it can be removed to use again later!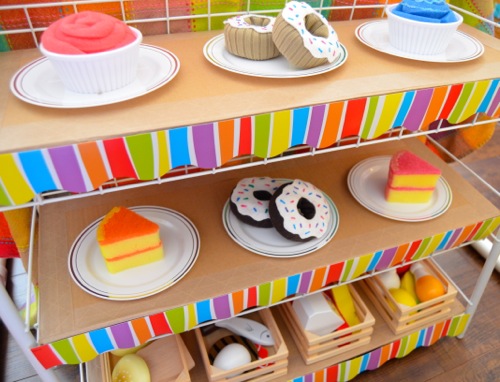 So what are you waiting for? Go build something amazing with cardboard!!!
Have fun!
You can read more about my obsession with cardboard, things that inspire me, and tips for fostering creativity on a budget at this interview I did with the lovely Jean from The Artful Parent. ((Thank you, Jean!!)) While you're there, be sure to enter to win a fun giveaway!