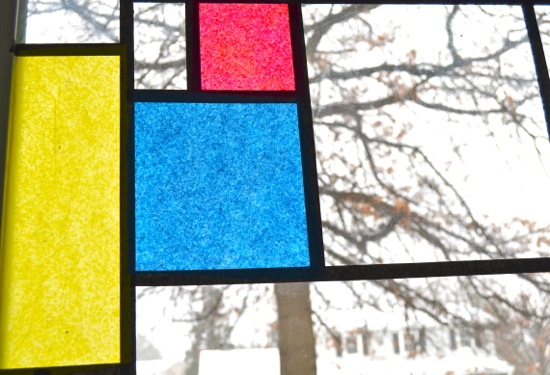 It's time for another pretty window display — this one was very much inspired by Frank Lloyd Wright! [Update: A kind reader notified me by commenting below that it closely resembles the work of Piet Mondrian. Thanks, Chris!!]
I love using tissue paper on glass, and this time I combined the tissue paper with some black Acid-Free Masking Tape
 to make this design on our front door.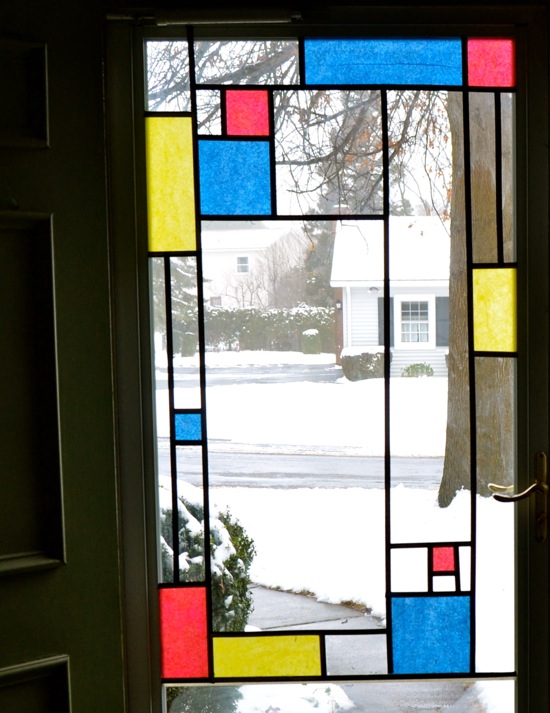 I started with the masking tape to make the design. I didn't bother to measure anything, just eye-balled it. Then held some tissue paper against the glass, and made some folds to "measure" pieces to cut out. Very simple, frugal, and easy to do!
The kids enjoyed gluing the tissue paper pieces into place with some washable glue stick. Washable glue stick works well on glass, and the tissue paper (and masking tape) peel off easily. The remaining glue can be wiped off with a damp sponge.
While we were doing this, a few neighbors were out walking their dogs, and stopped to take a look and smile! I love how something as simple as masking tape and tissue paper can be so pretty!!
These little window displays of ours are getting to be quite the tradition around here — you can see other designs we've made here, here, and here!
Have fun!!