As soon as I finished designing one of these adorable paper cottages, the girls went off to play with it while I made a bunch more! We had lots of fun playing with these, and then took them apart and stored them flat in a file folder for future play times. They are very frugal to make, and so bright and cheerful!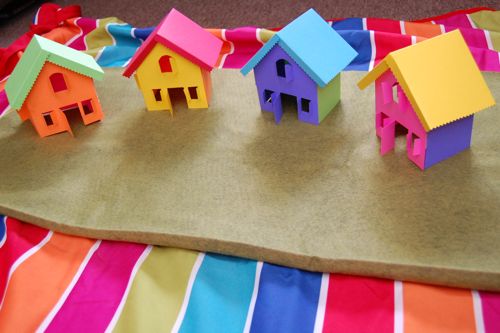 To make your own, you will need colorful cardstock, some strips of self-adhesive velcro, scissors, and an exact-o knife. For the house walls, on the colored card stock, print out the template I designed here. It's FREE for personal use, but I would love if you kindly leave us some comment love if you use it! Cut it out on the solid lines, and fold on the dotted lines of the template. You will need an exact-o knife to cut open the windows (a grown-up job only!!). Use strips of adhesive velcro on the joints of the house. I had to cut the velcro tabs into smaller pieces. This lets your child experiment with different color combinations, and you can build and re-build your rainbow village over and over again!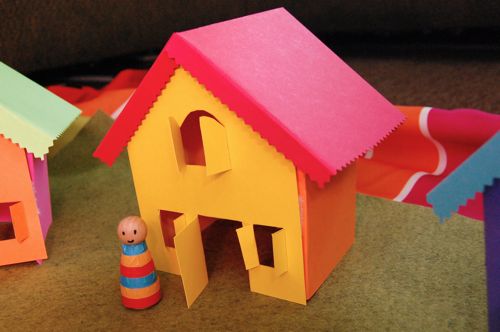 For the roof, cut an 8 1/2″ x 11″ sheet of paper in half, and then fold it in half to lay on top of the house. I used decorative edge scissors to make our houses look a bit like cottages.
Time to play!!!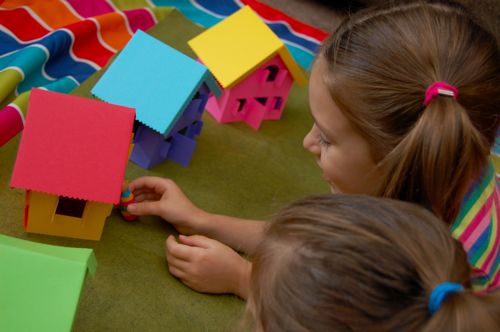 Our peg dolls enjoyed travelling from house to house and exploring all of the different colors!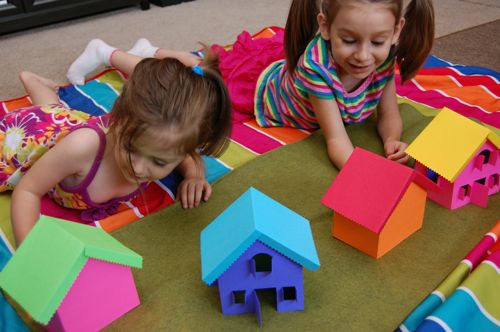 Emily loved that she could pop open the roof on one side, and play with the peg doll inside the house. Hello, peg doll!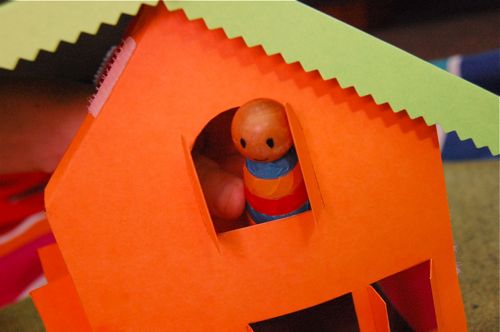 The girls enjoyed opening and closing the doors and windows!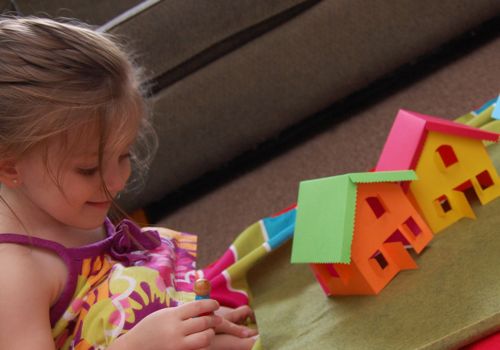 Clara's peg doll started to get a bit tired from all that travelling, so she took a nap for a bit inside one of the houses.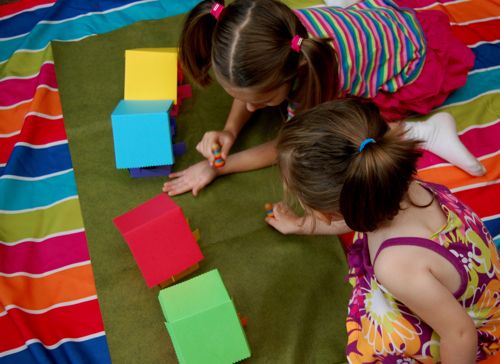 She came back out to play with one of the neighbors!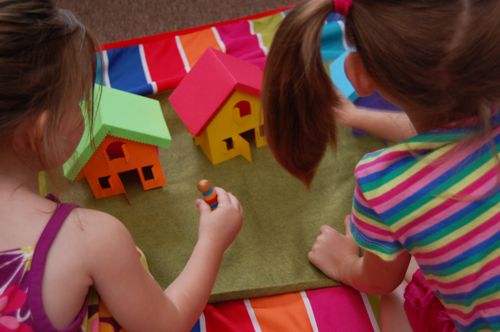 Download the Free Printable Paper House Here
Have fun!!
More Printable Fun to Explore:
I linked this post to:
Get Your Craft On @ Today's Creative Blog
Works for Me Wednesday
Weekend Wrap Up @ Tatertots and Jello
Made by You Monday @ Skip to My Lou