Going on a Fall Treasure Hunt is a great way to enjoy quality time outdoors while observing the beauty of the season. A few years ago, I started to take my kids on these adventures and it has become a favorite family tradition ever since! Every year when the leaves start to change colors, we look forward to this outing, take lots of photos, and later create scrapbooks from our Fall Treasure Hunt. To make things even easier, I came up with a printable list that you can download, print out instantly, and later share your photos on Instagram with us! This is such a fun way to keep the kids engaged while connecting with nature, and I love how they seem to observe small details they may not otherwise notice.
Here's How to Join Us:

Step 1 — Download the Free Printable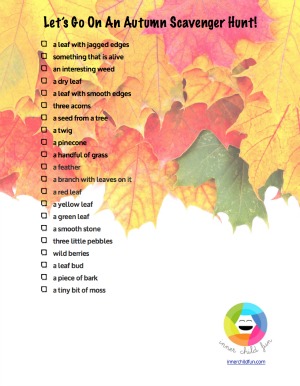 You can download the free printable Fall treasure hunt (.pdf file) here, or click on the image to download. Print it out, and bring it with you on your walk. You may want to clip it to a clipboard for an easy writing surface. We reuse the same ones year after year, so I laminated this and the kids use wipe off crayons to check items off of the list! Don't forget to bring your camera!
Step 2 — Go on One (or Several) Nature Walks Together
Visit a nearby park or spend an afternoon in your own backyard! Check off as many items as you can from the Fall Treasure Hunt list, and take a few photos. To find a park near you, visit FindYourPark.com.
Step 3 — Take Nothing Except Memories and Photos
It is important to leave nature how you found it. Be sure to take lots of photos, and make lots of memories together! Leave only footprints.
Step 4 — Upload Photos to Instagram #FallTreasureHunt
After you return from your adventure, post a photo to Instagram with hashtag #FallTreasureHunt and tag me @InnerChildFun — I would love to see the beautiful Fall treasures you discover along the way!
Have fun!!
More Outdoor Fall Fun to Explore:
Disclosure: This post contains affiliate links. Thank you for supporting us!