I can't believe this is already our 300th post! This morning Emily and I made an appearance on The 10! Show to talk about ways to encourage pretend play with your kids using items you already have at home. As usual, the crew spoiled the bejesus out of Emily. Can you tell she had about 3 donuts in the green room prior to our segment?
In case you missed today's show, here is the clip.
Here are the links from today's segment:
Pretend Store
Dolly's Birthday
Dress Up Play
Pretend Mail Set
Animal Hospital
Some of Emily's quotes from today:
Upon meeting Taylor Hicks from American Idol.
"Oh…Hi! I left you some donuts in the green room!"
Immediately after our segment taped.
Producer: "Emily, you were great!"
Emily: "I know!!"
After leaving the studio.
"Mommy, can we be on T.V. again tomorrow?"
While driving back home.
Emily: "Hey, tomorrow I want to pretend to have my own show! Yeah… my own show…."
Me: "What will it be called?"
Emily: "Ummm… I think I'll call it……..The 10 Show."
Me: "But that name is already taken. Don't you want to have a new name?"
Emily: "No, I want it to be The 10 Show because The 10 Show is the best show!"
I'll leave you now with a photo of Emily standing among her adoring fans.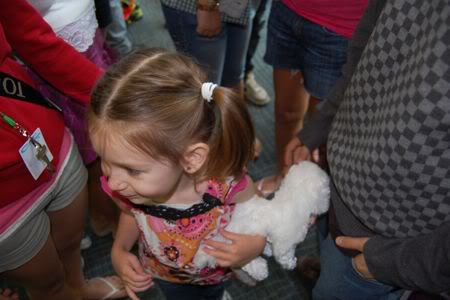 More frugal crafty goodness is on the way…..