Here are 10 fun and free Fire Safety Week activities with printables, worksheets, lesson plans, apps, and more! This year Fire Safety Week is October 7-13th, 2018. This week is a great reminder to review your at-home fire drills with your family. You may also want to replace batteries in smoke detectors, and set reminders to test smoke alarms once a month.
Here are 10 fun and free Fire Safety Week activities:
Includes 2 printable worksheets in black and white. Fire safety ABC order and Compare and Contrast Firefighter and Me. Perfect for grades K-2.
Get your free printables for invitations, labels, thank you cards, and more!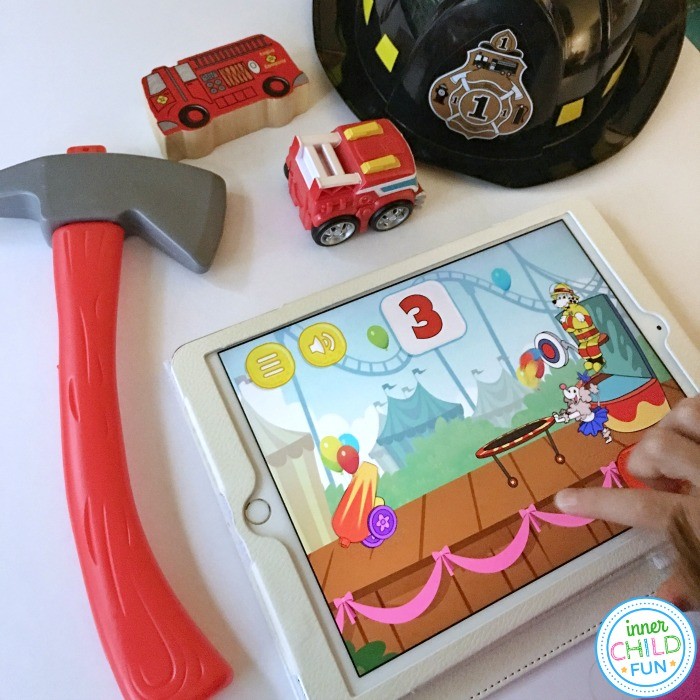 In this fun and educational app, Sparky is visiting the fun house at a carnival when the fire alarm sounds. Kids can help Sparky find a way to the exit and once outside, they can unlock 3 mini-games focused on math and spelling.
4. Test Your Smoke Alarms:
Test and/or replace batteries in smoke alarms, and replace any smoke alarm units that are more than 10 years old. You should also test the smoke alarms so your children know what they sound like.
5. Designate an outdoor meeting spot in case of a fire.
Your meeting place could be a tree, mailbox, or neighbor's home that is far enough away.
6. Review what to do in case a smoke alarm goes off.
Stage an at-home fire drill with your kids. Practice staying low to the ground and knowing several ways out of the home.
7. Practice "Stop, Drop, and Roll":
Reviewing what to do in case clothing catches on fire could help save lives!

Turn a recycled moving box into a pretend firehouse to inspire days of imaginative playtime fun!
Building toys from cardboard is so much fun! This cardboard firetruck would make a great Halloween costume too!
The fire protective gear firefighters wear may be frightening to young children. Here is a short video that walks kids thru exactly what a firefighter's gear looks and sounds like, and how it works to protect the firefighters underneath.

More Fire Safety Week Activities to Explore: