Teaching kids about fire safety can help save lives! Did you know the NFPA has a collection of free educational resources that make teaching fire safety fun for kids?? These videos, lesson plans, and activity sheets are perfect for use at home or in the classroom. I'm so excited to share these resources with you — including a NEW free app called Sparky's Brain Busters! A big thank you to our friends at the NFPA for sponsoring today's post and providing excellent educational resources for classrooms and families.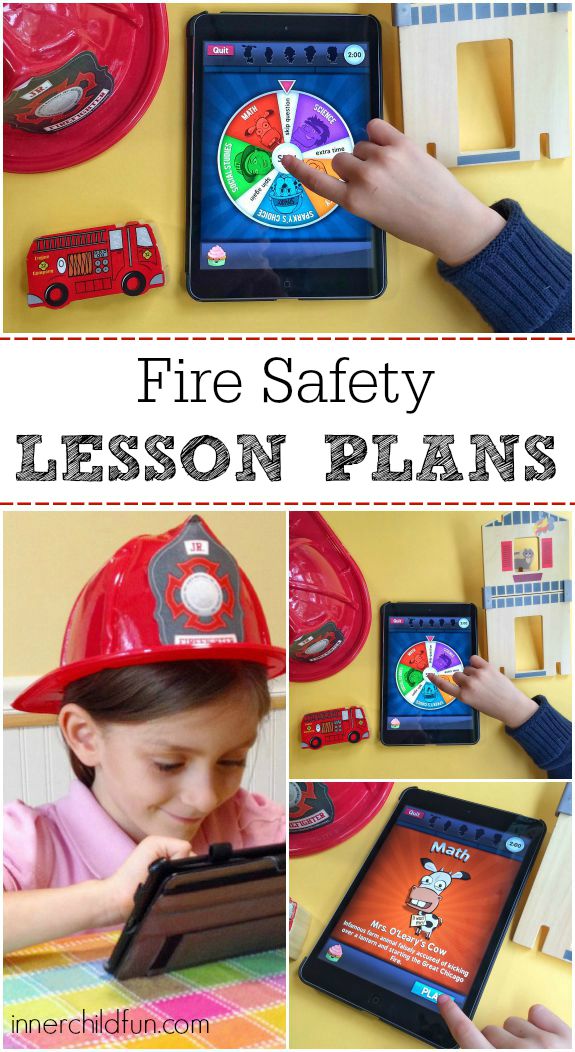 In Sparky's Brain Busters, kids can play in either single-player, multi-player, or classroom modes. The object is to race the clock spinning the trivia wheel, and answering a variety of questions to earn character badges along the way. There are three skill levels to choose from (we picked "Newbie" and found some of the questions to be quite challenging!). Collect all the character badges to win!
My kids love trivia games, so this app was a big hit with them! If one of them answered a question incorrectly, the correct answer would be displayed, so they learned lots of interesting facts along the way. This app would be great for celebrating National Fire Safety Week at home or in the classroom, and there are lots of subjects covered — not just fire safety! I would say it is a good fit for kids ages 10 and up, since students should be fluent readers. Younger kids could play with a grown-up helping to read the questions, however the questions (even in "newbie" mode) may be too challenging. For younger kids, the Sparky and the Case of the Missing Smoke Alarms app may be a better fit. You can read my review of that app here. For classroom mode, all players should have devices logged in to the same WiFi network and be located in the same room. Create a game in classroom mode, then instruct students to "Join a Game" under multi-player mode.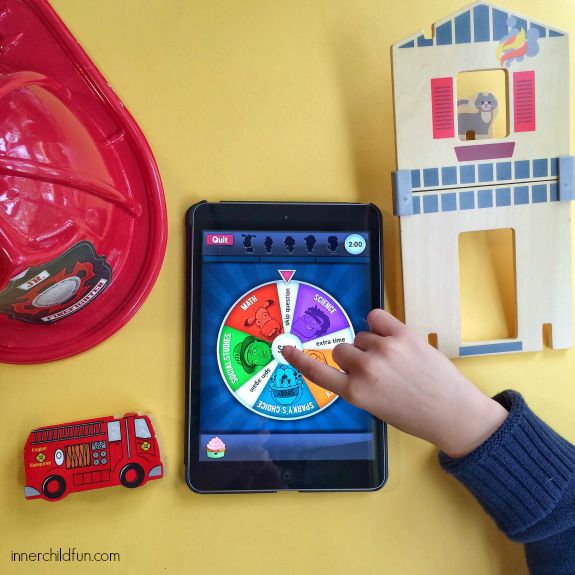 Here are some of our favorite lesson plans, activities, and resources for teaching kids about fire safety:
Fire Safety at Home:
Review what to do in case a smoke alarm goes off, and stage an at-home fire drill with your kids. Practice staying low to the ground and knowing several ways out of the home.
Practice "Stop, Drop, and Roll" in case clothing catches on fire.
Designate an outdoor meeting spot in case of a fire. Your meeting place could be a tree, mailbox, or neighbor's home that is far enough away.
Test and/or replace batteries in smoke alarms, and replace any smoke alarm units that are more than 10 years old. Test the smoke alarms so your children know what they sound like.
The fire protective gear firefighters wear may be frightening to young children. The Gear Firefighters Wear is short video that walks kids thru exactly what a firefighter's gear looks and sounds like, and how it works to protect the firefighters underneath.
Print out free activity sheets from the National Fire Prevention Association to review important fire safety tips.
Download the free Sparky Brain Busters app to play the trivia game with your kids.
Fire Safety Classroom Lesson Plans (Free):
If you are a teacher, you may want to explore Sparky's Schoolhouse website with lesson plans, activity sheets, videos, and more. These are perfect for classroom use, but can be used at home too! The site contains printable .pdf files and the lesson plans are well-organized. Very straightforward to use! The music videos may work nicely for "circle time" and getting the kids up and moving. Highly recommend!
Get the Fire Safety Lesson Plans Here
Math:
Students can calculate how many smoke alarms are needed in their homes.
Language Arts (Grades 2-3):
Have students write a letter thanking their local firefighters for all of their hard work! Teach students how to properly address an envelope, then mail your letters!
Our Favorite Books About Fire Safety (PreK-Grade5):
PreK – Grade 1
No Dragons for Tea: Fire Safety for Kids (and Dragons)

The Berenstain Bears: Safe and Sound!
Grade 2-3
Arthur's Fire Drill

Stop Drop and Roll (A Book about Fire Safety)
Grades 3-5
I Survived the Great Chicago Fire, 1871
History:
Older kids (grades 3-5) can learn more about the Chicago Fire of 1871, how it changed the way we design cities, and the factors that went in to produce such a massive fire. Laura Tarshis, author of "I Survived… the Great Chicago Fire, 1871" shares more incite on this historical event in this short educational video. My sixth grader was shocked to learn that the city was built out of wood — even the sidewalks!
More Firefighter Activities to Explore:
Disclosure: This is a sponsored post. All opinions are my own.