Disclosure: I'm sharing my favorite things to do at Pandora since I was invited to the 2018 Disney Social Media Moms Celebration. I paid a conference fee to attend and received discounted & complimentary items from Walt Disney World, Disney Cruise Line, and their sponsors. Attendees are not required to write about our experiences at the conference. All opinions are my own.
Immerse Yourself in Pandora:
My father went to see the movie Avatar when it was playing in theaters during the time he was fighting cancer. Avatar's features of Pandora were so immersive that for the almost three hours of the film's duration he said he did not once think about cancer. It was a welcome distraction and one I am grateful for on a very personal level. At Disney's Animal Kingdom, Pandora The World of Avatar did not disappoint — there are so many things to do at Pandora!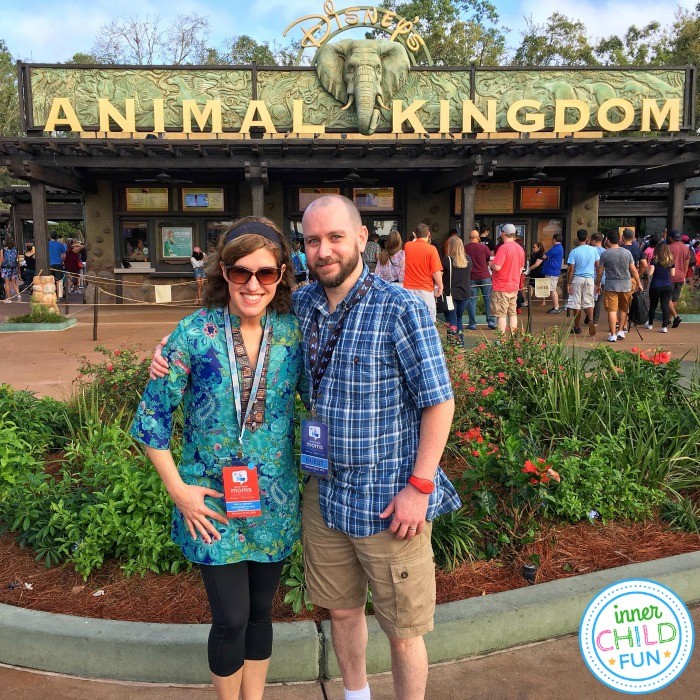 About the Film:
If you have not already seen the movie Avatar, you will want to take the time to see it before your visit to Pandora in Disney's Animal Kingdom. Avatar (PG-13) was released in 2009 and is an epic sci-fi adventure movie known for its ground-breaking visual effects. In the film, Jack Sully, a paraplegic Marine, is dispatched to the moon of Pandora to replace his deceased brother for a special mission.
Here is the official trailer for the movie:
Things to do at Pandora: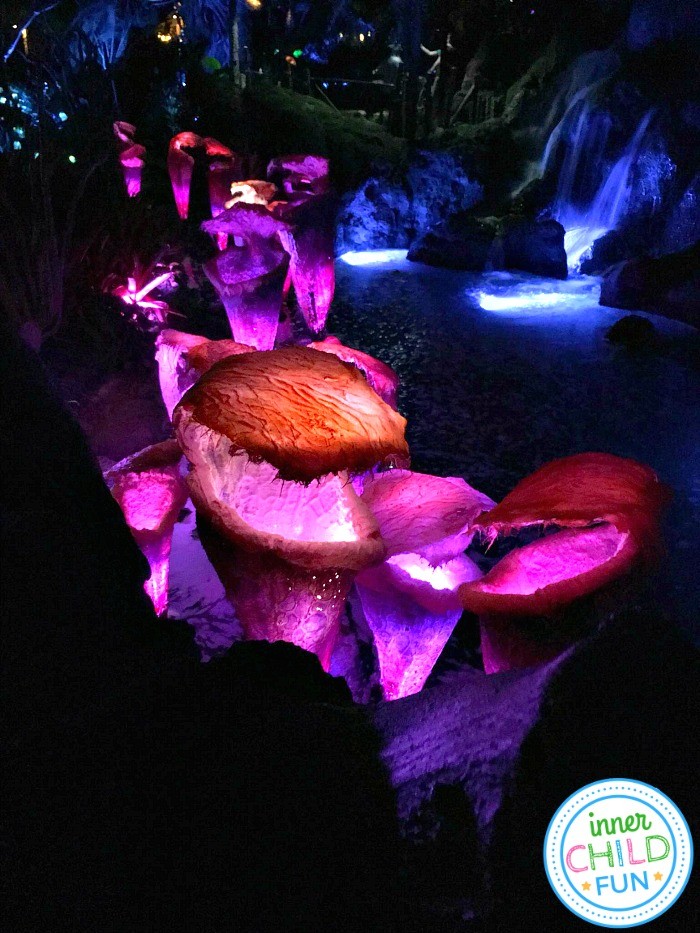 Flight of Passage
Mark & I flew on a banshee at Flight of Passage early one morning during the #DisneySMMC event. We went thru an orientation process to be matched to our Avatars, put on our flight goggles (3-D glasses), and soared high through the skies of Pandora. You can even feel the banshee breathing, and smell the landscapes! Note – The wait times for Flight of Passage can be quite lengthy. I highly recommend taking advantage of FastPass+ for this attraction! You can find more details on the Flight of Passage attraction here.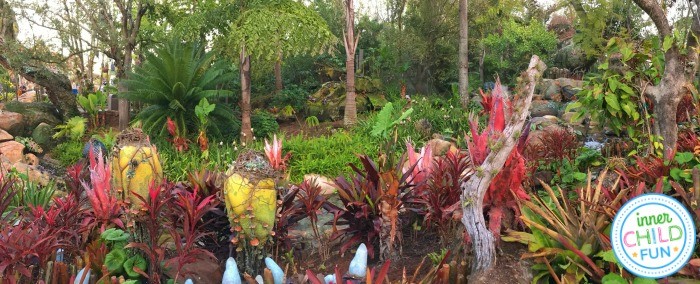 Na'vi River Journey
We took in gorgeous scenery at the Na'vi River Journey. This slow moving boat ride transported us to a bioluminescent forest. Truly magical!!
Get Some Delicious Food
Dine inside a former RDA Mess Hall at Satu'li Canteen. Mark and I ate breakfast here as part of the #DisneySMMC event, but they typically only serve lunch and dinner. We especially loved the Na'vi art on the walls! There are lots of vegetarian options, and you won't want to miss the internationally-inspired menu! For more details, and to view the menu, click here.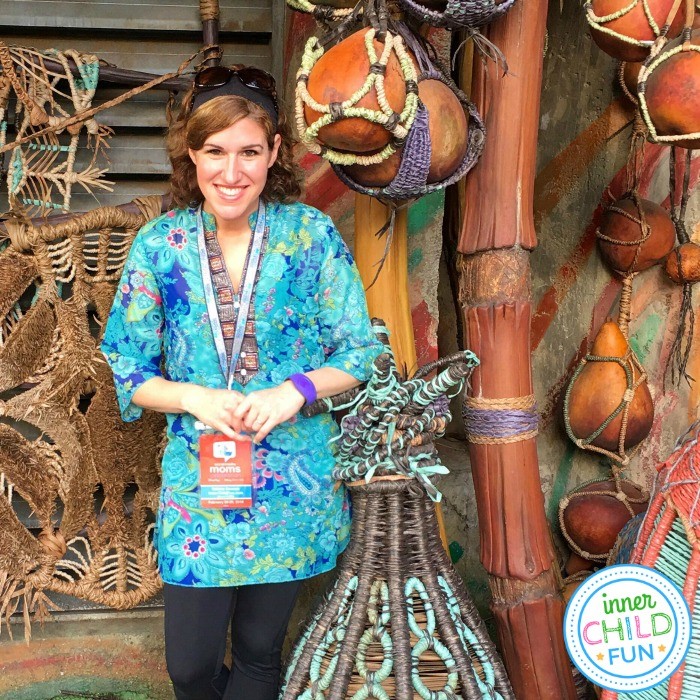 Don't Forget to Return at Night
We returned to experience Pandora at night to stroll through floating mountains, glowing plant life, and listen to a Na'vi drum circle ceremony. It was spectacular!!!
Shop at Windtraders
Be sure to stop by Windtraders to pick up your very own souvenir from Pandora. Mark and I adopted a baby banshee to take home with us, and the kids thought it was the COOLEST!! Don't want to carry your banshee with you? You can check it in to Windtraders' banshee day care and pick it up before leaving the park, or have it delivered directly to your Walt Disney World Resort hotel.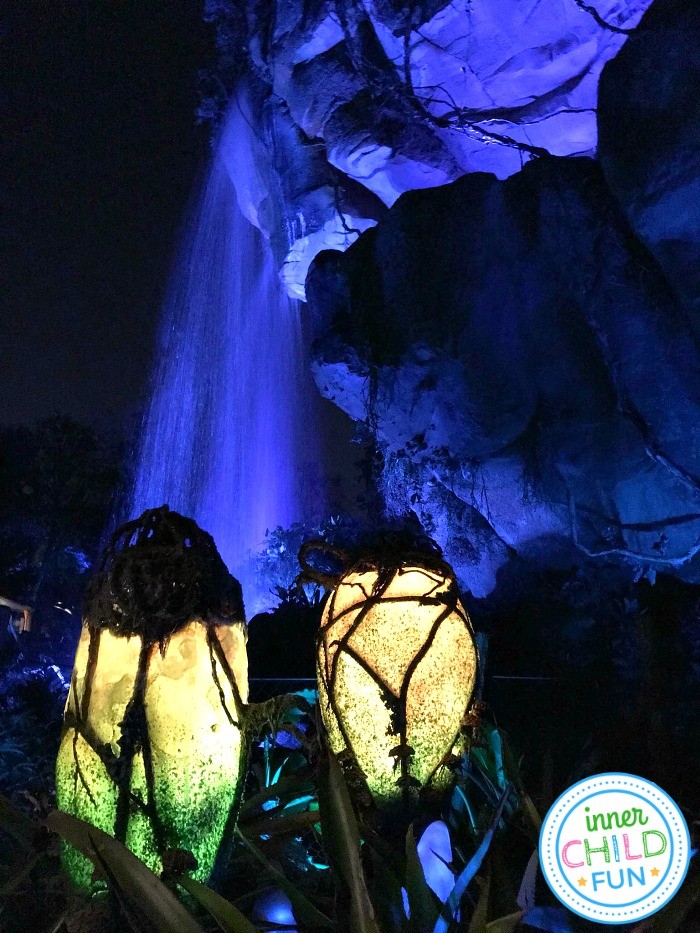 Final Thoughts
Overall, Pandora at Disney's Animal Kingdom made us feel as though we had walked right into the film. Just like the movie it will completely immerse you in a breathtaking world.
Tip — During your night time visit to Disney's Animal Kingdom, be sure to take a moment to view Rivers of Light – more details here!
Pin this Post: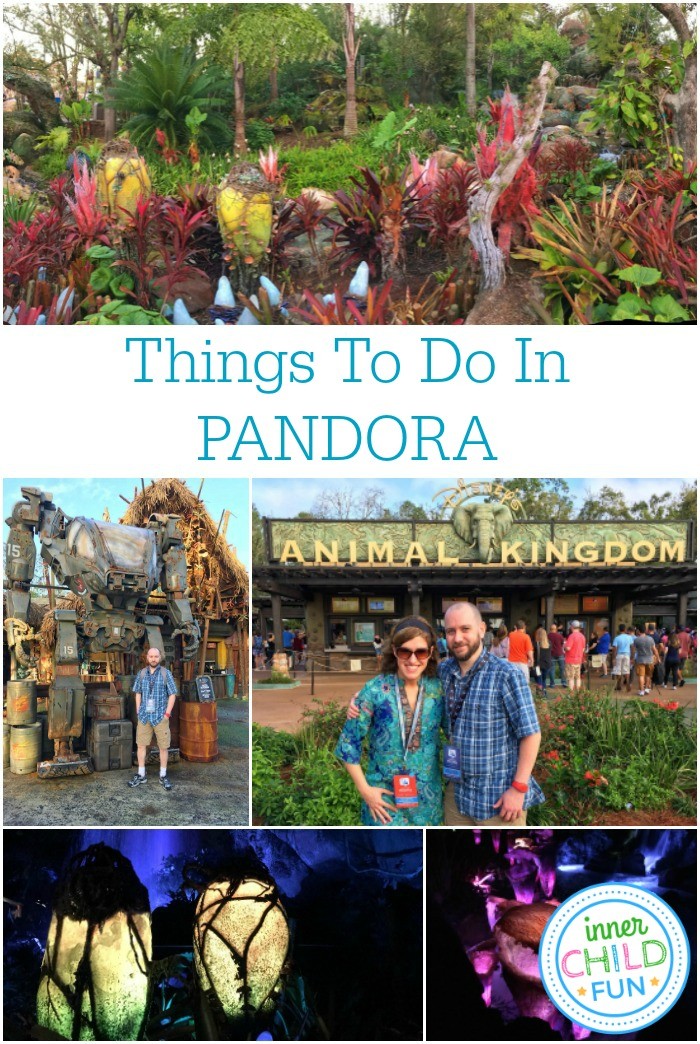 More Disney Fun to Explore: