This idea for St. Patrick's Day role play is festive and fun! Added bonus, you can easily sneak in some Math practice too. Welcome to the Clover Café! We serve the luckiest lunches you ever did see. With just a few items from the dollar store and a few of our favorite stuffed animal friends, we had hours and hours of St. Patrick's Day role play fun!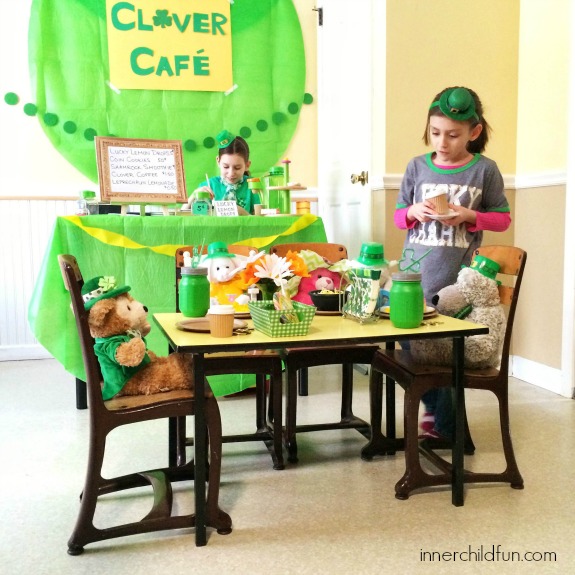 On the menu, the kids served up:
Lucky Lemon Drops — bits of yellow party streamer rolled into balls.
Clover Coffee
Leprechaun Lemonade
Shamrock Smoothies
Pot of Gold Pasta — yellow crinkle paper strips mixed with play gold coins.
Each item had a different price. We used play money (Clover Cash) to practice adding money and counting out change. It was a great way to introduce the kids to money Math problems like:
Mr. Teddy wants to buy 2 Lucky Lemon Drops for each of his friends. How much money will he need?
If Ms. Bear has $5.50, does she have enough money to buy an order of Pot of Gold Pasta for herself and her bunny friend?
Mr. Lamb buys 2 Leprechaun Lemonades with a $10 bill. How much change should he receive?
There are so many opportunities to review money Math with this St. Patrick's Day role play activity!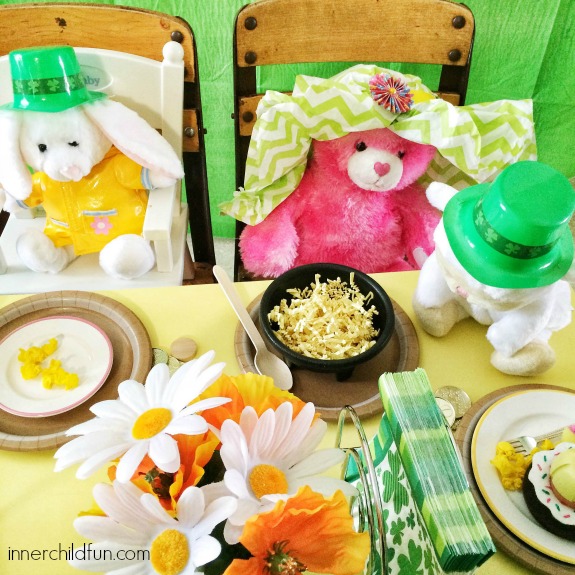 The kids really enjoyed dressing up their stuffed animal friends for the Clover Café. They even made festive hats and bow ties out of tissue paper!
A couple of green table clothes and a pretty sign went a long way toward creating their own little pretend play world. Even my 10 year old could not resist all the St. Patrick's Day cuteness! I love how setting up these invitations to play can encourage renewed interest in older toys.
More St. Patrick's Day Activities for Kids:

For more Spring activities to do with the kids, check out our Ways to Play Spring 2015 Printable Calendar . It's full of fun and festive kid-friendly activities for March, April, and May!

Have fun!!