Valentine's Day is a great reason to celebrate friends and loved ones. What better way to celebrate than to have a Valentine-themed story time together? These stories are some of our absolute favorite Valentine books and have been read many times! Grab a blanket and settle in for some good reads.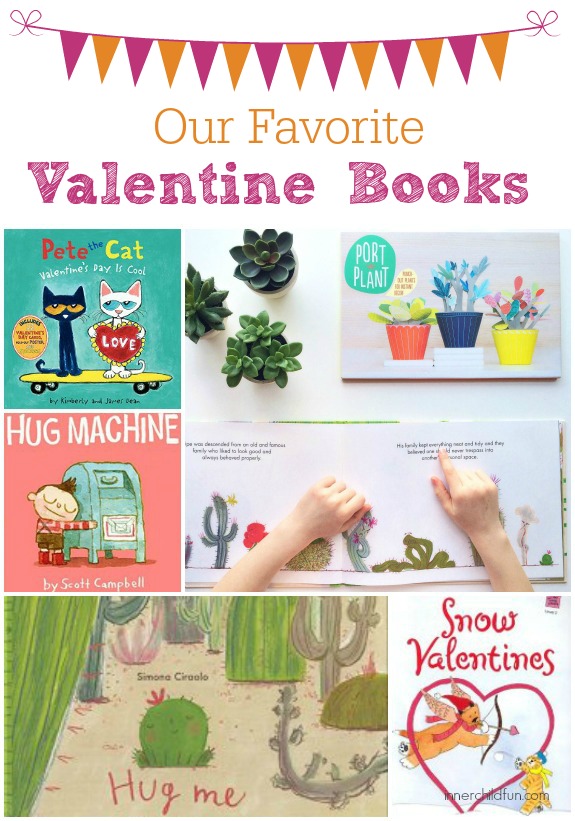 Here are some of our favorite books for Valentine's Day:
(ages 3-7 years) The perfect kids book of friendship about a cactus who wants hugs, tries to befriend a balloon (it does not go well!), and ultimately finds a BFF — a lonely little rock! Great book for Valentine's Day that will make you smile. As a fun activity, you may enjoy crafting up these paper plants
together!
(ages 4-8) Pete the Cat doesn't think Valentine's Day is cool, but then realizes he has lots of special cats in his life and he works hard to make Valentines for each of them. Pete ends up having the coolest Valentine's Day ever! Then he realizes he forgot to make a Valentine for one very special cat…. This book includes cards, stickers, and a poster too!
(ages 4-8 years) A young boy takes it upon himself to cheer and calm everyone and everything with a warm hug. He takes his job seriously and needs refueling from time to time (pizza). Finally, after a very long day of being the hug machine, he collapses from exhaustion into his mom's arms. Beautiful watercolor illustrations, and an adorable book!
(age range 4-8 years old) Seriously adorable (with just the right amount of spooky) story book that both of my kids love! Very funny story and great illustrations with neat details that had the kids combing each page to find hidden gems in the pictures. Highly recommend this one!
(ages 6 and up) I have read this book to my kids many times, and it is definitely one of their favorites! Harry and Emily want to create a spectacular Valentine for their mom and dad. Their mom give the best hugs and their dad draws the best pictures. Harry and Emily think of several ideas, but it isn't until an unexpected snow storm comes through that they decide to create snow Valentines all over the yard!
More Valentine's Day Fun for Kids:
Disclosure: This post contains affiliate links. Thank you for supporting us!