These Snow Day Busy Bags were a huge hit with my kids and their friends during a recent snow day when school was canceled! The best part was that we used things we already had around the house to create hours of fun by placing items in brown paper bags with instructions to open one every hour on the hour. These six paper lunch bags
 kept them happily entertained all day, and we were able to make up a second set of bags to make a surprise delivery to our friends!!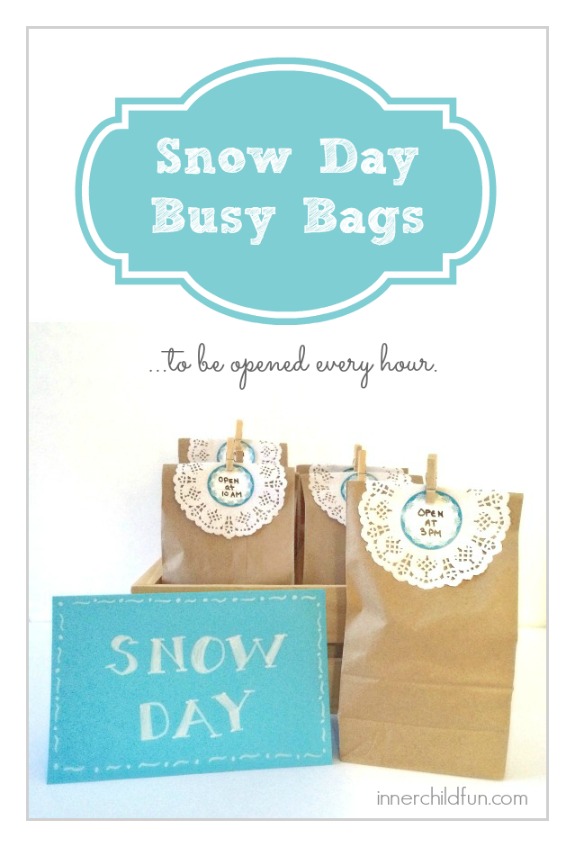 Here are all of the things that went into our Snow Day Busy Bags:
Disclosure: We are a participant in the Amazon Services LLC Associates Program, an affiliate advertising program designed to provide a means for us to earn fees by linking to Amazon.com and affiliated sites.
Open at 10am: Make a Bird Feeder Craft
Inside the Busy Bag:
Directions:
Coat the outside of the cardboard tube with a thick layer of peanut butter or shortening. Sprinkle with bird seed and press the seed into the peanut butter. Tie the string and hang outside for the birds to enjoy!
---
Open at 11am — Build a Robot
Inside the Busy Bag:
Materials needed to build 1-2 toy robots. I love this toy robot kit that contains enough materials to make 5 wind-up toy robots. I try to have at least one of these kits on-hand for last minute building fun!
Directions:
Include a copy of the paper instructions that are included in the kit.
---
Open at Noon — Dinosaur Ice Age Sensory Bin
Inside the Busy Bag:
Directions:
In a large dishpan or disposable baking pan, create the fake snow by adding water as per the packages instructions. Add the toy dinosaurs to create your own ice age sensory bin.
---
Open at 1pm — Tic Tac Snow Game

Inside the Busy Bag:
Directions:
Each player uses a cookie cutter to create 5 game pieces. Draw a tic tac toe board on a sheet of paper. Play and have a tournament to see who wins the most!
---
Open at 2pm — Paint Snowy Landscapes in the Bathtub
Inside the Busy Bag:
Directions:
In the bathtub, paint snowy scenes with the shaving cream.
---
Open at 3pm — Snow Day Snack
Inside the Busy Bag:
Directions:
Enjoy a special snow day snack treat!
---
More Snow Day Fun with the Kids:
---
---
Disclosure: This post contains affiliate links. Thanks for supporting us!