Chili mix in a jar is a quick, simple, and frugal gift idea everyone is sure to love. Nothing takes the chill out of winter like a warm bowl of chili! The kids and I made these a few years ago, and they were a HUGE hit! The kids took turns measuring out the ingredients and practiced following directions. Don't forget to attach a tag with instructions to make the chili.
Tip — Add some big soup bowls, and cornbread mix for a terrific and frugal gift set!
Here is the recipe for chili mix in a jar: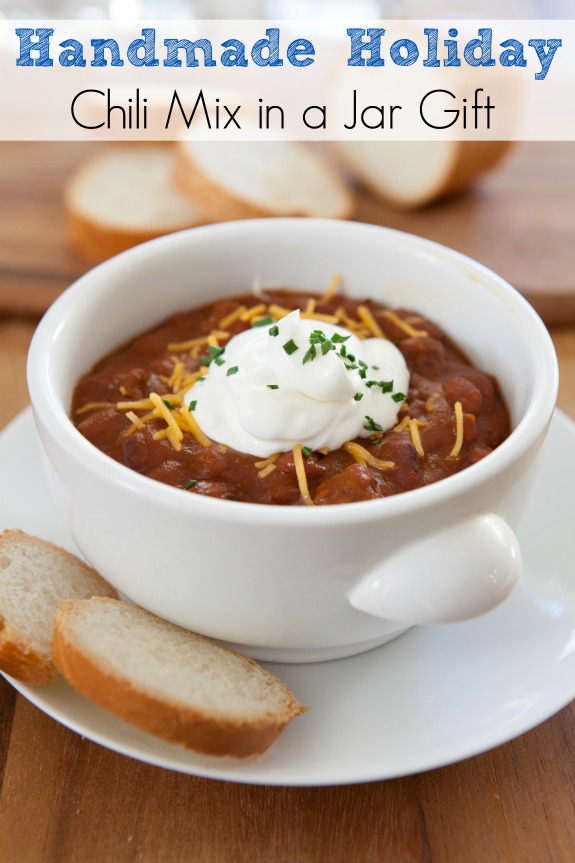 2 tbsp. dried parsley

2 tbsp. taco seasoning

2 tbsp. dried onion flakes

2 tbsp. cumin

2 tbsp. corn meal

2 tbsp. paprika

2 tbsp. taco seasoning

2 tbsp. dried parsley

2 tbsp. chili powder

1 cup dried pinto beans

1/4 cup dried black beans

1/4 cup dried cannellini (or white) beans

about 1 cup dried red kidney beans
(fill to top of jar)
Attach these directions to the jar:
To a 12 quart pot add:
contents of jar (soak beans overnight and drain)
4 (15 ounce) can diced tomatoes
1/2 cup vinegar
1/2 cup brown sugar (optional)
1 large can tomato paste
49 ounces tomato juice
2 pounds ground beef (cooked and drained)
Fill the rest of the pot with water. Bring to a boil and let simmer for about 3 hours. Add salt and pepper to taste. To serve, top with shredded cheddar cheese and a spoonful of sour cream.
---
 Other Handmade Holiday Gifts to Make:
---
Disclosure: This post contains affiliate links. Thanks for supporting us!