Do your kids enjoy building things or solving problems? If so, you could have a future innovator or engineer on your hands! Here are some of our absolute favorite gifts to help foster a love of STEM learning.
Gift Guide for Future Innovators: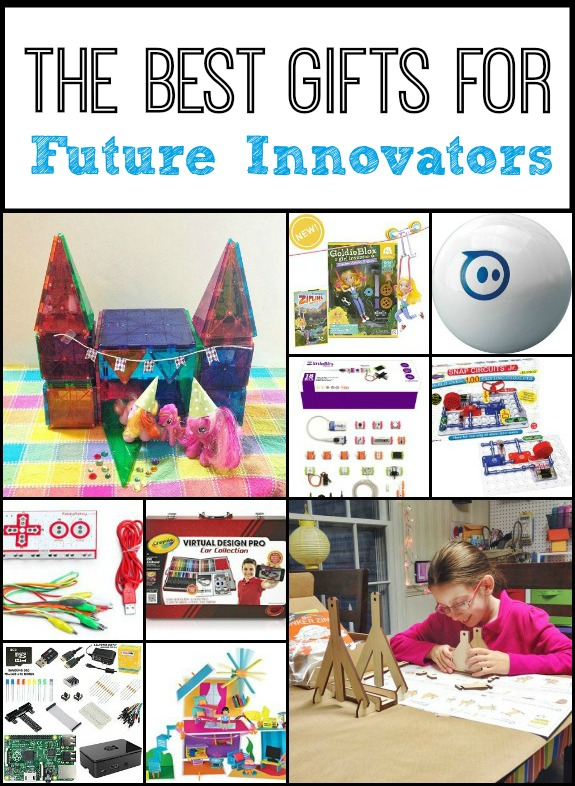 1. Tinker Crate (Ages 9-16)
We have received several Tinker Crates thanks to our subscription and each one has been a huge hit around here! For kids ages 9-16, I highly recommend investing in this service that mails a new crate every month filled with everything you need to complete a STEM-oriented project and a mini magazine with detailed extension activities using common household items. We LOVE this one!!
For more information, check out our full review of Tinker Crate here.
2. Elenco Electronic Snap Circuits, Jr. Kit
(Ages 8 and up)
Kids can explore circuits and make several cool projects with any of the Snap Circuits sets. If you are new to these, I recommend Snap Circuits, Jr. and if you have a seasoned Snap Circuit Pro on your hands, my daughter adores this Snap Circuits LIGHT set! Hint: you can also purchase the Battery Eliminator for these sets.
3. Makey Makey
(Ages 5-15)
When I first came across Makey Makey at an event in NYC, I knew it would be a huge hit! Makey Makey lets kids create their own touchpads, game controllers, and more without any programming skills required. There are so many possibilities with this kit! It requires a computer with a USB port, but there is no software to install. Great fun!
4. littleBits Electronics Deluxe Kit
(Ages 8 and up)
littleBits are sets of modules that let kids create combinations of circuits to combine with common household items and make fun learning projects! The components are magnetic, allowing kids to combine circuits easily. If you have a future inventor who would love to see her creations come to life, this is a great kit to check out.
5. Raspberry Pi Ultimate Starter Kit
The Raspberry Pi is an inexpensive single board computer which can be used to teach the basics of Computer Science. The Pi is a better fit for older children, and all of the information that you would need to get started is available on their website.
There are countless project ideas and tutorials online for your child to learn and create with. It will also show them how much technology, time, and effort goes into creating a modern phone or tablet, as well as get them thinking about how these computing devices are made!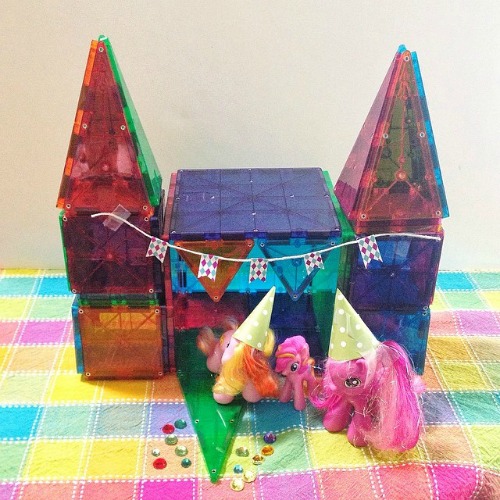 6. PicassoTiles® 100 Piece Set
(ages 3 and up)
These Picasso Tiles are played with almost every day in our home! They appeal to a very wide range of ages, and have been used to build towers, spaceships for small stuffed animals, and even for play on the light table. If you happen to have a set of Magna Tiles, these are completely compatible (although slightly cheaper). We now own both brands, and I have not noticed any difference in quality. I highly recommend this set! We liked these so much that we ordered two complete sets!
7. Crayola Virtual Design Pro
(ages 6-15)
Kids can design their own cars using the included art supplies and design sheets, then bring them to live with the help of the included app (works on both iOS and Android smart devices). Once the car is designed and scanned into the app, kids can further customize their designs within the app. Then, they can drive their cars virtually and complete different stunts and challenges! Plus, the app allows for printing of additional car design pages. This is a great value set for a kid who loves creative design!
8. Roominate Chateau
Future designers will love this kit that allows kids to build play space and furniture for small toys. The Roominate Chateau comes with everything they need to wire them up with light and motor circuits to create windmills, lamps, elevators, and more! Kids can decorate the floor panels however they wish, and use the building pieces to create beds, tables, staircases, and whatever else they can think of. A great kit to inspire plenty of imaginative play time fun while exploring light and motor circuits!
9. Sphero 2.0
If your child is interested in robotics or programming, I highly recommend Sphero! Sphero is the world's first robotic ball that kids ages 8 and up can control using a smart phone or tablet.
For more information, check out our full review of Sphero 2.0 here.
10. GoldieBlox and the Zipline
(ages 6 and up)
GoldieBlox is a series of interactive books and construction toys starring Goldie and her friends who go on adventures and solve problems with simple machines. Kids can build along with Goldie, and in this case, make their own zipline for the Goldie action figure. This set is best when paired with the GoldieBlox and the Parade Float set.
Disclosure: This post contains affiliate links. Thanks for supporting us!