Do you have a child who is interested in robotics or programming? Sphero is the world's first robotic ball that kids ages 8 and up can control using a smartphone or tablet! A special thank you to Sphero for providing us with our own Sphero and for sponsoring today's playful learning post. Read on to see how you can enter for a chance to win a Sphero of your own too!! As soon as our Sphero arrived, my 10 year old could not wait to begin programming it to do all sorts of things! Sphero can roll in any direction, change colors, and turn on a dime. It can even "dance"!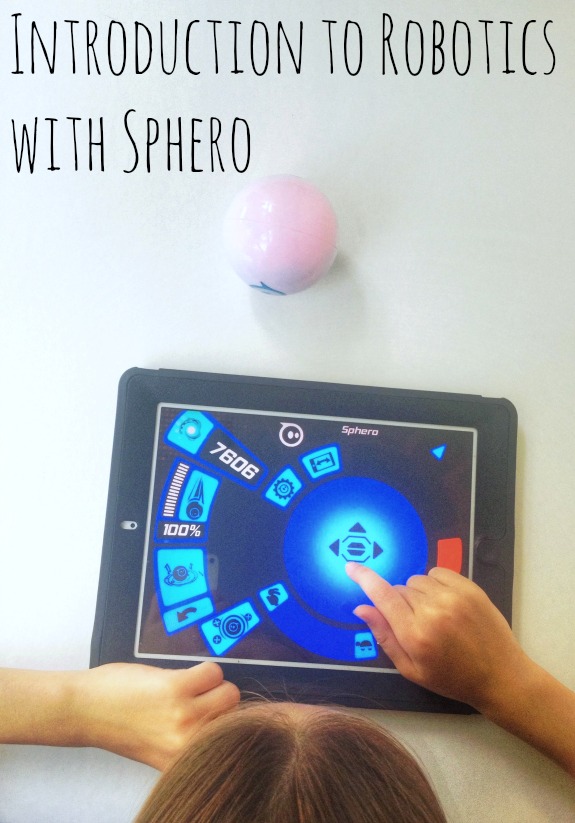 Introduction to Robotics and Programming
Sphero is very durable, pet-proof, and even waterproof! It can roll up to 7 feet per second, so it's quite speedy. It's a great hands-on way to introduce kids to programming, robotics, and math. You can learn more about Sphero's educational initiatives through the Sphero SPRK (Schools, Parents, Robotics, Kids) program.
Together with the help of my husband, my 10 year old was able to access the Sphero SDK and easily modify some of the existing programs — great for understanding how the gyroscope works and how messages are being sent to the Sphero via Bluetooth. So many possibilities!
I was surprised to see such a wide selection of apps available for Sphero! Currently, there are over 30 free apps that kids can play either with friends or family or by themselves. My kids enjoyed guiding Sphero through a homemade obstacle course, unlocking new tricks, and there are even multi-player augmented reality video games to play that are great for family game night.
Here's a short video of our Sphero (shown with the Nubby cover) in action:
What's Included:
Each Sphero comes with a Quick Start guide, two ramps, a charging base, and information on how to download dozens of apps on iTunes and Google Play. Sphero is compatible with iOS and Android devices. You can find Sphero at GoSphero.com for $129.99.
Additional Accessories:
Protect your Sphero against the elements with custom Nubby Covers. Not only do Nubby Covers protect against scratches and scuffs, they also give you unbeatable traction. Nubby covers are available in four different colors. You can find Nubby Covers on GoSphero.com for $14.99
I love this video describing Sphero's initiatives in the classroom and how Sphero is helping to engage future innovators to develop creative probelm-solving skills:
For More Information:
Get all the latest news and updates on Sphero at Twitter.com/GoSphero and Facebook.com/GoSphero
Disclosure: I was compensated and provided with a Sphero for the purposes of this review. All opinions are my own.
Now the FUN Part
One very lucky Inner Child Fun reader will win a Sphero (retail value $129.99) courtesy of Orbotix (the creators of Sphero)!! To enter for a chance to win, leave a comment on this post telling us what you think you would love most about Sphero. Awesome, right?? This giveaway is open to US readers only and will close Monday, July 28th at 6:30pm EST. (See official giveaway rules.) Winner will be selected at random using a WordPress plug-in and notified via email.
Good luck!!