These books about camping for kids are sure to inspire plenty of outdoor fun! From making s'mores around a campfire, to putting up a tent, here is a great collection of camping books kids will love even if you're camping in your own backyard (or living room). Be sure to check out the camping activity posts listed here too – many can be done using common household materials you probably already have on-hand. Yay for simple Summer fun!!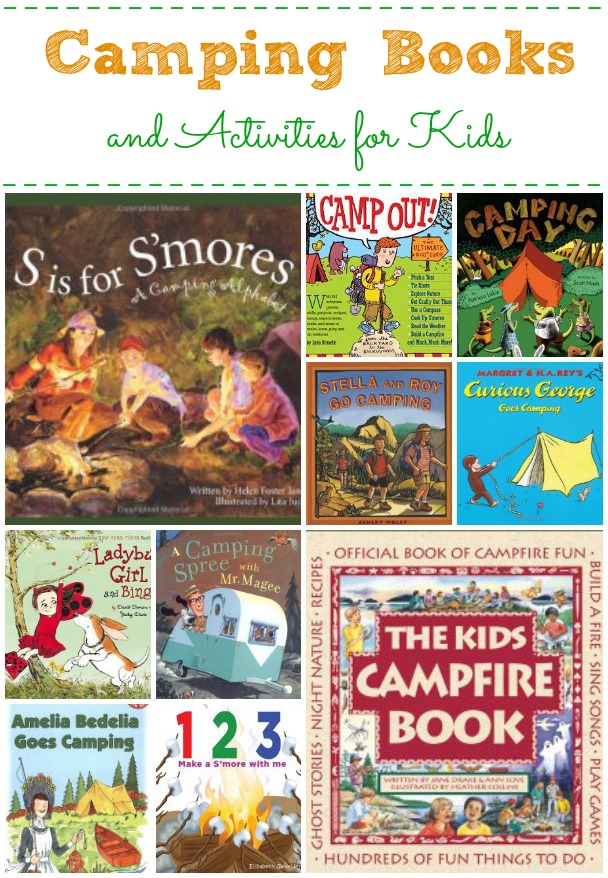 Here are some of our all-time favorite books about camping for kids (of all ages):
Beautifully illustrated book sharing plenty of aspects of camping through the use of the alphabet. 
My six year old wanted to read this book over and over again and thought it was so funny! As you may have guessed, camping with Mr. Magee is always an adventure. 
A very cute book about finding the perfect place to put up a tent and set up camp. Great for preschoolers!
My ten year old absolutely loves this book! Practical how-to tips with crafts and activities as well. I highly recommend this one for kids 8-12.
An adorable story about a girl who loves to dress up as a ladybug (Ladybug Girl) and her faithful dog, Bingo as they go on their very first camping adventure. Great story for preschoolers or kindergarteners about imagination and empowerment!
This is a great learning storybook for kindergarteners as a mom and her two kids hike to the lake and track animals along the way. Roy even has an encounter with a bear! Another of my six year old's favorites.
Fans of the old Curious George books will love this one. A classic that kids will love!
This book is great for even the littlest campers to enjoy and practice learning how to count.
For grades 4 and up, this camping book is one of the best! Tons of fun ideas, games, recipes, campfire songs and so so much more. 
For those readers who are just starting to read on their own, this camping book is great fun. Also perfect for reading aloud to younger kids! A funny story that makes my six year old laugh and laugh! Recommended for ages 4-8.
Other Camping Activities for Kids: