These ideas for indoor rainy day fun for kids are simple ways to make ordinary moments extra special!  With Spring's arrival we are sure to have plenty of rainy days in the forecast, and these indoor play ideas are simple and EASY to set up. A big thank you to our friends at Melissa & Doug for sponsoring today's creative play ideas!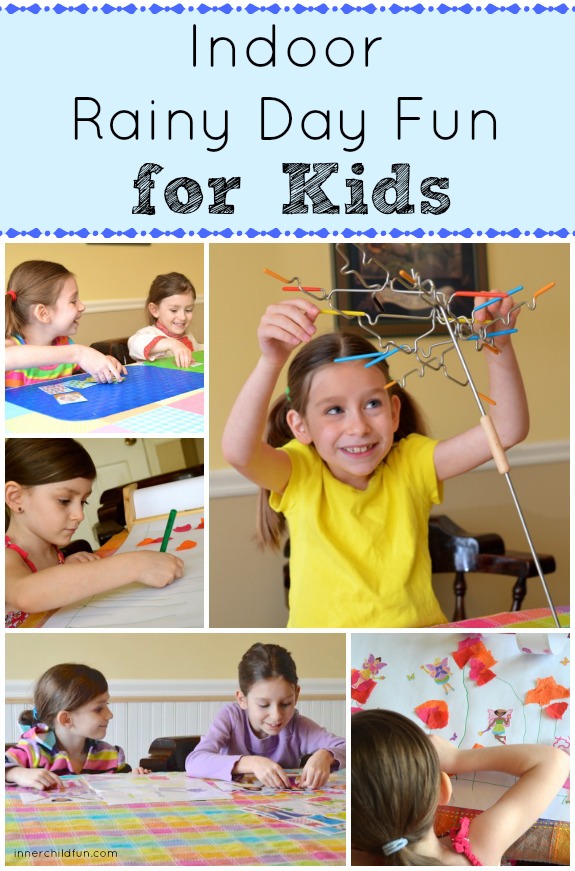 Here are five of our favorite play ideas for indoor rainy day fun for kids:
1. Bath Time
Nothing calms a restless child down like a nice long bath. To make bath time extra special, we love to play with Sunny Patch pool toys in the bath! Some of our favorites are the Maritime Mates Pool Parade Boat Set, the Maritime Mates Memory Game, and the Louie Lobster Claw Catcher. Good clean fun!
2. Make Some Music
Create your own living room dance party and make some music of your own to go along with it! Dancing is a great way for kids to burn off some of that extra energy. We love this learn-to-play xylophone music set because it is very well made, comes with beginner sheet music, and is super easy to play!
3. Sticker Play
For classic battery-free play, a quality set of reusable stickers is tough to beat! These reusable sticker sets by Melissa & Doug are priced around $5 each, making them a fantastic play value. The puffy sticker sets are perfect for travel, and have kept my kids happily occupied for long periods of time. Another favorite sticker activity is to combine the dress up sticker rolls with some tissue paper and markers to create our own story scenes! Great for imaginative playtime!
4. Plan a Family Game Night
A rainy day can be the perfect excuse to get out the board games. One of our absolute favorite games for family game time is Suspend! For younger kids, we love the Press & Spin games, especially the Harvest Hop Press & Spin Game. Playing board games is a great way to spend quality family time together.
5. Have an Indoor Picnic
Set a blanket out on your floor and make lunch or snack time even more special with an indoor picnic! This Sunny Patch Mealtime Set Bundle is great for picnicking indoors (or out) to make snack time extra special. I love how bright and cheerful they look, and all of the pieces are BPA and PVC free!
More Ideas for Rainy Day Fun:
Disclosure — This post is sponsored by Melissa & Doug. All opinions are my own.