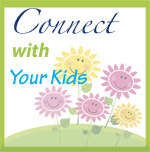 For an easy and FUN way to connect with your kids, try setting aside a little time to play some games together as a family. To help get you started, Joyce from Childhood Beckons and I got together to share some of our best tips to turn game time into cherished family memories. We hope you have lots of fun connecting with your kids while playing games!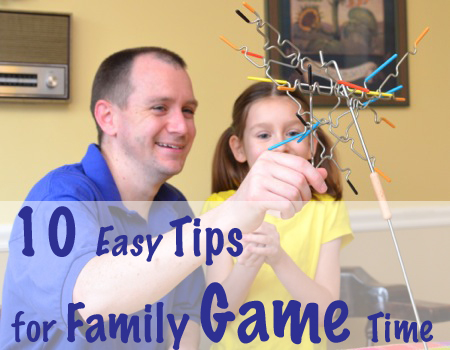 1. Schedule It In — Just like any other appointment or meeting, try scheduling game time on your family's calendar. Game time doesn't always have to be at night either. A quick card game can be played in the morning before school, or a weekend afternoon, if that works better for your family.
2. Adjust Games — Try tweaking the rules of some of your favorite games to better suit your family. Make it easier for younger children and more advanced to challenge older children.
3. No Distractions — Try turning off the television or cell phones to keep distractions at a minimum and focus on quality time as a family.
4. Game Selection — To make the decision-making process easier, create a short list of games for family members to chose from.
5. Take It Outdoors — Make the most of beautiful weather and take your game time outside. Sit at a picnic table or lay down a blanket and get comfortable.
6. Snacks — Invite the kids to help create a special snack menu for your scheduled game time, then spend a few minutes cooking or prepping the snacks in the kitchen together.
7. You Win Some, You Lose Some — Don't let them win all of the time. I know it can be tempting to let your kids win, but losing some teaches them how to handle disappointment and could help them lose graciously while playing with their peers in the future.
8. Don't Get Boxed In — Don't think that family game time has to consist of store bought games alone. There are a lot of free classics that can be rotated in. Try 20 Questions, Tic Tac Toe, or Duck-Duck-Goose.
9. Set the Example — Be sure to model good sportsmanship behavior, and stay positive. Try playing some games in teams to emphasize the importance of good teamwork.
10. Positive Reinforcement — Take the time to let your children know that you really enjoy playing with them during family game time. Congratulate them on a new skill or ability. Tell them that you've been looking forward to this special family time. Use this time to really connect with your children!
---
5 Family-Friendly Games We Love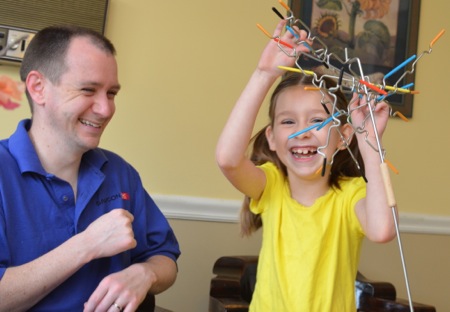 1. Suspend — A balancing strategy game from Melissa & Doug that's designed for kids ages 8 and up. Grown ups are sure to enjoy it just as much, if not more so, than the kiddos. Players take turns rolling a die to see which colored rod to add to the balancing mix — without toppling the tower! You can read a more detailed review of Suspend here.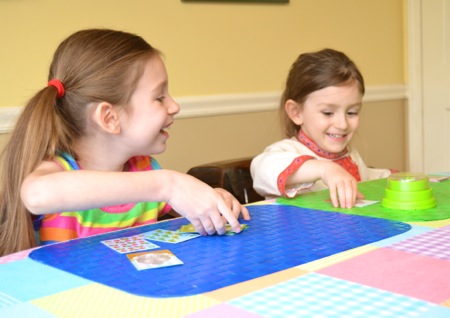 2. Press & Spin — Kids as young as 3 years old can enjoy the series of Press & Spin games (also from Melissa & Doug). My girls especially love the Harvest Hop game! Players take turns pressing the spinner to try to spin for a "basket" and grow their veggies. Watch out for the "rabbits" who like to eat them! This game is designed for 2 players, and also includes several related extension activities on the back of the box.
3. Animal Planet Creatures and Features Game
— This is an incredibly fun (and educational) game from Animal Planet. Your kids will discover the answers to many questions about animals as they race to decide which features a particular creature possesses. It is definitely one of my son's all time favorites. I really like that this game is quick to play and easily adjusts to different skill levels. I also adore that my son is actively learning about animals in a fun and exciting way.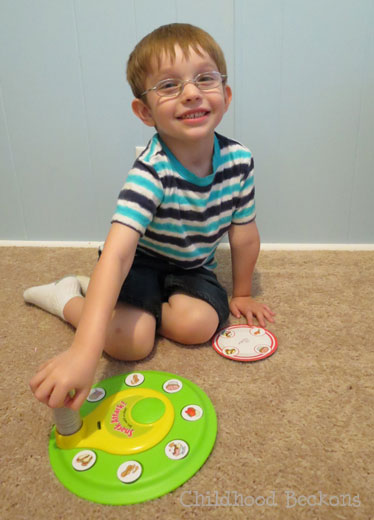 4. ThinkFun Snack Attack
— This is an amazing picture-matching game from ThinkFun, and it's a new favorite! The object is to match snack tokens to the snacks that are shown on your plate. The player with the most tokens at the end of the game wins. My son enjoyed racing against us to find the most matches. He delighted in the pictures and the foods that were shown. And he absolutely loved stacking and counting his tokens. But there's something else that sets this game apart from other matching games! The really special part is the spinning platter that reveals the tokens, as if by magic, with a crank of the handle. A matching game with moving parts?! What could be better?
5. Make Your Own — You know those super cheap old board games you see at thrift stores or yard sales? The ones that are usually missing a few pieces? Why not pick up a few of them, recycle the boards, dice, or other game pieces, and create a family board game of your very own?? I think a "Make Your Own Game Kit" would be a fun (and very inexpensive) birthday gift to promote creativity as well!
Have fun!!